Temple, Mansion and Cemetery of Confucius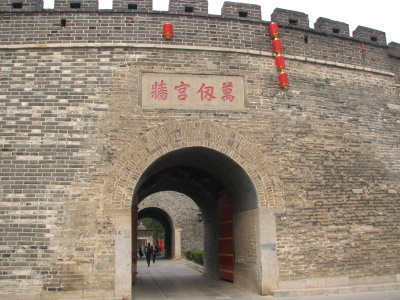 The Temple and Cemetery of Confucius, and the Kong Family Mansion are three important sites in Confucianism.
They are located in Qufu, Shandong Province. Together with the Summer Palace in Beijing and the Mountain Resort of Chengde, the Temple of Confucius in Qufu is one of the three largest ancient architectural complexes in China. East of the Temple of Confucius, is the Kong Family Mansion. Kong is the family surname of Confucius and his descendants.
Confucianism has had the most enduring and profound effect over Chinese culture. As time went on, Confucius became respected as a sage, and the temples to Confucius were built as a landmark for all of China. Among them, the Temple in Qufu, the hometown of Confucius, is the most famous and the largest.
Map of Temple, Mansion and Cemetery of Confucius
Legend
Visit October 2007
Getting to the little town of Qufu is quite a trek into the countryside for what is only a mildly interesting WHS. Visiting is pretty organized here, as the temple, family mansion and cemetery of Confucius are conveniently lined up after each other and share one entry ticket. I decided to go my own way, and started at the middle (at the mansion) and skip the cemetery.
The grounds of the temple and mansion are full of 'Chinese things'. I bought a booklet about those traditional Chinese culture items a few weeks ago, and could tick off quite a number here: door studs, scenic openings (jingdong), stone turtles burdened with stone tablets, zoomorphic ornaments, glazed tiles and a strange ornament that might be Taihu rockery.
The best sight of them all is at the rear of the Confucian Temple. The 18th century Dacheng Hall has ten wonderfully decorated columns, ornamented with dragons.
Although I do not contest its place on the World Heritage List (it certainly has invaluable historic value for northeast Asia), there's not much here which can't be seen elsewhere in China. I can only recommend a visit for those with plenty of time on their hands or studying Chinese culture.
Community Reviews
---
---
---
---
---
---
---
Share your experiences!
Have you been to Temple, Mansion and Cemetery of Confucius? Add your own review!
Community Rating
Community Rating 3.61. Based on 9 votes.
Site Info
Full name: Temple and Cemetery of Confucius, and the Kong Family Mansion in Qufu
Unesco ID: 704
Inscribed: 1994
Type: Cultural
Criteria: 1 4 6
Site History
1994 - Referred

Bureau - Better info on Buffer Zone

1994 - Inscribed
Site Links
Unesco Website
In the News
Connections
The site has 13 connections. Show all
Visitors
84 community members have visited Temple, Mansion and Cemetery of Confucius. Show all