Stari Grad Plain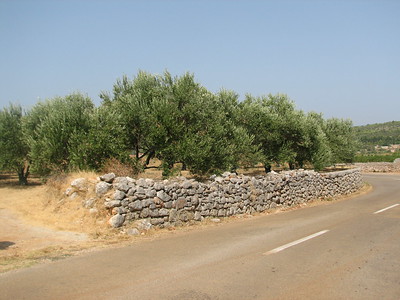 The Stari Grad Plain is an agricultural landscape of vineyards and olive trees that has been in continuous use since Greek Antiquity.
The farming land on the island of Hvar is divided into regular-sized parcels, which are called chora. Their authentic dry stone walls mark the boundaries between the individual parcels. Also, little beehive-shaped sheds (for storage of tooling) and cisterns were constructed. These methods were introduced to Hvar by Greeks from the island of Pharos, who colonized the area in the 4th century BCE.
The Greeks also founded a town, Paros (now Stari Grad). The historic part of the city of Stari Grad is part of the core world heritage area too, although the remaining evidence of the Greek period is limited here.
Map of Stari Grad Plain
Legend
Visit September 2008
While on the ferry between Split and Stari Grad, the thought struck me that the Croatian Tourism Board must have a large say in which sites are nominated as Croatian WHS. Remarkably, all sites that got in so far are conveniently close to the popular Adriatic coast. No inland prehistoric settlement or derelict mines have shown up on Croatia's shortlist. The 2008 nomination of the Stari Grad Plain is no different: its designation is the result of clever labelling (cultural landscape / vineyards). The main aim however seems to attract even more tourists to the holiday island of Hvar. And especially push tourism to the town of Stari Grad - hence the site's name 'Stari Grad Plain' (where it easily could have been 'Agricultural Landscape of ancient Paros').
It took me 1 hour and 45 minutes by boat to get to Stari Grad. This was on a large car ferry, with hundreds of people on it. Fortunately everyone went their own way after arriving, and I walked along the shore to Stari Grad town in about 20 minutes. This is a pleasant little town with an abundancy of restaurants, bars and souvenir shops. Its old town has been preserved quite well and warrants roaming around for an hour or so. There's a tiny local museum at the Dominican convent, where Roman coins and an ancient wine press are on show.
Of course I had to have a look at the Plain too. I rented a bicycle at one of the many shops in town, and just rode eastwards out of town. But where to look? This site is much like the Beemster Polder, where the land is all around you but there still is not much to see. And while it's called a 'plain', it isn't flat at all. After an hour or so, snapping a photo here and there of stone walls, grapes and olives, I decided to turn in my bike. Better to use a scooter here!
Community Reviews
---
---
---
---
---
Community Rating
Community Rating 1.78. Based on 16 votes.
Your Rating
Site Info
Full name: Stari Grad Plain
Unesco ID: 1240
Inscribed: 2008
Type: Cultural
Criteria: 2 3 5
Site History
2008 - Inscribed

2008 - Advisory Body overruled

By ICOMOS (later overruled by the Committee) for boundaries and management plan
Site Links
Unesco Website
Official Website
Related
Connections
The site has 11 connections. Show all
Visitors
108 community members have visited Stari Grad Plain. Show all