Silk Roads: Zarafshan-Karakum Corridor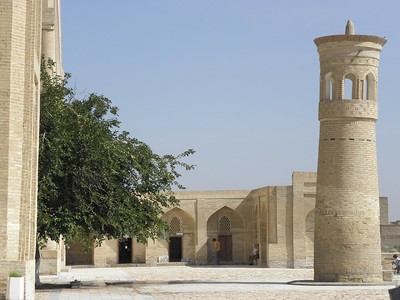 The Silk Roads: Zarafshan-Karakum Corridor comprises a key section in the harsh environment of Central Asia of this route where ideas and goods were exchanged.
This 866-kilometre stretch, crossing mountain ranges and the Karakum desert, lies at the heart of the network of Silk Roads corridors. In early medieval times, it was the place where the trade of Sogdians flourished. Later, caravanserais and monumental Islamic buildings were added. The roads crossed the Karakum Desert to end in Merv Oasis, and comprise 34 individual components spread across high mountains, plains, and deserts.
Community Perspective: the only components reviewed so far are found in Uzbekistan, where Nan visited a string of sites, Jarek did Paykent and Els covered Chor Bakr and the Bahoutdin Complex near Bukhara.

Map of Silk Roads: Zarafshan-Karakum Corridor
Load map
Community Reviews
---
For 1.500 years, the silk roads played a major role in exchanging goods and knowledge between Europe and Eastern Asia. A key area was Central Asia which linked the various Chinese empires with multiple Persian empires over the centuries.
The region itself consists mostly of deserts, intercut by rivers from the mountains, most notably the Zeravshan, the Amu Darya (Greek Oxus) and the Sir Darya. Indeed, the proposed sites follow the green corridor along the Zeravsahn in Uzbekistan from Samarkand to Bukhara from where it continues into Turkmenistan.
As a half day trip from Bukhara, I visited the Vobkent Minaret, the Chasma-iAyub mausoleum in Khazira and the Bahouddin Architectural Complex. Bahouddin Architectural Complex is a true gem, showing strong Chinese influences. Vobkent Minaret and Chasma-iAyub Khazira are short 5min visits each. One is a minaret, the other a facade of a mausoleum with a swastika symbol.
Small word on advice re Chasma-iAyub: There are at least 3 sites named accordingly, one in Bukhara. Spelling varied, but I think the location on our map is correct.
The next day, I continued from Bukhara via Sharisabz to Samarkand. When approaching Samarkand, we stopped Kafirkala on the cities' outskirts. The site is not signposted at all and hard to make sense of. I think you would need a guide, but I managed to see parts of the fortification.
My last stop on the Silk Roads happened on return from Tajikistan (Sarazm), I took a minibus from the border to Jartepa II Temple, the ruins of a Zoroastrian temple. The road between Samarkand and Sarazm follows the original traderoute and the temple is just 100m off. Again, signposting was not existing and the state of preservation poor.
Personally, I would have loved to see the Raboti Malik Caravanserai (the site is about trade) and the Nestorian Christian settlement of Suleimantepa, but couldn't work either into my itinerary.
OUV
The nomination groups several tentative sites that had been already proposed individually or in the other Silk Road site of Uzbekistan: Silk Road Sites of Uzbekistan. For me, none of the individual sites were on their own strong enough to warrant inscription. As such, the Uzbeks follow the European model of creating OUV in a serial, transnational nomination.
What was interesting to me were the sites that show a clear Chinese (Bahoutdin Architectural Complex) or Indian influence (Chasma- i Ayub for the swastika). But considering that Bukhara, Khiva and Samarkand are also Silk Roads sites, it feels a bit redundant. I think I would have preferred extending the existing sites to cover some other components (e.g., include Bahoutdin Architectural Complex with Bukhara).
Personally, I also feel the Sogdian sites (Kafirkala, Jartepa II Temple) should be inscribed on their own. I think there is OUV in Sogdian heritage, but it would require better preservation.
Getting There
The easiest options are around Bukhara. Seeing how cheap drivers are in Uzbekistan, there really isn't a point figuring out other means. I had a travel agency in Khiva arranging drivers from Khiva all the way to Samarkand for me.
Some of the sites are really not touristy, so get google maps to run with Russian directions. And make sure that the driver is going where you want to go.
While You Are There
The Silk Roads corridor runs from the Tajik border near Samarkand to the Turkmen border South of Bukhara, i.e., along the main Central Asia tourist corridor. For those a bit curious, you can cross into Tajikistan to visit Sarazm when visiting Jartepa II Temple. Most western countries now have visa free entry to Tajikistan.
---
Site visited in April, 2010. It is still on the Tentative list as a separate site but also as a group of monuments to be included as Uzbekistan part of Silk Road. Maybe it is a good idea although it will contain a lot of monuments from different period of times.
 
Paykent is Sogdian trading place of Silk Road where the paths from Europe (Black Sea through Khorezm) to Fergana Valley and China (Kashgar) as well as to the south: Iran (Khorasan) and India were met. Developed in early medieval period (VI-X centuries), repeatedly conquered, destroyed and rebuilt finally abandoned in XVI century. What is left are modest remnants of a former citadel (the highest part of ruins), town walls (hardly visible) and dwelling houses most of that uncovered by archeologists. The whole area is unfenced and looked completely unprotected. Thanks to building material (mostly adobe) it is similar to any other archeological monuments in Central Asia.
 
In addition to early medieval ruins there is a descent museum with main excavation findings – red building located some 500 meters from the site - Muzeum of Ancient Paykend History (Qadimgi Paykend Tarixi Muzeyi).
 
Paykent is located some 50 km from Buchara south west of the town, between Yangimazar and Qorakol, take M37 towards the border with Turkmenistan. The site will be on the left side of the road. There were no marks of the place on the main road, nor in the places nearby.
 
I took a taxi from Buchara centre for a half day tour. It is important for the driver to know the place. After short negotiations I agree for 40 thousand som (around 20 USD) for a ride, including unlimited waiting time on the spot.
 
In fact coordinates on our website (and on official UNESCO page) are wrong. The right Google coordinates are: 39.586915, 64.010928, on the map the place is called Drevneye Gorodishche Paykent
 
---
I visited this tentative WHS in June 2017. Uzbekistan was very crafty with this tentative site. They left the very obvious Samarkand, Bukhara and Khiva out of the Silk Roads Sites (no double listing), but then they included all the separate tentative sites put forward in 2008! A sort of fallback position, seeking a series if individual inscription fails!
Of the list I visited the ones near Bukhara: Chasma Ayub Mausoleum and Chor Bakr Necropolis (already reviewed) + Bahoutdin Naqshband Necropolis (photo). I think it would be interesting and useful to have all these sites + other sites in Asia work together to have 1 transnational inscription for all these sites instead of having one series for every country.
---
3.50 The Netherlands - 16-May-10 -
Uzbekistan has selected 18 locations to be part of the international Silk Road nomination. They include archaeological sites of trade centers, buddhist temples, a citadel, a caravanserai, stupa's, mausolea, minarets and medressahs all over Uzbekistan. They do not double the current Uzbek WHS of Samarkand, Bukhara and Khiva by the way (though all of Silk Road fame).
On my recent trip to Uzbekistan, I visited 2 sites out of these 18: Chor-Bakr and the Bahoutdin Complex. Both are located a few km's outside of Bukhara.
Chor-Bakr is a 16th century necropolis, containing the family tombs of Abu-Bakr-Said (related to the Prophet Muhammad). From the 19th century on the site was developed further by adding a mosque, a khonaqo and a pretty little minaret. At my arrival at 9.30 I found the place deserted, except for a couple of parading peacocks. The complex anno 2010 has come a long way from this quote from my 1996 LP Central Asia ".. there's little sign of recent restoration". Chor-Bakr now looks as polished as all monuments in Bukhara. They even already have a Unesco sign! It is definitely a worthwhile site to visit though, very large, intact (or restored to look like that).
The Bahoutdin Complex is a much more lively site. This is an important Sufi shrine that attracts lots of locals. It houses the tomb of Bahoutdin Naqshaband, the 14th century founder of one of Central Asia's most influential Sufi orders. The complex around the marble tomb of Naqshaband has several lovely features. There's a neat turquoise pavillion, around which people circle 3 times for good luck. The same goes for a dead tree trunk on the grounds, under which people have to crawl. The site is quite spacious and is adorned by beds of roses. It is a pilgrimage site in action, but not too strict. Both local and foreign women enter with short sleeved shirts and without a head scarf. There's an ice cream seller on site, and people stroll around in groups or families just having a day out and taking photos. In retrospect, this was one of the most impressive sites that I visited in Uzbekistan.
---
Site Info
Full Name

Silk Roads: Zarafshan-Karakum Corridor

Unesco ID

Country

Inscribed

Type

Cultural

Criteria

2

3

5

Categories

Link
Visitors
25 Community Members have visited.