Sansa, Buddhist Mountain Monasteries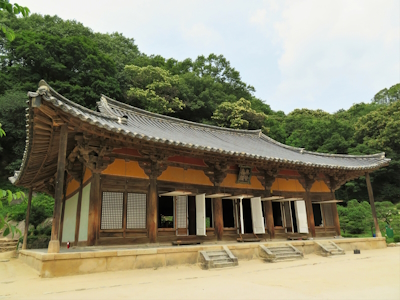 Photo provided by Kyle Magnuson
Sansa, Buddhist Mountain Monasteries in Korea are representative of the earliest era of Buddhism on the Korean peninsula and its distinctive practices.
It includes 7 remote temples from the 7th to 9th centuries which are in religious use until today. They prospered during the Goryeo Dynasty which established Buddhism as a state religion.
Map of Sansa, Buddhist Mountain Monasteries
Legend
Community Reviews
---
Clyde Malta - 16-May-17 -
I visited this WHS in April 2017. I visited the Seonamsa Mountain Temple which is located in the Joyesan Provincial Park a few kilometres away from Suncheon.
This mountain temple has undergone several restorations from 1597 through to 1823 but is overall in quite a good state. It has a number of peculiar features such as a lavatory cottage a spiritual pond with an artificial island and a bridge with several Korean script inscriptions and a dragonhead carved in the middle (photo).
It is also possible to do a temple stay here and I'd recommend it even though I didn't stay myself. When I visited, the monks were practicing their drum and cymbal skills on a blackboard with wooden spoons and an empty gas cylinder! The sounds they created in the middle of the national park though were exactly similar to normal drums and cymbals!
The highlight of my visit were the lovely paintings or palsangdo enshrined in the Seonamsa Palsangjeon in which the entire life of Sakyamuni from former life to Nirvana is described in 8 scenes. The temple houses 24 of the most important national and state cultural properties and the Seonamsa Museum displays over 200 cultural properties.
Just before the temple entrance there's a lovely tea house with a very peaceful setting (just before the red wooden 'totems').
---
Kyle Magnuson California - United States of America - 17-Dec-13 -
Many visitors to Korea visit Bulguksa or Haeinsa. Both are Buddhist treasures and provide a great introduction to Korean temples. However, too often visitors only visit Bongeunsa temple in Seoul. Here is a great list for any traveler interested in Korean mountain temples.
Firstly, there are no "great" Buddhist temples in or around Seoul. This is because during the Joseon dynasty Confucianism was central to the state. Buddhism had not been the state religion since the time of Goryeo. This nomination is sensible in focusing on mountain temples in the more rural areas of Korea. These temples are well-preserved, highly authentic, and most (if not all) have more than one national treasure. Each one of these 7 temples has features or artifacts that make them unique.
I visited 3 mountain temples included in this nomination.
1) Beopjusa (Boeun), 2011
2) Buseoksa (Yeongju), 2016
3) Magoksa (Gongju), 2016
Beopjusa is located in the heart of South Korea. Most people visit the temple because it is the starting point for the trek to the summit of Songnisan National Park. The temple has several national treasures. The two most noteworthy is the only preserved 5-story wooden pagoda in Korea and the beautiful Goryeo era rock etching. I found both spectacular. Korea used to be filled with wooden pagodas from 3-9 stories. An incredible number of them were destroyed during the Samurai invasion in the 1590's. Some that survived into the modern age were lost during the Japanese colonial period and the Korean War. This makes Beopjusa particularly special. The 5-story wooden pagoda dates from 1624 and is the only one of its kind left in Korea.
The location of the temple is just outside the town of Boeun. About 3 hrs from Seoul, this town is worth a visit for 3 reasons: Beopjusa temple, Samnyeonsanseong Fortress, and Songnisan National Park. The first 2 sites are part of tentative world heritage nominations.
Magoksa, which is conveniently located near Gongju (Baekje Historic Areas WHS) is quite unique in its layout, almost surrounded by a river. Another special quality of this temple is the Ocheung Stone pagoda, which is one of the few examples of Tibetan architectural elements in Korea.
Buseoksa Temple is known for its national treasures, one being a wooden main prayer hall built during the Goryeo Dynasty. Muryangsujeon is the second oldest wooden building in South Korea, dating back to 1376.
All three temples I visited are great, and each is active with practicing monks. The cultural heritage administration of Korea (CHA) will have to avoid the mistake from the Seowon dossier in 2016. The serial components need to be very clear why they were chosen. I still do not fully understand why Hwaeomsa was not included? I found the argument in the comparative analysis to be inadequate. Magoksa was the only temple I visited that mentioned the pursuit of world heritage status, in which banners asked for prayers for success in 2018.
Read more from Kyle Magnuson here.
---
Community Rating
Community Rating 3.07. Based on 7 votes.
Site Info
Full name: Sansa, Buddhist Mountain Monasteries in Korea
Unesco ID: 1562
Inscribed: 2018
Type: Cultural
Criteria: 3
Site History
2018 - Advisory Body overruled

ICOMOS advised to only inscribe 4 of the monasteries

2018 - Inscribed
Site Links
Unesco Website
Official Website
Locations
The site has 7 locations.
Connections
The site has 12 connections. Show all
Visitors
22 community members have visited Sansa, Buddhist Mountain Monasteries. Show all