Sansa, Buddhist Mountain Monasteries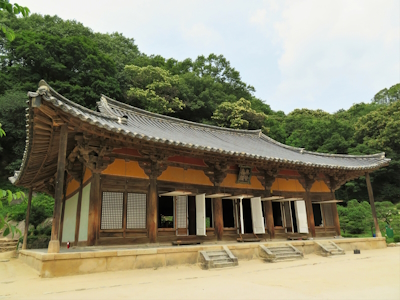 Sansa, Buddhist Mountain Monasteries in Korea are representative of the earliest era of Buddhism on the Korean peninsula and its distinctive practices.
It includes 7 remote temples from the 7th to 9th centuries which are in religious use until today. They prospered during the Goryeo Dynasty which established Buddhism as a state religion.

Map of Sansa, Buddhist Mountain Monasteries
Load map
Community Reviews
---
3.00 Philippines - 08-Aug-23 -
To me, the Sansa embody the ideal and typical Korean temple. They may not have the historic significance of Bulguksa or the unique library of Haeinsa, but they are much better preserved, containing some of the oldest standing wooden architecture in the peninsula, and some of the most beautiful too. For that, I have to say they are a much-needed WHS, and I had a dilemma on which of the seven to fit into my trip to Korea in June 2023. Upon examining the evaluation file, I found that only four were actually advised for inscription - Tongdosa, Buseoksa, Beopjusa,
Daeheungsa. Buseoksa and Beopjusa had been covered well by Kyle, and Daeheungsa I found to be too remote to fit into the trip; sadly, I even had to cut Unjusa last minute due to time constraints, so I never could've made it farther southwest. That left Tongdosa, and upon further research, I became more and more surprised that it hasn't truly been reviewed here yet. Tongdosa is one of the three "Jewel Temples" of Korea, representing Gautama Buddha, containing relics of the Buddha, and serving as the head temple of the Jogye Order. Of the three, it's definitely the best preserved, easily trumping Haeinsa and Songgwangsa in this metric, and it's even the largest, not just of the Jewel Temples, but out of all existing temples in Korea! And if that wasn't all enough reason to make it worth the journey, it's within easy reach of Busan, the second largest city in the country. To get there, take the subway to the Nopo bus terminal, and it's a 25-minute bus ride to the Tongdosa bus station, from which you can take a leisurely half-hour hike or a taxi ride to the temple grounds. I was afraid it would be high up in the mountains, making the travel time deceivingly long, but Tongdosa is situated in a lovely river valley, not very high in elevation at all. Really, it strikes me as more of a forest temple than a mountain temple; Haedong Yonggungsa in Busan and Haeinsa both had much greater slopes than this one.
Hiking through the forest, you would first come upon boulders carved with Chinese characters. As you may already know, Korean Buddhist temples historically use the Chinese script since Hangul was only invented during the recent and Confucian Joseon Dynasty. After this comes a field of steles on the backs of stone turtles, each with a different face. Nearby are an old stone flagpole and the first gate to the temple; from here, it's less than five minutes to the main gates, the Iljumun and the Cheonwangmun. Past these, three courtyards can be seen, one after another, each a bit higher than the last, connected in the "Madang" layout, and lined by the most magnificently embellished wooden prayer halls I'd seen on the trip. The colors were so varied and vibrant, and not in the artificial way many heavily restored Joseon monuments tend to be. I could never give justice to the art in words, so I'll be letting the pictures speak for themselves. With so many wonderful prayer halls, each with differences in the art and purpose, I couldn't discuss about them all either; I suggest you just take your time and peek into every little building. The one building that stands above the high bar that the other halls set, though, has to be Daeungjeon Hall, the main Dharma hall and the largest structure in the whole complex. Stepping inside feels a bit like stepping into a cathedral (though probably only a fraction of the volume of Todaiji in Nara, for instance), a place of worship where crowds flock to pray, with so much detail around it takes a few minutes to even take in all the details. Interestingly, this hall has no statue of the Buddha inside. Instead, people pray towards the single open window at the far end of the hall - this looks out onto the sarira stupa called Geumgang Gyedan, which houses the relics of the Buddha, supposedly brought to Korea back in the 7th century. So, instead of praying to a depiction, worshipers pray towards the earthly remains of Buddha himself.
If I were to pick one temple to recommend universally to visitors to Korea, I think Tongdosa would be my strongest candidate. It's simply a wonderful place and arguably the greatest temple in Korea, and I can't believe it's not more well-known, even just among the Sansa. It's extremely authentic, the largest, and one of the most significant religious landmarks in Korea, and it's nearly impossible to get bored of the diverse range of artwork and treasures within. The ease of getting there is a bonus. I'd say it's the best and most important day trip from Busan. All that being said, this is a review for not just Tongdosa, but the Sansa as a whole. From my experience at Tongdosa and research on the other temples, I find it hard to see any unifying characteristic other than them just being fairly historic, fairly isolated, and very well-preserved, overall providing a good showcase of some of the best Buddhist sites in the peninsula. I find it comparable to the Philippine Baroque Churches nomination, lumping a diverse range of sites of one country into a serial site without considering the vast regional and practical variations that exist in each country. I don't even think the "mountain monastery" theme is at all a defining characteristic of these temples. I do think Tongdosa can even stand on its own as a WHS, and because I don't see a harmonious connection between the component sites of this nomination, I'm giving Tongdosa the rating I believe it deserves as a site of great OUV in its own right.
---
3.00 Netherlands - 05-Jan-19 -
I was a bit skeptical for this site before I visited since I already have been to Haeinsa and Bulguksa temples, so I was curious on the outstanding universal value on "Sansa", which derived from Chinese word "Shan-si" or the mountain temple. From all inscribed components, I only visited two temples, Beopjusa and Seonamsa. These two temples were located in protected forests, the pathways from car parking areas were scenic with beautiful steams, light forests, pavilions, very nice surrounding but these kind of environment and setting are similar to Haeinsa, so while I was really enjoyed, I could not find uniqueness of the mountain temples that similar to many mountain or forest Buddhist temples in other part of Asia or other religious monasteries around the world.
One thing that I noted from Haeinsa was that apart from the famous wooden blocks' storages, the rest of building complex of Haeinsa was nothing special, most were newly rebuilt, so I never gave credit to Haeinsa for its temple but only for the storages. My idea on authenticity of Bulguksa was even negative since all the temple structure, except the two stone pagodas, were built on archaeologists' imagination. However, when I saw Beopjusa and Seonamsa, the aged wooden structures in the complex were so stunning, especially the pagoda of Beopjusa, something made you immediately impressed for its old age which really contrast to other many temples in South Korea. I walked around the complex tried to understand the concept of "Madang" or open courtyard. The Madang really made these two temples to be different from Bulguksa and Haeinsa which were constructed with clear layout of closure courtyard that surrounded by buildings and corridors. The complex was full with free standing buildings without any corridor or wall, but I did not think it was a unique thing, this kind of style could be found in many temples that was poorer without support from royalty or noble family or located in the geographical limited area that could not built the courtyard.
There was no question of the craftmanship and beauty of Beopjusa and Seonamsa, these two temples were really good and probably better in terms of Korean Buddhist arts than Haeinsa. The authenticity of the temples was impressive, it was very hard to find great old wooden buildings in Korea where many wars happened. The survival of these temples are already miracles by themselves. In my opinion this addition by Korea is worthwhile inclusion to the UNESCO list.
---
I visited this WHS in April 2017. I visited the Seonamsa Mountain Temple which is located in the Joyesan Provincial Park a few kilometres away from Suncheon.
This mountain temple has undergone several restorations from 1597 through to 1823 but is overall in quite a good state. It has a number of peculiar features such as a lavatory cottage a spiritual pond with an artificial island and a bridge with several Korean script inscriptions and a dragonhead carved in the middle (photo).
It is also possible to do a temple stay here and I'd recommend it even though I didn't stay myself. When I visited, the monks were practicing their drum and cymbal skills on a blackboard with wooden spoons and an empty gas cylinder! The sounds they created in the middle of the national park though were exactly similar to normal drums and cymbals!
The highlight of my visit were the lovely paintings or palsangdo enshrined in the Seonamsa Palsangjeon in which the entire life of Sakyamuni from former life to Nirvana is described in 8 scenes. The temple houses 24 of the most important national and state cultural properties and the Seonamsa Museum displays over 200 cultural properties.
Just before the temple entrance there's a lovely tea house with a very peaceful setting (just before the red wooden 'totems').
---
4.00 California - United States of America - 17-Dec-13 -
Many visitors to Korea visit Bulguksa or Haeinsa. Both are Buddhist treasures and provide a great introduction to Korean temples. However, too often visitors only visit Bongeunsa temple in Seoul. Here is a great list for any traveler interested in Korean mountain temples.
Firstly, there are no "great" Buddhist temples in or around Seoul. This is because during the Joseon dynasty Confucianism was central to the state. Buddhism had not been the state religion since the time of Goryeo. This nomination is sensible in focusing on mountain temples in the more rural areas of Korea. These temples are well-preserved, highly authentic, and most (if not all) have more than one national treasure. Each one of these 7 temples has features or artifacts that make them unique.
I visited 3 mountain temples included in this nomination.
1) Beopjusa (Boeun), 2011
2) Buseoksa (Yeongju), 2016
3) Magoksa (Gongju), 2016
Beopjusa is located in the heart of South Korea. Most people visit the temple because it is the starting point for the trek to the summit of Songnisan National Park. The temple has several national treasures. The two most noteworthy is the only preserved 5-story wooden pagoda in Korea and the beautiful Goryeo era rock etching. I found both spectacular. Korea used to be filled with wooden pagodas from 3-9 stories. An incredible number of them were destroyed during the Samurai invasion in the 1590's. Some that survived into the modern age were lost during the Japanese colonial period and the Korean War. This makes Beopjusa particularly special. The 5-story wooden pagoda dates from 1624 and is the only one of its kind left in Korea.
The location of the temple is just outside the town of Boeun. About 3 hrs from Seoul, this town is worth a visit for 3 reasons: Beopjusa temple, Samnyeonsanseong Fortress, and Songnisan National Park.
Magoksa, which is conveniently located near Gongju (Baekje Historic Areas WHS) is quite unique in its layout, almost surrounded by a river. Another special quality of this temple is the Ocheung Stone pagoda, which is one of the few examples of Tibetan architectural elements in Korea.
Buseoksa Temple is known for its national treasures, one being a wooden main prayer hall built during the Goryeo Dynasty. Muryangsujeon is the second oldest wooden building in South Korea, dating back to 1376.
All three temples I visited are worth exploring to enhance your understanding of Buddhism in Korea, in fact each is active with practicing monks. I still do not fully understand why Hwaeomsa was not included? I found the argument in the comparative analysis to be inadequate. Nevertheless, these temples are the most representative Buddhist temples in Korea. Arguably, even more so than Bulguksa and Haeinsa which are exceptional for different reasons.
Read more from Kyle Magnuson here.
---
Site Info
Full Name

Sansa, Buddhist Mountain Monasteries in Korea

Unesco ID

Country

Inscribed

Type

Cultural

Criteria

3

Categories

Link
Site History
2018

Advisory Body overruled

ICOMOS advised to only inscribe 4 of the monasteries
Site Links
Unesco Website
Official Website
Visitors
64 Community Members have visited.