Mountain Railways of India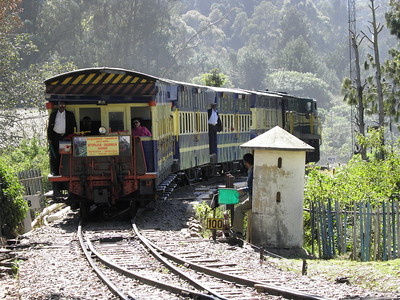 The Mountain Railways of India are three fully operational railway tracks that are fine examples of 19th-century technology and the changes they brought with them.
These railways built during the British colonial period stimulated population movements between the plains and the mountains. Heavy and complex engineering, including multi-arch viaducts, tunnels, retaining walls, and a very large number of curves, was used in order to overcome the mountain conditions.
Community Perspective: "a great experience", both for the landscapes and the use of the original railway equipment and infrastructure. The site includes the Darjeeling Himalayan Railway (covered by Solivagant), the Nilgiri Mountain Railway (Els), and the Kalka-Shimla Railway (Jarek).

Map of Mountain Railways of India
Load map
Community Reviews
---
As the majority of other reviews described Nilgiri or Darjeeling mountain railways I will focus of Kalka Shimla Railway (KSR). Visited March, 2019, one of highlights of my Indian tour.
Initially I planned to go to that part of India as late as possible (there might have been still snow, especially in higher parts of Himalaya in March). While visiting Chandigarh I have found a railway office selling tickets for the train Kalka – Shimla. As far as I remember the trains for the next day were fully booked so I decided to go directly to the station and try to find something on the spot. Arrived to Kalka by bus from Chandigarh in the afternoon, reached Kalka railway station and found out that it is possible to buy an ordinary train ticket without the reservation for one of the trains next day (no guarantee of sitting place).
After buying a ticket I had some time to visit the station and surrounding area Kalka Station is currently divided between normal (modern) railway and historical part of narrow-gauge railway (UNESCO site). Most of the buildings and a lot of equipment are from the initial period of its construction. Comparing to other UNESCO railways (Rhaetian, Semmering) KSR use historical carriages (or at least looking as historical as they are quite basic).
Basic fact of the KSR (taken from UNESCO plaque located at the station): open in 1903, it represents an exceptional technical achievement in the development of the Himalayan Mountains because of its length, its attitude and the difficulty of the terrain through which it runs in difficult climatic conditions. It is 96 km long, passes through 102 tunnels, 988 bridges and 917 curves, many of which are as sharp as 48 ° The longest tunnel is 1143 m, other important monument is a four storey stone arch gallery bridge. KSR climbs from the attitude around 600 m above see level (Kalka Station) up to around 2075 m (Shimla station).
I found a basic hotel nearby (inexpensive, nothing special but it was located close to the station), there are several others in the area. As I was not sure if I would be able to travel, I woke up early, went to the station and tried to catch the earliest possible train.
Here is the timetable of KSR trains (they depart every day) from Kalka to Shimla:
Train Number Train Name Origin Departure Time Destination Arrival Time Travel Time
04527 SHIVALK DLX SPL KLK 05:45 SML 10:25 04:40
04529 KLK SML SPECIAL KLK 06:20 SML 11:35 05:15
04517 KLK SML SPECIAL KLK 07:00 SML 12:55 05:55
04515 SML FESTIVL SPL KLK 12:10 SML 17:20 05:10
First 2 trains looked as booked well in advance (groups or different reservation classes), so finally, I took the train of 7.00 a.m. – the slowest one. All the trains were not well marked but somehow I managed to find the right one, and found a sitting place near the window (and door). It was amazing how quickly the wagon was filled up with other passengers (and their luggage).
After departure, the train almost immediately started to climb the mountains at slow pace. As I later realized the average speed is around 22 km/h – not much but have in mind that you were in the mountains. The surrounding landscape changed gradually from mid-forest to hilly passing through countless tunnels. Even if my wagon was initially filled up with passengers to the limits, on each station it constantly got additional numbers of people, occupying every single space.
During short says on different station is enough to realize that most of the railway equipment and infrastructure was still preserved from construction period. Landscapes are also amazing; the only annoying thing is discarding rubbish by local from the train directly through the window.
Overall, it is a great experience that can be recommended to railway lovers.
Practicalities: try to buy the ticket well in advance. That will be more expensive but at least you will be travelling in more comfortable conditions. Otherwise there will still be possible to travel but in more difficult conditions. Ordinary trains do not have any restaurant wagons. You can buy some snacks from local sellers on some stations but they are very basic. Kalka has descent number of restaurants and hotels but Shimla is a kind of local tourist destination.
Places on the photo, bottom left, than clockwise: entrance to Barog Tunnel (the longest one), Kalka Station, Dharampur Himachal Station (passenger's area), typical landscape of KSR – small line in the middle is a train going from Shimla to Kalka.
More about KSR http://www.kalkashimlarailway.in/ksr/
---
4.50 The Netherlands - 20-Jan-11 -
I had taken as much precaution in visiting this WHS as in arranging a visit to Da Vinci's Last Supper. More than 3 months before I reserved a first-class ticket on the Nilgiri Express. And even at that moment I could not get my preferred date and decided to take the trip down from Ooty instead of upwards to it. The first-class seats are located in a small, open carriage that gives you good views and photo opportunities during the ride. And what a ride this is!
The Nilgiri Railway was finished in 1908, and a trip up to Ooty from then on took only a couple of hours instead of 10 days. This way the mountainous region was opened up totally and attracted a lot of settlers. The railway is 46km long and uses a rare rack railway system: in the center of the tracks lies another rail, with tooths where the train gets some extra grip. It was made with a Swiss technique and is considered to be the most authentic rack railway system still in use. Almost all of the 12 stations underway are original. The WHS also includes the rolling stock, as it was considered by ICOMOS to be "irremovable" – it can't be used anywhere else.
The trip covers 3 distinct parts: the first part (when going down) from Ooty to Coonoor has the best scenery. After every curve or tunnel – and there are many on this ride – the gorgeous views on the surrounding mountains, the tea plantations, forests of eucalyptus trees and tiny villages made me think I was in Nepal. At Coonoor the second part starts: it is here that the steam loco is connected to the train and the rack railway is used. You can hear it rattle underneath the carriages. Here you will cross many of the 31 major bridges, where it seems that the train is flying over the depths beneath. The last part to Mettapulayam goes down very quickly into the plains.
I can't testify for one of the other two Mountain Railways, but this Niligiri Express is certainly a must-do! And not only for railway buffs: I enjoyed the scenery even more than the features of the railway system. The ride down takes 3.5 hours, and I wasn't bored for a second.
---
Vishal Sharma
Shimla (or Simla) can be approached by air/train/road. Although the train takes longest time (some 6 hrs)from Kalka, journey is certainely a worthwhile. Forest goes all along the route while the train moves to higher altitude (from 300 m to 1900 m above sea level), and it is very pleasant to see the sunrise across hills and valleys. A cup of tea at any station is not only refreshing, but has got a good taste too. As the journey starts, many people try to find seats in the train, but after few minutes, everybody seems to get off the seat and peek out of any opening available. I would recomment to go in non-deluxe train for real experience. And don't be shy to shout loud if you like, while the train passes through several tunnels.
---
Subrato Nath, Director-DHR
We still run Steam Trains in DHR Section. DHR has Steam Services everyday from Darjeeling to Kurseong at 1015am, Kurseong to Darjeeling at 3pm, Darjeeling -Ghum-Darjeeling Round trip Joy Rides twice daily at 1040am and 120pm. Moreover, groups can avail Siliguri-Sukna-Siliguri steam special at a very low cost. Groups can also enjoy 'Steam all the way' from Siliguri to Kurseong or Kurseong to Darjeeling by booking steam charter on any day. On any day, DHR has 5 locomotives on Steam.. For further details please check in our website at dhr.in
---
V.M.Govind Krishnan
Nice site. I too had the occasion to travel on the 2' gauge DHR from Darjeeling to Ghoom [8km]in the diesel-loco [NDM-6 #602] hauled train going to New Jalpaiguri, in May 2008. However, a steam-engine hauled train was also there, but it was fully booked, being Tourist Special from Darjeeling to Ghoom and back. I have taken a video of this in heavy rain, balancing a camera in one hand and an umbrella in the other!
This video, as also the videos of the other WHS railway in India - the 46km metre gauge rack and pinion Nilgiri Mountain Railway (inscribed as WHS on July 5, 2005 at the UNESCO meeting at Durban) can be seen at this site: www.youtube.com/arvindkrishnan
On the Nilgiri Railway, the vintage Swiss built steam engines continue to run on the steep rack section between Mettupalayam and Coonoor, after which a bio-diesel powered YDM-4 mainline diesel engine brought from the plains runs for the remainder of the route upto Ooty, being a normal adhesion line.
Three of the 1952-vintage steam engines have been successfully converted from coal firing to oil firing mode at the Railways workshop in Tiruchirappalli, and these are also in operation. Two of these can be seen in my videos - Engine Nos. 37395-X and 37391-X.
By the way, a 3rd WHS railway has been added on Jul 7, 2008 at the UNESCO meeting in Quebec - this is the 96km narrow gauge Kalka to Simla railway, operating on a gauge of 2'6".
---
san
It is possible that the Niligri Hill rack railway from Metupayalam to Ooty might soon be added to the WHS list but the Darjeeling Himalayan Railway (DHR) from New Jaipalguri/Siliguri to Darjeeling is already inscribed. The World's industrial heritage is certainly not over-represented on the WHS list .
I have travelled in trains in all over india from to Ooty in the steam train, from Madras to Coimbatore, Puna, to Bombay, To Delhi, to Agra, Trichi,Triviandrum Cochin,trissur,over and over..etc. That is the best I enjoy and I enjoy looking at trains, reading, etc..etc..
Travelling by steam on the DHR was a great experience.
---
Sri Ganesh
Having been raised in Coimbatore as a kid one of the joys was taking the Nilgiri mountain rail trip from Mettupalayam (which is just 20 miles from my home town) to Ooty (now Udhagamandalam). This rail road has been shot in a lot of Tamil movies. This gives a feeling of familiarity even when you take the trip for the first time. The slow pace of the trip offers a relaxed way to catch the scenery! Some stretches makes one wonder how they managed to construct the rail road!
---
India possesses a number of "Hill Railways" built by the British to aid government officials and others in their escape from the major cities to the nearest Hill Country. It is possible that the Niligri Hill rack railway from Metupayalam to Ooty might soon be added to the WHS list but the Darjeeling Himalayan Railway (DHR) from New Jaipalguri/Siliguri to Darjeeling is already inscribed. The World's industrial heritage is certainly not over-represented on the WHS list and I only know of 3 railway related sites (The DHR plus Semmering in Austria and the Mumbai Railway Station).
The DHR was built between 1879 and 1881. It climbs from 398ft to 7407ft in 47 miles before dropping slightly to Darjeeling after 51 miles (apologies to those who only understand "metric" but we are talking about a British built railway!). It is an excellent trip even for those who are not "railway buffs".
Its gauge is 2 ft and, unlike the Niligri railway, has no rack or cog to help with traction. One of the delights of the journey by steam was seeing the man sitting on the front dropping sand from a box onto the line in order to assist traction (see photo)!
The ascent is achieved both by a relatively steep gradient but also by "tricks" such as a complete spiral. At this point the more energetic passengers jump off the train, climb up the bank and await the train's return after completing the circle! Another technique is a "reverse" whereby the train zig-zags its way up a particularly steep section. The scenery on the route up is superb and Darjeeling itself is a worthwhile destination in its own right.
In some of the towns the line runs down the middle of the main street and the life of the town comes into the railway as trade takes place during extended stops! When we did the trip in 1972 the steam locos were still in operation and there were frequent stops between stations to attend to minor (or even major?!) mechanical matters, give time to build up steam, take on water etc. It is hardly surprising that the whole journey from New Jaipalguri to Darjeeling took over over 8 hours (The journey by road takes around 3.5 hours)
Unfortunately regular full-journey steam journeys are currently a "thing of the past". This seems to be the way of things - the Kalka- Simla railway has been electrified as has (partially) the Niligri railway which is pulled by diesel from Coonoor to Ooty. Perhaps if the Niligri railway gets WHS status this will help preserve the Steam Locos – though, ironically, the DHR received its WHS inscription in 1999 around the same time as plans were being made to phase out steam. I have indeed seen reports of plans to replace the Niligiri steam locos by diesel so, if you want the full experience – go now!!!
The latest information re the DHR I have been able to find on the Web (March 2005) is at http://dspace.dial.pipex.com/steam/trains/india040.htm
This states that, apart from chartered steam trains for groups of enthusiasts, the only steam journeys now are short journeys out of Darjeeling. The attempt to produce an oil-fired steam loco appears to have failed (Though "The Hindu" of Mar 4 2005 reports of modifications and another trial!).
Travelling by steam on the DHR was a great experience. Even if steam is no longer available I would still recommend the trip but inevitably some of the experience/romance will have vanished. Sic transit gloria mundi!
---
Site Info
Full Name

Mountain Railways of India

Unesco ID

Country

Inscribed

Type

Cultural

Criteria

2

4

Categories

Link
Site History
2008

Extended

To include the Kalka Shimla Railway
2005

Extended

To include the Nilgiri Mountain Railway
Locations
The site has 3 locations
Mountain Railways of India:
Darjeeling Himalayan Railway Darjeeling and Jalpaiguri District, West Bengal State,
Visitors
125 Community Members have visited.