L'viv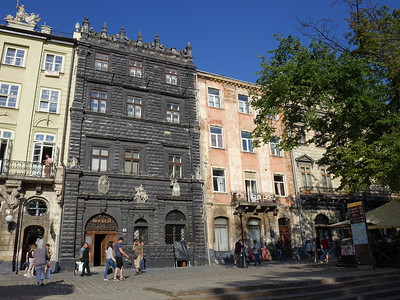 .
L'viv - the Ensemble of the Historic Centre represents a crossing point of cultures and architectural traditions.
The trade routes in the Middle Ages attracted a number of etnic groups with different traditions: Ukrainian, Armenian, German, Jewish, Polish, Italian and Austrian. These groups lived in separate communities, and left their own religious and artistic marks on the city.
In comparison to other central and eastern European towns of medieval origin, L'viv survived very well (comparable to Cracow, but with a different road in history).
Visit June 2017
The Historic Centre of L'viv presents an eclectic mix of architectural and artistic highlights of both Eastern European and Western origin. I stayed there for 2 nights during the long Pentecost weekend. The city is very popular with Polish tourists – the border is only an hour away – and has a lively atmosphere with cafés, terraces and street performers. Cost levels are very low, they are comparable to those in Belarus which I visited last year and a fraction (25-30%) of those in Western Europe. It is easy to navigate in L'viv as signs around town are in English as well: a souvenir from the Euro 2012 football championships.
L'viv has traditionally been a trading city, and has been part of the Kingdom of Poland (until 1772) and Austria-Hungary (until 1918). It attracted different populations that lived in their own communities - from Armenians to Jews, and from Ukrainians to Germans and Hungarians. Reminders of this multicultural history can still be found, though most of them have only been revived since post-Soviet times. Much of the buildings that one sees nowadays around town date back to ca. 1900, and subsequently there is a lot of Art Nouveau.
The city has no exceptional highlights that would warrant a WH listing on their own and it lacks a certain prettiness that for example attracts the tourist masses to a town like Cesky Krumlov, but there is a bunch of sights that are worth seeing anyway. The Armenian Cathedral for example should not be missed. Its multicolour interior is vastly different from the usually sober Armenian churches that I have seen around the world. The facial expressions on the wall paintings (also dating from around 1900?) are odd to say the least.
Further to the north lies the Opera, a neo-renaissance building from 1901 that could be at home in Paris. Nearby is the Andrey Sheptytsky National Museum. It still seems to adhere to the communist manual for museums (an elderly lady is present in every room), but the collection should not be overlooked. It mostly consists of late medieval and 16th-17th century icons that were removed from churches in the L'viv region. Even a few full iconostases are present. The quality of the icons is exquisite, and there are explanations in English.
The main square (Rysnok Square) has a number of interesting 17th century merchants' houses. In one of them lies "the Italian courtyard" - the city's most romantic place, where photographers were busy capturing bridal couples when I visited. In the southeast of the center lies the former synagogue (only some ruins are left) and the Greek-Catholic Bernardine church with its fortifications.
The L'viv WHS consists of two locations: besides the city center as described above, there's also St. George Cathedral which lies some 2 km to the west. It is the main church of the Ukrainian Catholic Church. The yellow baroque and rococo style building lies on a hill. It was busy when I arrived: a wedding ceremony was going on. Apparently Sunday is a popular day to marry in Ukraine, because the next couple was already waiting outside. I was able to get inside anyway via a side entrance. Like the other churches that I visited in L'viv, there are many banners depicting saints and the Ukrainian national colours. St. George, killing the dragon, seems to be the most popular saint of the city.
Looking back at the many small and larger churches that I visited in L'viv they are mostly Catholic in some kind of denomination (I did not enter a Orthodox church, although 32% of the population belongs to that faith). The proximity to Poland and the long shared history with the Polish people will be the cause of that. The popular Polish pope John Paul II is revered here very much as well.
Click
here
to see more of my photos of L'viv
Community Reviews
---
---
---
---
---
Community Rating
Community Rating 3.20. Based on 10 votes.
Your Rating
Site Info
Full name: L'viv - the Ensemble of the Historic Centre
Unesco ID: 865
Inscribed: 1998
Type: Cultural
Criteria: 2 5
Site Links
Unesco Website
Official Website
Related
In the News
Locations
The site has 2 locations.
Connections
The site has 30 connections. Show all
Visitors
90 community members have visited L'viv. Show all