Decorated cave of Pont d'Arc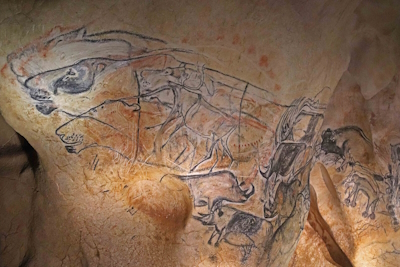 .
The Decorated cave of Pont d'Arc is an underground cave covered with the oldest known pictorial drawings in the world.
They date back to as early as the Aurignacian period (30,000 to 32,000 BP). A second phase of human occupation dates from 25,000 - 27,000 BP.
Over 1,000 drawings have been found, which often are of high artistic and aesthetic quality. They display anthropomorphic and zoomorphic motifs. In contrast to other Paleolithic cave art, the walls of cave feature many predatory animals such as cave lions, panthers, bears, and cave hyenas. In addition to the paintings and other human evidence, fossilized remains, prints, and markings from a variety of animals, some of which are now extinct, were discovered.
The cave was closed off by a rock fall approximately 23,000 years BP and remained sealed until its rediscovery on December 18, 1994 by a group of speleologists. Jean-Marie Chauvet was one of them, and the grotto was subsequently named "Chauvet Cave" after him. The site has been closed to the public since then.
Map of Decorated cave of Pont d'Arc
Legend
Community Reviews
---
This was a fantastic site visit for us. It's home to the famous Chauvet Cave, only discovered in 1994 and home to paintings dating back almost 30,000 years. It's amazing to see what proper conservation from the modern era can do (as opposed to conservation efforts on earlier-discovered caves like Lascaux or Altamira in Spain). You can't visit the original cave, naturally, but the replica cave is actually really well done. The guided tour is in French, but non-French speakers can use an audioguide instead which we were fairly happy with. The art in the cave is pretty mind-blowing, with a variety of techniques used to paint mostly predatory animals. I was reminded as well that there's a Werner Herzog documentary featuring the cave, known as "Cave of Forgotten Dreams", so I'd highly recommend checking that out if you'd like more info.
Read more from Joel Baldwin here.
---
The Chauvet Pont d'Arc cave is one of the most important sites when considering its age, the story it tells and the quality of the remains it presents. Those 30.000 year-old drawings are purely striking and provide a lot of emotion. The images and evidences of the cave are as powerful and astonishing than 30 millenniums ago. The replica that has been built in order to protect the original cave has been realized using real techniques and present the real atmosphere and set up. On top of this, the interpretation centre and the fact that visits are guided allow to deeply understand that site, its importance and offer the possibility to perceive a bit the way our ancestors were living. Convenience-wise, it is better to book the visit in advance on the official website.
---
Clyde Malta - 02-Jun-15 -
I visited this WHS in May 2015. The only way to be able to actually "see" something within the buffer zone of this site is to hike a 30 minute trail, next to the Pont d'Arc, to the closed entrance of the real cave of Chauvet which unlike the one in Lascaux still lacks the UNESCO WHS plaque. However, I decided to visit the replica cave after the very positive experience I had had at Lascaux. I booked months in advance and paid 13 euros for an English guided visit starting at 11:12am ... the punctuality should have already been an indication of the number of visitors (mainly French) who want to visit this WHS. Unfortunately, I thought it was just a misprint so I didn't bother. The ticket clearly indicates to be there at least 45 minutes before so I went there early enough to secure a free parking space in the enormous parking lot and be on time. The number of parked coaches/buses/vans full of Frenchmen was incredible. Many majors and politicians are promoting the replica cave as a symbol of national pride and as a great feat, so I would advise anyone wanting to visit the cave to avoid the French guided tour for this reason at least for the coming year or two. Every 7 minutes a new group is invited to visit the replica cave and a guide describes the main sights and their importance one stop after the next (one group of around 20 people after the next!). The English guided tour was not as packed so I considered myself to be quite lucky on the day. The drawings are incredible and what I liked most were the finger drawings of animals in clay (especially the owl drawing). The bookshop is stocked very well and I bought several books/magazines/first day covers, etc. to further understand the importance of what is marketed as "the first masterpiece of mankind". The museum is very modern with touch screen displays and high tech stuff yet I won't be coming here again anytime soon. I enjoyed my visit but I would prefer the Lascaux experience for a re-visit. Like in Lascaux, photography is not allowed yet I managed to take a quick photo before leaving the replica cave :)
---
Community Rating
Community Rating 3.60. Based on 10 votes.
Site Info
Full name: Decorated cave of Pont d'Arc, known as Grotte Chauvet-Pont d'Arc, Ardeche
Unesco ID: 1426
Inscribed: 2014
Type: Cultural
Criteria: 1 3
Site History
2014 - Inscribed

2012 - Requested by State Party to not be examined

Withdrawn by France after ICOMOS decided that it did not meet the criteria for inscription on emergency basis
Site Links
Unesco Website
Official Website
Related
In the News
Connections
The site has 16 connections. Show all
Visitors
68 community members have visited Decorated cave of Pont d'Arc. Show all