Carlsbad Caverns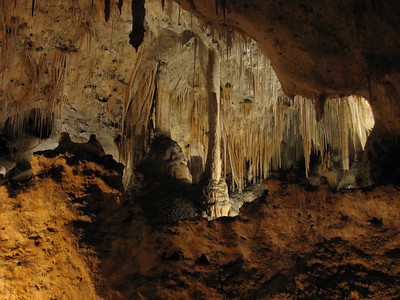 The Carlsbad Caverns are an extensive cave system with over 80 known caves. It originated 250 million years ago as erosion started on a reef in an (evaporated) inland sea.
The park now sees about 400.000 visitors a year. Also, about one million Mexican Free-tailed Bats have made this their home.
Most notable example of the caves is the Lechuguilla Cave: of spectacular beauty it holds remarkable decorations like helctites forming under water and largest collection of gypsum chandelier speleothems. This cave is closed to the general public.
Karst cave systems are widespread in the world, but Carlsbad distinguishes itself because of the huge chambers as well as the abundance and beauty of its decorative mineral features.
Map of Carlsbad Caverns
Legend
Visit September 2006
I travelled to Carlsbad Caverns from just outside El Paso. It's almost a 3 hour drive from there on Highway 180: 155 miles. There are no amenities whatsoever along this quiet road. You do pass the pretty Guadelupe Mountains though, a site on the US Tentative List and a good place for hiking or just having a picknick.
After having acquired the admission ticket at the Visitor Center, I entered the caves via the Natural Entrance Route. This is a one-mile trail that follows the traditional explorers' route (dating from the early 1900s), descending more than 750 feet. It's a steep way down in semi-darkness. You can smell the droppings of the bats (but not see them, fortunately for me as I don't like birds or other flying subjects fluttering around my head). I thought this trail was a nice morning walk, but don't expect to see any spectacular mineral features en route.
That all changes when you enter the Big Room. It's the cave at the end of the Natural Entrance route, but it can also be accessed via an escalator from the Visitor Center. Big it is indeed: it takes at least an hour to make the full circle walk. It's like a sightseeing tour across fairy land. Stalactites, stalagmites, but also 'Soda straws' (very thin, hollow stalactites with water dripping through it), draperies, columns and other forms. The scarce lighting of course also adds up to the mysterious atmosphere (what if caves like this had full lighting?).
In all I spent about 2,5 hours underground and enjoyed especially the diverse formations in the Big Room. I have seen other caves around the world that feature dripping stone, and you have to see this phenomenon once in your life I think. Carlsbad Caverns probably has the biggest collection and so is a good place to visit.
Community Reviews
---
---
---
---
---
---
---
---
---
---
Community Rating
Community Rating 3.40. Based on 10 votes.
Site Info
Full name: Carlsbad Caverns National Park
Unesco ID: 721
Inscribed: 1995
Type: Natural
Criteria: 7 8
Site Links
Unesco Website
Official Website
Related
In the News
Connections
The site has 11 connections. Show all
Visitors
109 community members have visited Carlsbad Caverns. Show all