Campeche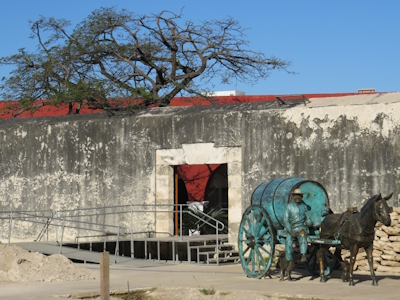 The Historic Fortified Town of Campeche retains many of the old colonial Spanish city walls and fortifications which protected the city (not always successfully) from pirates and buccaneers.
Campeche was founded in 1540 by Spanish conquistadores as San Francisco de Campeche atop the pre-existing Maya city of Canpech or Kimpech. Originally, the Spaniards lived inside the walled city, while the natives lived in the surrounding barrios of San Francisco, Guadalupe and San Román. These barrios still retain their original churches.
Visit January 2014
Campeche isn't much more than a pretty face, polished up for tourism. Together with Queretaro that I visited earlier this trip, I would nominate it rightaway for deletion from the list. Already when reading the AB evaluation and the meagre nomination document, it becomes clear that this is a site among many – one of 2 preserved fortified Spanish ports in Mexico, and well then there's Havana and Coro and San Juan and Portobelo and….
The historical area occupies only a small part of the modern city of Campeche. I had some trouble finding it, including my hotel which was located in the core zone (but had parking on site!). When you're near you'll be driving through narrow streets where a steady row of cars tries to get through and another row is parked by one side of the road. Driving in circles is made more pleasurable here by the pastel colours of the buildings that lighten up in the sunshine. Also noteworthy is how low some streets lie, and how high the pavements are. It's like driving through a gutter.
I spent an afternoon, night and early morning in Campeche. I walked around town twice. The city "feels" very Cuban, although a more capitalist version as each and everyone of these pink/orange/baby blue houses is now occupied by either a shoe shop or a clothing store. And everyone has to get everywhere by car, it's not relaxed being a pedestrian. In an hour or so you've seen it all and walked along the city wall plus each of the forts which are no match for the formidable ones around Havana.
Community Reviews
---
---
---
---
---
Community Rating
Community Rating 2.23. Based on 11 votes.
Site Info
Full name: Historic Fortified Town of Campeche
Unesco ID: 895
Inscribed: 1999
Type: Cultural
Criteria: 2 4
Site Links
Unesco Website
Official Website
Connections
The site has 13 connections. Show all
Visitors
99 community members have visited Campeche. Show all