Le noyau historique médiéval de Gand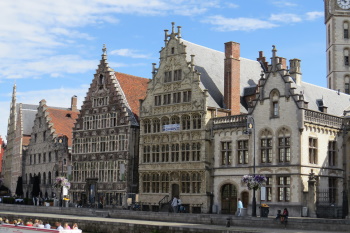 Le noyau historique ou la 'Cuve' de Gand, et les deux abbayes qui sont à son origine is part of the Tentative list of Belgium in order to qualify for inclusion in the World Heritage List.
The medieval core of Ghent can still be seen in its urban layout and well-preserved architectural heritage. Two abbeys helped to shape the city from the 7th century on: St. Peter's and Saint Bavo's Abbey. Ghent was spared during the first and second world wars so much of its medieval architecture remains intact.
Map of Le noyau historique médiéval de Gand
Load map
The coordinates shown for all tentative sites were produced as a community effort. They are not official and may change on inscription.
Community Reviews
---
Gent was the largest city in the Low Countries in the late Middle Ages, it was even bigger than London or Cologne. It has preserved its medieval treasures and core well, though as a prospect WHS it is hindered by nearby Brugge that has been on the List since 2000. Ánd Gent already has two WHS within its borders: like so many historic Flemish towns, it features both a designated Beguinage and Belfry.
I visited Gent on a day trip from my home - it's about a 2 hour drive from the center of the Netherlands. My main goal was to see the 'Lam Gods' (Adoration of the Mystic Lamb), the famous altarpiece painted by the brothers Van Eyck in the 1430s. This precious piece of art is displayed at Saint Bavo Cathedral, the place it was designed for. Although it is very much connected to the history of Gent, I doubt it will be seen as 'immoveable' - so a future WH nomination can not be build on it (it isn't named either in the T-List description).
The rest of the city center is full of churches and pretty old guild houses. It's pretty touristy as well, besides daytripping Dutch individuals, I met groups of Germans, French and Italians. It is also a 'normal' city, with a lot of students and bikes and trams that ply the streets. I found it a very pleasant destination for a day out (great cafees and restaurants too), but doubt that it has enough distinction to set it apart from other cities in the region.
---
I visited this tentative site. Quaint university city and great to just grab a beer and mingle with locals and tourist near the canals. However, I don't think it really has anything of universal value to be included as a WHS.
---
Ian
Ghent (Gent in Dutch, Gand in French) is one of the most amazing cities in Europe and probably the most underrated. First of all, there's the 14th century altarpiece "Adoration of the Lamb" by the van Eyck brothers in the cathedral. I've visited almost all major museums (and many minor ones) in Europe and thought religious art was generally boring and repetitive, but was absolutely stunned by this masterpiece. Never thought I would spend half an hour just gawking at one single painting.
Ghent also boasts one of the most impressive skylines in Europe. From the St Michael Bridge, the view of the towers of the Cathedral, the belfry, and St Nicholas Church rising behind the riverfront row of beautiful guild houses is absolutely magnificent. In my opinion, only Istanbul has a more beautiful skyline in all of Europe.
The overall ambiance of Ghent, though very nice, is not as charming as its more famous neighbor Bruges (Brugge), largely due to its lack of canals that wind through the latter town, which also boasts better museums. But Ghent compensates by having superior architecture, especially the rows of guild houses lining both banks of the river Scheldt. Almost every single facade is a masterpiece, with the overall effect truly stunning.
The castle is also worth a visit, although far less impressive than the rest of Ghent. The Museum of Fine Arts (near the train station) is nice enough but pales in comparison to what Brussels and Bruges have to offer. I didn't have time to visit the modern art museum (SMAK).
Getting to Ghent is very easy from Brussels (40 minutes) or Bruges (20 minutes) by train. After getting off the train, tram #1 is just an escalator ride down from the platforms, and it brings you to the center in about 10 minutes.
---
Site Info
Full Name

Le noyau historique ou la 'Cuve' de Gand, et les deux abbayes qui sont à son origine

Country

Added

Type

Cultural

Categories

Link
Site History
2002

Revision

Successor to former TWHS Gand , vieux centre-ville (1998)
2002

Added to Tentative List
Site Links
Visitors
78 Community Members have visited.