Xidi and Hongcun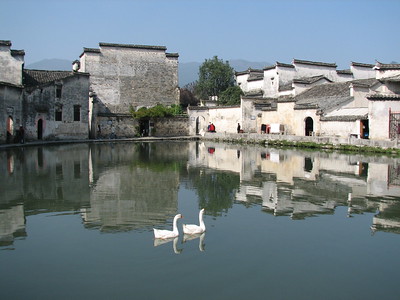 The Ancient Villages in Southern Anhui - Xidi and Hongcun are two exceptionally well preserved traditional Chinese villages from the Ming and Qing Dynasties.
Their townscapes are developed in harmony with the natural environment, using the geomantic principles of Feng Shui.
The Huizhou style is the predominant architecture in the villages: white walls, dark tiles, horse-head gables, stone drums or mirrors and open interior courtyards are common features. It was the style favoured by the local merchant class.
Map of Xidi and Hongcun
Legend
Visit November 2007
Xidi and Hongcun can easily be reached from Huangshan City. Until quite recently, foreigners required a permit when visiting this region (and especially the little villages). This has been abandoned now so it seems, at least I wasn't bothered. Transport is abundant too. I was on my way to the busstation to take a bus to Yixian from where minibuses are leaving to both towns, when I was 'highjacked' by a taxi driver. The friendly guy offered to drive me around for the day, and we quickly agreed on a price. The drive from Huangshan City takes about 45 minutes and is a pleasant one through the hilly and rural landscape of Anhui.
We first stopped at Xidi, where 124 traditional houses remain. Especially near the entrance of the village every inhabitant seems to have opened a souvenirshop, which is a bit annoying. The highlight of the village is behind you then already: a great three-tiered stone arch.
The village is bigger than you'd expect, and one can easily spend 1,5-2 hours here. Besides the ubiquitous Chinese tourgroups, I met many highschool students painting the street scenes. Lots of local people were doing their laundry in the waters running through the village, probably taking advantage of this wonderful sunny day.
Hongcun, about 15 km away from Xidi, has several of the same features as Xidi but distinguishes itseld by its pools and narrow streets. I found it a bit difficult to navigate here, the town has a strange shape (like a water buffalo, the Chinese say). But eventually I reached the Moon Pond, a crescent-shaped pool surrounded by houses. What a great spot! I immediately decided to make this the place to unpack my lunch and just sit here for a while.
There are also a number of large houses open to the public in Hongcun. I was surprised by their lavish interiors. Carved wooden beams are the main feature here, which is so different from the whitewashed stone exteriors of these houses.
Both Xidi an Hongcun charge an 80 Yuan entry fee (8 EUR), and sometimes one has to pay a few Yuan extra to take a look inside a house. It is worth visiting both, though I found Hongcun the more picturesque and quiet one of the two.
Community Reviews
---
Chor Pharn SINGAPORE -
Xidi and Hongcun are precious gems, getting there is fun! We had our own rented minivan, and left Huangshan very early. We passed the countryside covered in mist and bamboo forests, it looked like Switzerland with the river, the black-and-white ancient villages! I wrote this in the Huangshan section, but it's worth repeating. Try visiting some of the other villages enroute to Hongcun and Xidi, they are quite similar in style, minus the commercial atmosphere.
Having said that, I know that our group blends in with the local Chinese backpackers, so we never have problems with permits. I'm not sure if you don't look Chinese if there's a way around this.
---
David Tingey China (ex-Manchester, UK) -
My wife and I visited Xidi and Hongcun in January 2002 as part of our visit to Huang Shan. We both really loved the villages, as we do everything in China. They have been well-preserved, and what was so amazing is that people actually still live there, surrounded by tourists. It was far better than seeing an empty shell, even though many wanted paying for their photos to be taken! But then, how else can they make a living? I didn't mind that.
A visit here is thoroughly recommended, but be careful if you go outside the normal tourist dates - you have to get a police permit to enter the sites, and it took several hours finding the office and rousing up someone who could arrange the permits.
If you want to see more photos of the villages, have a look at the ever-growing web site of our travels in China: www.tingey.tv
---
Community Rating
Community Rating 3.83. Based on 9 votes.
Site Info
Full name: Ancient Villages in Southern Anhui - Xidi and Hongcun
Unesco ID: 1002
Inscribed: 2000
Type: Cultural
Criteria: 3 4 5
Site History
2000 - Revision

Formerly appeared on T List as separate entries: Xidi Ancient Human Settlements & Hongcun Ancient Human Settlements (1999)

2000 - Inscribed
Site Links
Unesco Website
Official Website
Related
In the News
Locations
The site has 2 locations.
Connections
The site has 11 connections. Show all
Visitors
82 community members have visited Xidi and Hongcun. Show all