Huangshan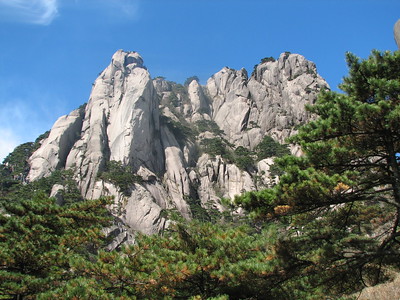 Huang Shan (meaning Yellow Mountain) is a mountain range that has played a leading role in the cultural, literary and artistic history of China because of its scenic beauty.
It has attracted a large number of poets, painters and other artists. Its attraction lies in the peculiar shapes of the granite peaks, in the weather-shaped Huangshan Pine trees, and in views of the clouds from above. The area also has hot springs and natural pools.
The Huang Shan are located in southern Anhui province in eastern China. The mountain range comprises of 77 larger peaks. The mountains were formed in the Mesozoic, about 100 million years ago, when an ancient sea disappeared. Later, in the Quaternary, the landscape was shaped by the influence of glaciers.
Because the mountain tops are often above cloud level, they offer views of the clouds from above and interesting light-effects.
Visit November 2007
How many Chinese fit on one mountain? The record must have been broken when I visited this Saturday. I arrived at 9.15 a.m. at the Jade Screen cable car station, deliberately chosen because the Lonely Planet guidebook warns that the most popular Cloud Valley Temple Cable Car can see waiting times up to 1 or 2 hours. Well, I could join the queue just before the 'From here it's a two hour wait to the cable car'-sign.
At the mountain itself there wasn't much space to walk at your own pace either. I had to troddle along with the tourgroups and the mostly unfit Chinese (must be all those cigarrettes). Underway I passed the legendary Chinglish sign "A relaxed and happy feeling comes from the harmonious coexistence between human and nature". I didn't feel relaxed at all! And I only stayed happy because the sun was shining on a November morning and I just ate two chocolate muffins.
The landscape at Huangshan is undeniable pretty, but it's not a good visiting experience like this. Maybe the Chinese officials should consider to restrict access considerably (the already heavy entrance fee obviously doesn't deter many). If you want to go there, it's probably better to stay overnight to get a more intimate feel for the site. And don't go on weekends or holidays.
Click
here
to see more of my photos of Huangshan
Community Reviews
---
---
---
---
---
---
Community Rating
Community Rating 4.28. Based on 9 votes.
Site Info
Full name: Mount Huangshan
Unesco ID: 547
Inscribed: 1990
Type: Mixed
Criteria: 2 7 10
Site Links
Unesco Website
Official Website
Related
In the News
Connections
The site has 19 connections. Show all
Visitors
105 community members have visited Huangshan. Show all