Huangshan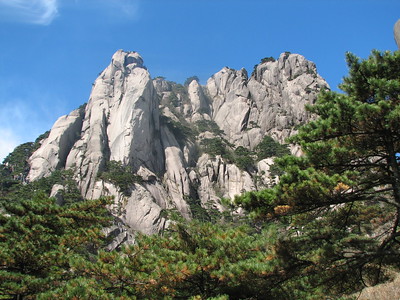 Huang Shan (meaning Yellow Mountain) is a mountain range that has played a leading role in the cultural, literary and artistic history of China because of its scenic beauty.
It has attracted a large number of poets, painters and other artists. Its attraction lies in the peculiar shapes of the granite peaks, in the weather-shaped Huangshan Pine trees, and in views of the clouds from above. The area also has hot springs and natural pools.
The mountain range comprises 77 larger peaks. The mountains were formed in the Mesozoic, about 100 million years ago, when an ancient sea disappeared. Later, in the Quaternary, the landscape was shaped by the influence of glaciers. Because the mountain tops are often above cloud level, they offer views of the clouds from above and interesting light effects.

Community Reviews
---
When visiting Huangshan I managed the incredible feat of being completely penniless twice in a time span of roughly 2.5h.
It was a rainy day in January and I had come by bus from Hongcun. My clothes were already miserably wet when I arrived in Tongkou as it had been incessantly raining all day. I had known (and forgotten) to pick up cash for my trip, but figured it should be an easy thing as Tongkou is really touristy. My first mistake. There were no (international) ATMs anywhere near and my stress level was already high (never good), as I felt short on time and wanted to finally ascend.
Eventually, a Chinese drove me to the closest (international) ATM and I got the much needed money. Or so I thought as 10min later I had lost my wallet with the money and my credit cards. The pessimists will say that the guy stole it. I don't think this is what happened as he stuck around and even helped me talk to the police; I doubt your regular thief would do that.
My personal opinion on the matter is that my clothes were all wet and sticky and it was still raining heavily. When I put back my wallet in my trouser, I didn't notice that I had missed my pocket and just dropped it. And then someone else picked it up. There were also no attempts to spy on my PIN or use my credit card in other fashion.
So, I found myself completely broke in a remote corner of China. What to do? Turns out, all it took was contact my Chinese colleague via VPN and Whatsapp and he wired the money nearly instantaneous via AliPay to a shop owner who handed me much needed cash. All easy, I thought.
At that point, I was reviewing on how to proceed. Should I go back to the hotel and call it a day? Nope, still needed to get the Huangshan tick. So instead I used my freshly received cash to buy myself a shuttle bus ticket. Plan had been to go up to the cable car station and then return. But then I saw the prices for the cable car and saw it fit my budget. I figured, wtf, let's go up the mountain by cable car, hoping that the clouds would clear higher up.
They didn't, so while the exercise took me to the core zone, there was very little to appreciate apart from "It rains a lot." and some rock formations.
It was then that I was broke the second time. I wanted to go down by cable car when I was told my ticket wasn't valid as it was a single ticket, nto a return ticket. I still don't understand why they would sell these types of tickets in the later afternoon, but well.
It was getting dark and I needed to get back to my bus and hotel and I was really worried being stuck in the rain on the mountain at night. Eventually, google translate and some loud sounds, resulted in me paying the kiddie rate for going down where I then had just enough money to the pay the return trip on the shuttle bus to Tangkou.
In Tangkou, I had planned to get money the previous way via the shop owner and then to take the bus back to Huangshanbei, but... I was too late. The station had closed at 17:00h, so no shop owner and no bus.
Only way back was by cab and I had to somehow pay for it. Some whatsapping and my Chinese colleague again came to the rescue (thanks again). He must have thought what an idiot am I dealing with, how can he be broke again. And I am wondering that myself.
Interestingly, I learnt, you can send the barcode as an image and he managed to send money to the cab driver. The cab driver gave me a fair rate and at the hotel I got yet another (huge) cash infusion which lasted for the remainder of the trip.
In sum, the day was the worst and the best of my trip. For the all the stress it caused me, everyone was really helpful and it all worked out. Amazing what technology properly used can do for you. I should have stayed calm from the beginning and that's a life/travel lesson. And I should never store my fallback travel credit card with my normal credit card.
Getting There
It gets a bit confusing, so stay with me a little.
Huangshan, the site, refers to the mountain. The gateway to the mountain is in a town named Tangkou where you can catch a shuttle bus to the cable car station.
Huangshan, the town, is roughly one hour on the brand new highway South of Huangshan, the mountain. North of the city, a new bullet train station was built which is named Huangshanbei (Huangshan North, as in North of the town, which is still way to the South of the mountain). Around the bullet train station, hotels and some tourist infrastructure have sprung up. Most hotels you find on booking for Huangshan are located here.
To get from Huangshanbei (the train station) to Tangkou you can take a bus. To the right, when you exit the railway building is the regional bus station. They have plenty of connections. In off season, the first bus runs around 8:30, the last bus runs at 17:00h sharp.
If you find yourself stranded in Tangkou, a cab will officially cost you 200 RMB plus the highway fee.
Getting In
Before you go, pick up plenty of cash. In total, going up and down the mountain with entry, bus and cable car, will cost you at least 500 RMB and you haven't eaten anything yet. So I think you should bring 1000 RMB.
Keep in mind, that there is no ATM anywhere near the shuttle bus station. While there is a nearby bank, they do not accept international credit cards. The next bank with an international ATM is at least a 20min walk from the bus station.
From Tangkou, you can take a shuttle to multiple cable car station. The bus station and the facilities for queuing are huge. Coming in off season with heavy rain, I had a hard time fathoming why those would be needed as everything was empty. But pretty sure they aren't in high season.
Keep in mind that all tickets are single trip tickets, so you need the same amount to go down again.
While You Are There
A visit to the villages of Xidi and Hongcun is a must. Every day, there are a few direct buses from Tangkou to Hongcun, the road being quite scenic.
---
Aovana Timmerman
I have climbed Huangshan in Winter about 16 yrs ago. And at that time, the cable car didn't work because the lines were frozen. So I attached dried grass soles to my trainers, bought a walking stick and walked up Huangshan from the base. It was cold and the small steps were covered with thick ice which made walking rather dangerous as it was easy to slip on the ice.I remembered the air being so fresh and the pine trees being so old and so beautiful.When I got right to the top near where my hotel was, I remembered it started snowing heavily.The next morning, the clouds in the sky formed a "cloud sea" around the peaks of the mountains. It is an amazing sight. Winter is definitely unforgettable in Huangshan.
---
From Shanghai to Huangshan, it will be best to take the 5-6 hour bus ride. Trains going to and coming from Huangshan take longer.
A weekend trip is enough, but it will still depend on what one wants to see. The International Youth Hostel in Beihai Road in Tunxi is highly recommended. They can also take care of the bus from Huangshan city to Huangshan gate (1.5hours) and the bus from Huangshan back to major cities (Beijing, Hangzhou, Ningbo, Shanghai, etc.)
If you decide to spend the night in one of the hotels in the peak, you will need to book a room in advance. One advantage of staying overnight in the mountain is viewing the sunrise the following morning. Do not miss Tiandufeng.
---
3.00 The Netherlands - 20-Nov-07 -
How many Chinese fit on one mountain? The record must have been broken when I visited this Saturday. I arrived at 9.15 a.m. at the Jade Screen cable car station, deliberately chosen because the Lonely Planet guidebook warns that the most popular Cloud Valley Temple Cable Car can see waiting times up to 1 or 2 hours. Well, I could join the queue just before the 'From here it's a two-hour wait to the cable car'-sign.
At the mountain itself, there wasn't much space to walk at your own pace either. I had to trundle along with the tour groups and the mostly unfit Chinese (must be all those cigarettes). Underway I passed the legendary Chinglish sign "A relaxed and happy feeling comes from the harmonious coexistence between human and nature". I didn't feel relaxed at all! And I only stayed happy because the sun was shining on a November morning and I just ate two chocolate muffins.
The landscape at Huangshan is undeniably pretty, but it's not a good visiting experience like this. Maybe the Chinese officials should consider restricting access considerably (the already heavy entrance fee obviously doesn't deter many). If you want to go there, it's probably better to stay overnight to get a more intimate feel for the site. And don't go on weekends or holidays.
---
Chor Pharn
Huangshan is uniquely Chinese, and if you could discount the crowds, the peddlers and the loudspeakers, it will touch you with its grandeur.
The best part for me was after dark. I went to PaiYunLou (Cloud Dispelling Pavilion) with a few friends, we lay down on a cliff side and saw the valley spread below us, and counted shooting stars through the night! Very special!
The old black-and-white towns unique to Anhui province that lie scattered around Huangshan are worth a visit too. If you can, book your own bus and visit the less well known towns other than the ones listed on the World Heritage list to avoid Chinese crowds, loudspeakers and peddlers.
---
Aukje de Jong
To me Huangshan is the most beautiful nature sight in China, I can see why it has been (and probably still is) an inspiration to poets and painters all over China.
Each day can be a different experience because of the weather-conditions. When I climbed its incredible amount of steps in 2000 it was foggy, and that gave a mystical feel to the mountain.
---
Site Info
Full Name

Mount Huangshan

Unesco ID

Country

Inscribed

Type

Mixed

Criteria

2

7

10

Categories

Link
Site Links
Unesco Website
Related
In the News
Visitors
126 Community Members have visited.