Vat Phou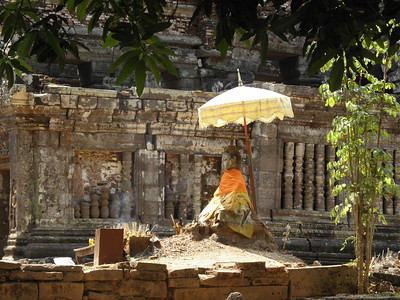 Vat Phou and Associated Ancient Settlements within the Champasak Cultural Landscape is a ruined Khmer Hindu temple complex interacting with its natural surroundings. The whole was created within a geometric framework linking man-made works with natural phenomena, notably the summit of Phou Kao and the river Mekong.
The landscape is located in southern Laos. There was a temple on the site as early as the 5th century, but the surviving structures date from the 11th to 13th centuries. The temple has a unique structure, in which the elements lead to a shrine where a linga was bathed in water from a mountain spring. The site later became a centre of Theravada Buddhist worship, which it remains today.
Visit March 2011
Southern Laos has always been pretty difficult to access. Things are changing here too however, albeit slowly. I was happy to discover a direct flight from Ho Chi Minh City in Vietnam to Paksé (the main transport hub in South Laos). Lao Airlines started this only last year, and I wonder how long they will continue it as there were only 20 passengers on my flight. Paksé itself feels unbelievably quiet and slow, especially when you've just come from Vietnam as I did. You can easily walk in the middle of the streets in the center of the town. A brochure at the Lao Airlines described it accurately: "it's no chaos, it's Laos"!
As I had plenty of time, I decided to give it a try to get to Vat Phou by public transport. Guidebooks and internet fora could not supply me with clear directions how to do it. So I started out early (before 7 a.m.), looking for a songthaew to Champasak. To cut a long story short: they do exist, but will go only later in the morning when the people from Champasak have finished their sell and shopping at the market of Paksé. I ended up chartering a whole songthaew, together with an Italian guy who was stuck too.
We arrived in Champasak just before 10 o'clock. I hired a bike for the remaining 8 km's to Vat Phou. 10 a.m. is already pretty hot in Laos in March. Fortunately the road is well-paved, flat and just straight ahead. Vat Phou is a large complex. There's an archeological museum at the entrance. Some lingam are shown here, and other objects found at the Vat. It's just one room, not very spectacular. Then it's a couple of hundred meters more to the archeological complex. I could take my bike with me (buses also go there). It all is in the open field, very little shade.
The complex is made out of 3 parts: one lower, one middle, one high. The parts are connected by steps – many steps, steep steps, sometimes dangerous steps. You'll pass redheaded tourists taking a break on stones by the side of the stairs. And we all endure this to get to the highest point, the ceremonial complex. But the lower area I found more impressive: the old processional walkway, with great views of the linga-shaped Phou Kao mountain and the frangipani that surround the stairs going upwards.
And then I had to get back to Paksé. This is were all of the guidebook directions go silent. The answer is: there is no public transport from Champasak to Paksé in the afternoon. At least, no one was able to point it out to me. I asked around in a number of guesthouses, but all that they came up with was "early tomorrow morning". So I had to improvise a ride back. I planned to just stand by the side of the road in the right direction, and just try every passing vehicle. Fortunately I did not have to – I walked into one more restaurant to ask for transport to Paksé, and found a driver and a guide who were just "delivering" their 2 guests to a boat. They had to return empty to Paksé, and were all too happy to take me along (for a little money of course). In hindsight, I think it's the best to stay overnight in Champasak, and head for Vat Phou early in the morning. It's an atmospheric site.
Click
here
to see more of my photos of Vat Phou
Community Reviews
---
---
---
---
---
Community Rating
Community Rating 2.58. Based on 6 votes.
Site Info
Full name: Vat Phou and Associated Ancient Settlements within the Champasak Cultural Landscape
Unesco ID: 481
Inscribed: 2001
Type: Cultural
Criteria: 3 4 6
Site Links
Unesco Website
Official Website
Related
Connections
The site has 13 connections. Show all
Visitors
59 community members have visited Vat Phou. Show all