Sites of Japan's Meiji Industrial Revolution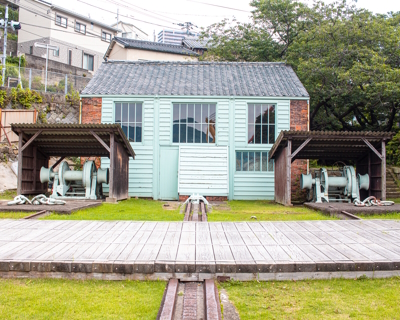 The 'Sites of Japan's Meiji Industrial Revolution: Iron and Steel, Shipbuilding and Coal Mining' cover a series of industrial sites related to iron, steel, shipbuilding and coal mining.
They were developed during the rapid Industrial transformation in the Bakumatsu and Meiji periods (1853 - 1912).
The WHS comprises 23 component sites in southwest Japan. They are spread out over the towns and cities of Hagi, Kagoshima, Nirayama, Kamaishi, Saga, Nagasaki, Miike and Yawata.
Map of Sites of Japan's Meiji Industrial Revolution
Legend
Visit May 2000
Hagi housed the feudal lords of the Kyushu-Yamaguchi region, ending with Lord Takachika Mori (1819-71) who is associated with the proto-industrial trials around Hagi. The site includes the ruins of Hagi castle and many original buildings and streets in the well-preserved town, which has avoided the natural disasters that Japan is so prone to.
I visited Hagi on my first trip to Japan, in the year 2000. I did so on a day trip from Hiroshima. Hagi was (and probably still is) way off the beaten track. It is situated at the northern coast of Honshu Island, and it took me 2 hours on a bus and a train to get there. The ticket seller even had to ask twice if I really wanted to go there. "Hagi in Yamaguchi district you mean?"
The charm of old Hagi proved to be easy to find however. Most of its historical buildings lie in the old samurai neighbourhoods. Long, whitewashed walls that line the streets are characteristic for this area. Some of the old houses are still lived in, others are museums. I started at the spacious house of the Kikuya family of Merchants.
Not far from there lies the cute little temple Ensei-ji. It is a combination of a Shinto shrine and a Buddhist temple. Besides the usual colourful ticket and a brochure in English, they also provided me with a poster of Hagi. And there were more gifts to come: at the little restaurant where I ate my noodle lunch, the owner gave me a pumpkin to take with me that easily weighed 1.5kg.
With the extra weight in my backpack but amazed by Japanese hospitality, I further explored Hagi. I walked a few km along the coast to the Hagi Castle ruins. Only the moats and walls survive til today. It is located in the pleasant Shizuki Park, where the green spring colours attributed to my very bright outlook on this corner of Japan. The connection to a possible future industrial WHS however totally passed me by.
Community Reviews
---
---
---
---
---
---
---
Share your experiences!
Have you been to Sites of Japan's Meiji Industrial Revolution? Add your own review!
Community Rating
Community Rating 3.00. Based on 8 votes.
Site Info
Full name: Sites of Japan's Meiji Industrial Revolution: Iron and Steel, Shipbuilding and Coal Mining
Unesco ID: 1484
Inscribed: 2015
Type: Cultural
Criteria: 2 4
Site History
2015 - Name change

From "Sites of Japan's Meiji Industrial Revolution: Kyushu-Yamaguchi and Related Areas" in nomination to ""Sites of Japan's Meiji Industrial Revolution: Iron and Steel, Shipbuilding and Coal Mining" at inscription

2015 - Inscribed
Site Links
Unesco Website
Official Website
Related
In the News
Locations
The site has 23 locations. Show all
Connections
The site has 13 connections. Show all
Visitors
44 community members have visited Sites of Japan's Meiji Industrial Revolution. Show all