Saint Catherine Area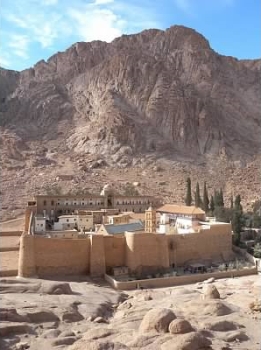 The Saint Catherine Area holds the holy mountain of Mount Sinaï, home to one of the oldest continuously functioning Christian monasteries.
The remote monastery, located in a rugged landscape at the foot of the mountain, is an ancient example of ascetic monasticism. It was built in the 6th century at the site where Moses is supposed to have seen the burning bush. The mountain is sacred to three major world religions - Judaism, Christianity, and Islam.
Community Perspective: Be prepared for "an hour-long visit to a small courtyard, a church, and a very historic, though unimpressive, bush". The monastery can be hard to enter because of the observance of many religious holidays and the site can get very crowded with bus tours from the Red Sea coast. Most people also do the 3hr hike to the top of the mountain, or even longer hikes.
Community Reviews
---
I had the opportunity to arrange a 3-day visit to the holy site, which included a hike to Mt. St. Catherine - the highest point in Egypt, through the guidance of Ahmed, a Jebeliya Bedouin. He said his tribe has lived for centuries in the mountains of South Sinai.
Perhaps for most travelers, St. Catherine Area means St. Catherine Monastery, and its impressive museum, church and the Burning Bush. But by venturing out in the valleys and canyon (property is 60,000+ hectares), one discovers other interesting chapels, ruins and archaeological sites most likely related to stories in the Book of Exodus.
It took several hours and a great deal of sore muscles to reach the country's summit, the Chapel of St. Catherine (photo uploaded). On the way, Ahmed and I hiked through Wadi El-Arbaein (Valley of the Forty, in honor of the Forty Martyrs), numerous rock shelters, olive gardens and ancient wells.
Two tentative sites, Raitho Monastery and Wadi Feiran, for their own unique heritage values can perhaps be nominated as extension to (or enhancement of) the St. Catherine heritage site.
---
2.00 Philippines - 14-Dec-19 -
WHS#63
Sinai doesn't feel quite like the rest of Egypt. It's home to some beautiful rugged mountain landscapes that kept me awake through every drive. It also doesn't feel quite as congested and crazy. And it's cool. As in cold. Even in May when I experienced 47-degree temperatures in Luxor and Aswan days before, temperatures were 30 degrees lower in the nights in St. Catherine. I spent a night in a Bedouin camp nearby while on my trip through Egypt in 2018, and the views and atmosphere of the desert mountains was just magical, almost as if preparing us for the great sights to see the next day. I think that's why I wasn't so sold with St. Catherine's Monastery the next day - there was just so much anticipation for what ended up being an hour-long visit to a small courtyard, a church, and a very historic, though unimpressive, bush. I don't think my visit to the monastery really gave it justice, but does the monastery really give justice to the long drive going there? It's great, but I ended up not seeing the renowned library and mosque next to the church as those options weren't even available to me. I also regrettably didn't go up to Mt. Sinai as my family wasn't in the mood to wake up at dawn and climb hundreds of steps. All in all, it was a somewhat underwhelming experience, but I did love the mountain landscapes.
Ultimately, though, I can't take away from the site's WHS value. This was one of the first and oldest monasteries in the world, so it's amazing that it's even alive and standing now. The landscape isn't just beautiful, but it's holy to all 3 Abrahamic religions. The mosque and church, each having been built hundreds of years ago, are an early notable of example of lasting peace inreligious coexistence in this chaotic and contested part of the world. I also draw a lot of parallels between St. Catherine and Bethlehem. They were both sites of some of the most significant events in Christianity, and are both some of the most important places of pilgrimage in the world. They're both home to some amazing churches embellished with intricate Orthodox design and golden Byzantine mosaics. The Church of the Transfiguration was probably the one shining star of my visit to St. Catherine's Monastery, it's just a shame pictures aren't allowed inside. In the end, the St. Catherine Area is still undeniably significant site worthy of its WHS status, just don't expect to see world wonders in the old monastery, but instead focus on the historic significance and tranquil atmosphere of this remarkable site.
---
I visited this WHS in April 2010. I started to climb Mount Sinai at around 4am to view a spectacular sunrise at around 7am. After the sun rose, I continued to trek towards the Monastery of St. Catherine at the foot of Mt Horeb, where Moses received the Tablets of the Law. The whole area is considered sacred by 3 religions: Christianity, Islam and Judaism.
---
Reda Youssef
..
in my past life i used to climb the Mt. Sinai for living!
i did that almost 80 - 100 times .. for sunrise and such!
Nowadays, and after i realized what is best for me, i got myself i little house in here and i enjoy the magnificent healthy spiritual life in these mountains.
If you come around that far and high, its sad that you don't give yourselves the time to meet with yourselves! Spend few days and learn new experiences.
its summer it time!
---
Paula Fonseca
It's an increadible experience up the Sinai, but the guides sell you this a first level dificulty climb. This is not true. And the dry weather became freeze ou too much hot very fast. It's impossible climb the mountain and see the Monatery at the same time you go there. The Monastery is too interesting but the visit gets you about 15 or 20 minutes, because the monks don't let you stay looking at. There, you keep the line, see and farewell.
---
The last leg of my Egyptian trip – the Sinai Peninsula and Sharm El Sheik – heading for the Saint Catherine Monastery in the mountains. I'm sure that Sharm El Sheik is a haven for those who just loves resorts, especially in combination with diving but in my - strictly personal opinion – its nothing but a sad place with one concrete hotel next to the other and garbage littered desert. If you want to go here I strongly recommend the small towns of Dahab and Nuweiba further up the east coast of Sinai.
At the time of my visit to Saint Catherine's, the entire tourist population of Sharm El Sheik must have decided to go here. Given the crowds, I still got quite a nice view and understanding of a monastery that with its desolate location has been virtually uninfluenced by the surrounding world over many centuries, preserving a religious ambience that you only find in Jerusalem or in religious centres in Russia.
The reason for Saint Catherine's location, in the midst of the Sinai Mountains, is of course Moses and the mountain where he received the Ten Commandments from God. Besides Moses, they say that the desert and the Sinai Mountains have given birth to many prophets and philosophers thanks to its desolate, beautiful and majestic landscape - once there's nothing around you, you have to look inside to find truth and meaning to life. Believe me….it works…!
---
Unfortunately St Catherine's closes for various religious days and, to complicate matters further, is still operating on the Julian, not the Gregorian calendar! I know of no way to check in advance whether it will be open on any particular day or not.
So, on my second visit we could not get in (luckily I had already visited the "Burning bush" and the library). There is still Mount Sinai to climb however! It provides some fine views down onto the monastery and a wide panorama at the top. It will take about 3hrs. It is "traditional" to do it at night (when you can make it more of a "pilgrimage") for the sunrise but if (as we are not) you are not a great lover of sunrises it is a reasonable climb in winter before the sun rises too high.
---
Site Info
Site History
2003

Rejected

Regarding extension on natural criteria (to resubmit the nomination as a cultural landscape)
Site Links
Unesco Website
Official Website
In the News
Visitors
148 Community Members have visited.