Necropolis of Bet She'arim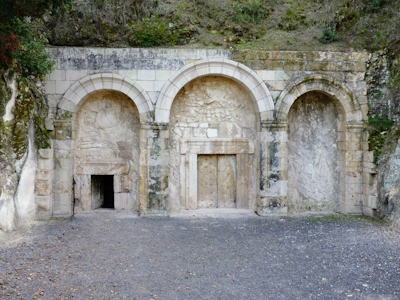 The Necropolis of Bet She'arim - A Landmark of Jewish Renewal covers burial catacombs from an important period in Jewish history.
It comprises the archeological site of a Jewish town and 33 ancient rock-cut Jewish tombs. Rabbi Judah the Patriarch lived here, and it became the preferred burial place for Jews after they were barred from the Mount of Olives during the Roman occupation. The catacombs contain inscriptions written in Greek, Hebrew, Aramaic and Palmyrean and images showing the exchange with the Greco-Roman world.
Community Perspective: Obviously the site is popular mostly with Jewish visitors. Not all caves are accessible and to a WH chaser the two main caves nearest to the visitor center offer 90% of the overall value.
Map of Necropolis of Bet She'arim
Load map
Community Reviews
---
Not many people who are neither students of Jewish history nor WH chasers will prioritize seeing Bet She'arim on their visit to Israel, but it has to be said that it is one of just a couple of WH sites in Israel that actually exceeded my expectations (albeit from a relatively low bar). I visited on an early morning in November of 2019 and pretty much "opened the site" for the day; only about half an hour later a few other people started to arrive, followed by a couple of tour buses.
The primary site consists of a few dozen caves that hold multiple Jewish burials from around the 2nd century AD. The two main caves nearest to the visitor center offer 90% of the overall value, while the rest provides one or two additional features and extend the range of the attraction. The Museum Cave, true to its name, offers a number of exhibits in a museum setting, from ancient pottery to fragments of stone decorations to models of the original structures at the site.
The Cave of the Coffins is also aptly, if not exactly creatively, named. This is a vast catacomb filled with all kinds of tombs and sarcophagi. The cave is roughly 75 x 75 meters in dimensions, but it feels larger as you walk inside its passages. Many coffins are decorated with patterns or animal motifs, and in one corner of it stands what is known as "the mother of all menorahs".
Not all caves are accessible – and those that are more often than not require a touch of contortionist abilities in order to enter. Most of the open doors are barely a meter high; having to bend horizontally to pass through is unavoidable – and the door width will proportionally impede those of larger girth. Nonetheless, I attempted to go inside as many of the caves as I could, even though, as mentioned above, they only offer an occasional detail of note. Among them is the one presumably hosting the tomb of Rabbi Yehuda Hanasi (aka Judah the Patriarch), the spiritual and political leader of the Jewish world at the turn of the 3rd century AD.
Bet She'arim is about an hour away by car from Tel Aviv – or a bit over half an hour from Haifa. I spent under an hour at the site, while a more thorough student of ancient history may find ways to extend their stay; there is a secondary site about a kilometer away called Menorah Caves – I had a thought of taking a look, but the path to it was barred. There are also the remains of the ancient town of Bet She'arim above the necropolis.
Read more from Ilya Burlak here.
---
The Necropolis of Bet She'arim: A Landmark of Jewish Renewal is a cultural UNESCO World Heritage Site in Israel. It was inscribed into the list in 2015 and is part of Bet She'arim National Park.
Unlike many of the other World Heritage Sites in Israel, it primarily deals with post-Christian era Jewish Heritage, so it only tends to attract Jewish visitors. Nonetheless, it deals with an interesting part of Jewish history and is worth a visit if you are in the Haifa area.
Bet She'arim is located approximately 20km from Haifa and it easy to visit the park on a day trip from Haifa, Tel Aviv, or Jerusalem.
If you are planning to visit other World Heritage Sites in the area, it is in close proximity to Bahá'i Holy Places, the Sites of Human Evolution at Mount Carmel, Tel Meggido, and Acre.
---
I was lucky to be in Israel shortly after inscription of Bet She'arim, otherwise most probably I wouldn't go there. That would be a pity, because this place is interesting, definitely above average of Israeli WHS. It is also very popular among locals – during our visit the site was full of people, but fortunately not overcrowded.
Important note – although the site is relatively easily reachable, if you go by car do not be mistaken by the name (as I was) – the site is not near the village of Bet Shearim, it is on the suburbs of Kiryat Tivon, small town not so distant from Haifa.
It should not be surprising that the site is popular among Jews – after destruction of Jerusalem Temple the most important Jewish court- Sanhedrin – was moved here and the place was considered the most prestigious necropolis for well-off Jews when the cemetary on Olive Mountain was not accessible. That popularity stemed from Judah the Nasi (main codificator of Mishna, Jewish code of laws), who wished to be burnt here.
The necropolis of Bet She'arim is not big and the core area may be visited in about 1-2 hours. The main attractions are of course the tombs, some of them gathered in caves (the largest burial cave is 75m long and wide). Unfortunately, despite warnings like "Whoever dares to open this tomb will die the horrific death", literally all the tombs were robbed, even if they were protected by huge stones. Anyway, the remained sarcophagi are incrusted and seeing them is really interesting.
---
This site was a sacred Jewish burial place during the late Roman period, when Beth Shearim was among the most significant Jewish sites. The site became important when Rabbi Judah the Nasi was buried there, which attracted many other Jews who wishes to be buried nearby. The site is full of catacombs where you can see ornated sarcophags covered with Greek inscriptions. Some of the entry gates are also impressive. The site is not too big and can easily be covered in a few hours. The site is conveniently located next to Nazareth at the Yizrael Valley, where you can also visit Seppheris and Megiddo, itself a WHS.
---
Site Info
Full Name

The Necropolis of Bet She'arim - A Landmark of Jewish Renewal

Unesco ID

Country

Inscribed

Type

Cultural

Criteria

2

3

Categories

Link
Site Links
Unesco Website
Official Website
In the News
Visitors
84 Community Members have visited.