Gros Morne National Park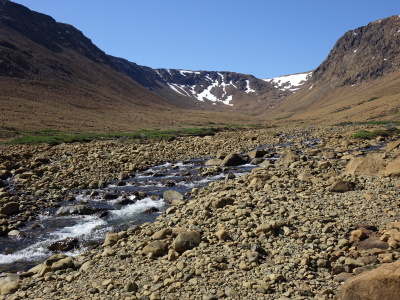 Gros Morne National Park is known for its role in evolutionary history and its scenic beauty.
It is one of the rare places on Earth where the phenomenon of continent movement becomes visible, exposing deep ocean crust and the rocks of the Earth's mantle.
The park is located on the west coast of Newfoundland, and is named after Newfoundland's second-highest mountain peak (at 2,644 ft/806 m) located within the park. The landscape holds many rock formations, fjords and waterfalls.
Map of Gros Morne National Park
Load map
Community Reviews
---
4.00 The Netherlands - 16-Jun-22 -
Gros Morne National Park has a large variety of landscapes, ranging from glaciers and fjords to freshwater lakes, tuckamore forest and coastal cliffs. I spent 2.5 days there: driving around while enjoying the views, hiking some of the trails, and doing the Western Brook Pond boat tour. From a logistical view, the park has a northern and a southern zone, separated by Bonne Bay. During my preparations, I enjoyed the lovingly detailed guidebook 'Gros Morne National Park' by Michael Burzynski.
In the southern zone, I did the Tablelands hike and the Green Gardens hike. Driving up there, Tablelands draws the attention right away: it's a barren, brown mountain range among the surrounding forested ones. It looked stunning with the still remaining bits of snow and ice on its top and flanks. Its origins are fascinating too and it is an essential part of the OUV of this WHS: it is where deep ocean crust and the rocks of the earth's mantle lie exposed after having been uplifted through the action of plate tectonics. An easy, 4km return path with information panels gets you close. There is no 'real' soil here, only a few specialist plant species such as pitcher plants can survive.
The Green Gardens hike is a fine combination with Tablelands, as it has totally different scenery while still being only 5km or so away. This is a more strenuous hike (labeled 'medium', 9km return). You climb across a ridge and then descend towards the coast. Along the way a tuckamore forest provides shelter from the sun: these tuckamore trees are another signature feature of this park. They are spruce and fir trees that are stunted by the winds and winter weather, so they lean over to one side. The trail ends at a long stretch of coastal meadows, with views of sea stacks and fine areas for a picnic.
The northern zone is dissected by Highway 430, which is a nuisance as it comes with speeding trucks and other through traffic. I did a couple of short walks here, the Berry Head Pond trail (a loop around a lake) and Lobster Cove Head (with a lighthouse and more tuckamore trees). The main excursion here though is the Western Brook Pond Tour. This is the single most popular thing to do in the park: you need to pre-book weeks beforehand and when I arrived at the car park, 2 buses were just unloading their (elderly) passengers. It's a 3km walk from the parking to the dock. The tour was a bit too cheesy for my taste and the boat very full, but the landscape again did not disappoint. Western Brook Pond is an inland or freshwater fjord since being cut off from the sea. I found the experience very similar to Norway's Geiranger Fjord, with waterfalls, oddly shaped rocks and towering cliff walls (up to 700m high) along the route.
The park earned my 4 stars easily, but there were some disappointments as well. The main highway that cuts through it, as mentioned above. The park also lacks a certain wildness and sense of adventure, the visitor experience has been organized so well that it feels tamed down (there's always a boardwalk to prevent wet feet). Also, Newfoundland is low in mammal wildlife and this park is no exception. There are some 400 native Caribou still roaming around and almost 10 times as many Moose, which were introduced from the mainland in the 19th century. I saw neither species during my stay here, although my start had been promising as at the Gros Morne mountain viewpoint, another traveller pointed out a bear moving about on a meadow high up. It could only be seen via binoculars.
Read more from Els Slots here.
---
Gros Morne National Park was the first World Heritage Site I intentionally set out to visit, and the start of my quest to visit World Heritage Sites during my travels. I learned about the park when researching a trip to Newfoundland and Nova Scotia with my father in the summer of 2006, and upon realizing that, like L'anse aux Meadows, Gros Morne was a World Heritage Site, I made a point to add it into the itinerary. I was not disappointed. Gros Morne is a place of beauty, on the rumpled west coast of Newfoundland. We stayed in Rocky Harbor for two nights, and took short trips out to look for moose and other wildlife, as well as to visit the coastal lighthouse at Lobster Cove Head. The highlight of the park, as others have noted below, was the boat tour on the inland fjord of Western Brook Pond. Waterfalls cascaded down the mountains on either side of the pond, and the mountains came to life when the sun broke through the clouds. My one regret when visiting Gros Morne is that we didn't have time to visit the Tablelands, the section of the park where the earth's mantle is exposed. I have very fond memories of Gros Morne, and I have no doubt I will return someday.
Logistics: Gros Morne National Park is rather large and best reached via private transportation.
---
We visited the national park in late June. We approached the park from L'ans aux Meadows and took this scenic route all the way to Woody Point where we stayed.
It turned out to be a great location to see the Tablelands, one of the highlights in the park. Woody Point is a small heritage community inside the park with nice wooden houses by the fjord.
The park has everything, mountains, waterfalls, fjords, beaches, rugged coastline with sea stacks, heritage communities and wildlife. We stayed two nights and it was too short period to cover it all.
We did three hikes in the park, all very different. The hike to tablelands is a must, a walk on the earth mantle. Interesting and rare landscape. You should do an off-trail hike to really enjoy this bizarre and beautiful landscape. Hiking boots are needed. The Green Garden route trail takes you down to rugged coastline with sea stacks. The last hike was up to a lookup point with magnificent views of the fjords and tablelands, well worth the effort to get up. We wanted to hike up Gros Morne mountain, but it was still winter closed until the next day.
We had great lobster dinner at a seafood restaurant in Trout River while enjoying the most beautiful sunset on our trip. On our way back to Woody Point, the full moon was shining on the fjord - really amazing.
The Unesco plaque is located at the visitor center in Rocky point. We missed the mandatory boat tour at Western Brook Pound. It was sold out for the day, so must be bought in advance.
In Woody Point we found a great little café, with glutenfree sandwich and a great latte. At night local musicians had a private jam session here. Very cool!
### Randi & Svein
---
5.00 Vancouver Canada - 30-Jul-18 -
Visited 15JUL 2018
This is a huge park situated on a vast body of fresh water, which makes it not officially a fjord, although the soaring cliffs and rock formations make it seem like one. We took the Western Brook boat tour to take in the dramatic rock formations and occasional waterfalls. It is good to book in advance with BonTours as this is a popular activity.
One aspect that is not so well-liked is the 3-kilometre walk from the park to the dock on rough gravel through the bog-like but attractive scenery. Beware those black flies if the wind isn't blowing. It seems like there are plans to have some sort of transport in the future for those unwilling or unable to make the trek.
The tiny town of Rocky Harbour is a nice base for visiting the park with several hotels, upscale cabins and some eateries. The only real pub in town is nice but doesn't take advantage of its great view. The Parks Welcome Centre is only 10 minutes away.
Another notable area in the park is the Tablelands, an exposed section of mantle rock from the Earth's crust, which looks strikingly barren in contrast to the greenery of Gros Morne. There is an easy hiking trail which enables enjoyment of the unusually coloured rocks from deep within.
One thing to note is that the size of the park means you have to allow time, for instance, if you have booked a boat or other kind of tour. Western Brook is about a 40-minute drive from the Visitor's centre near Rocky Harbour, and the Tablelands are an hour in the opposite direction.
A great part of the charm of Gros Morne lies in its vastness and being stretched out on a lovely waterfront.
---
Emilia Bautista King
You cannot appreciate how massive this place is until you've been there. I had a wonderful dinner at the quaint Seaside Restaurant (best partridgeberry pie) and tried to call Rocky Harbour within the park for my next night's accommodations, only to realize that it was long distance! The campgrounds are well-kept. Seeing a moose for the first time at Rocky Harbour was unforgettable!
---
This glorious site needs a photo to accompany these well-earned rave reviews. I agree that the highlights are Western Brook Pond (as photographed - the boat tour is a must) and the Tablelands, where the rocks of the exposed mantle render the soil inhospitable to plants. The contrast between the barren, gold-hued hills of the Tablelands and the heavily-treed cliffs of the rest of the park is really quite startling.
The West coast of Newfoundland is still quite undiscovered and has lots of affordable accommodation, and camping is a worthwhile option as well. The park is huge - prepare to spend a few days at least, and to be driving a fair amount. We found Rocky Harbour to be the ideal base, right in the middle and quite scenic in its own right. While you're in the area I highly recommend taking a trip up to L'Anse Aux Meadows and stopping at Arches Provincial Park and the Port-au-Choix site as well.
---
Just visited in May, 2004. More moose than humans. Breathtaking waterfalls and lakes and stunning snow topped mountains. Rocky Harbor has some good hotels all with spectacular sunsets. Don't miss the Western Brook Pond trip and a hike among the rocks from the earth's mantle.
---
Jennifer
Too true, do not go to this spectacular park or you will suffer the same fate as I! Gros Morne has broken my heart. I cried as I left and now find the landscape of my home ridiculously disappointing and bland. My only wish is to return to NFLD to see the fjord once more, but I think that now I am doomed to return again and again. One more time will not be enough, and I was there in May, not summer at all!
---
Dave
This place is hideously disappointing and unattractive. Please don't tell anybody else about it. It would be a shame if the secret got out about the breathtaking fjords, tundra, and coastal lowlands. Please, don't tell anybody about this park. I don't want it to become crowded when I visit there every year from 1700 miles away.
---
Site Info
Full Name

Gros Morne National Park

Unesco ID

Country

Inscribed

Type

Natural

Criteria

7

8

Categories

Link
Site Links
Unesco Website
Official Website
Related
In the News
Visitors
75 Community Members have visited.