Gochang, Hwasun, and Ganghwa Dolmen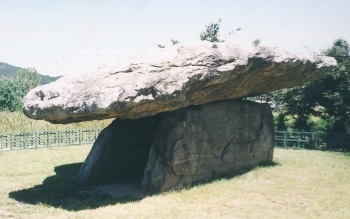 The Gochang, Hwasun, and Ganghwa Dolmen Sites are groups of megalithic funerary and ritual monuments.
A dolmen is a kind of tomb, or prehistoric cemetery. They can be found all over the world, but Korea is said to have 40% of the world's total on its grounds. The numerous ones included here were constructed around the 1st millennium BC.
The dolmens in Ganghwa are the earliest ones, of the northern, table-shaped type. They include the biggest stone of this kind in South-Korea, measuring 2.6 x 7.1 x 5.5 meters.
Map of Gochang, Hwasun, and Ganghwa Dolmen
Load map
Community Reviews
---
3.00 Switzerland - 04-May-20 -
Visit February 2020 - Dolmen sites are generally not too appealing for me, but in a land full of temples and palaces, they were a nice disruption. Unlike most others I did not visit Ganghwa (easy one for a revisit to Korea) but went for Gochang and Hwasun.
Gochang
Gochang is probable the main site among the three. It is not ideally located, but at least there are two Seowons nearby. You start your visit with a museum that displays the life in times of these dolmens with live size figures. The area is rather big and stretches into three directions. Lazy folks can use a shuttle bus. The left side after the river are primitive capstone type dolmen. On the right side you will find some beautiful go-board type and table type dolmen. The most beautiful table type dolmen however is on the museum side of the river. It is rather poorly signposted, so ask if you are not sure.
Hwasun
While Gochang is a very "commercialized" dolmen site, with entry fee, museum, map and shuttle bus, Hwasun is different. I guess not many have visited the site due to it's off the path location. But it is actually rather close to the Unjusa Temple TWHS, a must see in Korea in my opinion. There is a parking lot and a small (closed when I arrived) information center. Other than that, you just follow the foot path along the road and look out for sparse information plates that explain the most important dolmen. None of them are very impressive. They are mostly capstone types with 2-3 go-table types as highlights. The area is not fenced, so you are able to visit as long as there is sunlight. I wandered the whole length of the site (I guess. There is no actual signage when it starts or ends) and hicked up the hill to see a place where they cut out the stones for the dolmens. As often, I was the only visitor on site, but the area is also used by families as a recreational area. Visit the site, when you go to Unjusa. But in itself it is not worth the detour.
---
3.00 The Philippines - 02-May-19 -
Bugeun-ri, Ganghwa: The tourist park is now being expanded at the back to include four more extant dolmens within the vicinity --- one, which is half buried, seems to be even bigger than the capstone of Big Dolmen (Bugeulli jiseok). I also decided to take a leisurely walk further into the adjoining pine forest-- a good idea to escape from the heat. Walking for 2 hours back and forth, I encountered no other person at all. One interesting dolmen there showed some carved holes, suggesting the method and outline the ancient people used in cutting these megaliths. The dolmens, though most of them are the unsupported capstone type with a few being collapsed table type, are all properly marked with their respective dolmen number and the WHS logo. There is even one dolmen that is not part of the inscribed ones, but is also protected on a local level and is marked differently (no WHS logo).
---
I visited this WHS in April 2017. I only visited the sites in Ganghwa Island closest to Seoul but after a number of video documentaries (the best one for an overview is https://m.youtube.com/watch?v=6osPwzl5OIE) and from information from the Ganghwa History Museum I visited (just opposite the dolmen park in Ganghwa), I would only visit the other sites if I were passing by the area as their only difference is the sheer amount scattered on the hill sides.
First of all let me explain how I got to the Ganghwa Dolmen Park and the other minor sites on Ganghwa island. By subway I got to Sinchon "Bus Terminal" (Exit 4). From there my suggestion would be to forget the misleading title "Bus Terminal" and without crossing the road simply look for the first lamp post with a bright red sticker showing Bus 3000. That is where you'll have to wait for the 90-minutes bus ride to the main town of Ganghwa-eup. A printscreen with the name in Korean and a picture will help the bus driver know where you want to go.
Once you get on the island from Ganghwa-eup Bus Station, head to the small tourist information booth and ask for information to the Bugeun-ri Dolmen Site (20 minute bus ride). The friendly staff will write down the bus number for you as well as the platform number and departure time. Once you get to the largest dolmen in Korea you can follow a 2km hiking trail to the minor Jeomgol Dolmen, and further on to Chunguk Samgeori but this one is not on the UNESCO list. One bus stop before arriving to Bugeun-ri (free entrance by the way!), you can hike to the Osang-ri dolmens but you won't get anything better than the large one in the dolmen park (photo). The UNESCO inscription certificate plaque is just in front of it too. The dolmen is lit up and accessible at night if you happen to have a rental car and be in the area. The Ganghwa History Museum (closed on Mondays) is worth visiting mostly for the few remains and the informative models illustrating the most plausible methods of how the dolmens were built.
Having visited quite a number of prehistoric sites myself, I wasn't impressed by this WHS as there are no temple structures or apparent alignments (like in Carnac for example). The large dolmen is very similar to the one in The Burren in Ireland and so I failed to appreciate its OUV. Nonetheless, I'm glad I visited by public transport as a taxi ride would have cost me an arm and a leg!
---
2.50 Belgium, France - 05-Apr-12 -
The Gochang, Hwasun and Ganghwa Dolmen Sites are locations for hundreds of dolmens used as graves and for ritual ceremonies. Most of these megalithic structures are dating from the period of the first millennium BCE. According to specialists, Korea contains more than 40% of the world's dolmen.
The site located on Gangwha Island is the easier most convenient one to visit from Seoul. From the Sinchon bus Terminal, take a bus to get to Gangwha Island bus terminal in one and a half hour and from there, take another bus to move on the island. However, the dolmen are scattered throughout the island and it is difficult to see most of them and to have a general view.
A notable dolmen on Ganghwa Island's site is a kind of table-type dolmen where it was believed ancestral rites were performed. This dolmen is thought to be the biggest in Korea.
---
The main thing that struck me was how delicate this structure looked despite the massive size of its capstone, it was perched like a delicate Brancusi sulpture. Ganghwa island is littered with megaliths and if you really were keen this would be a good place to go exploring, apparently it is one of the densest concentrations in the world. As for me, I was here just to see the big one, which is now in a well-manicured park which does contain another standing stone (also part of the WHS).
My visit was a little brief as the weather wasn't so nice, but the warm welcome and free cup of coffee from the friendly information centre kept me going. There is also a pretty new local history museum next door, but it was closed on the day I visited (Monday). There are regular buses from Ganghwa bus station; just asking for 'Goindol' got me on the right bus.
I wouldn't say this would be most people's highlight of Korea, but it was a nice place to head to on a quiet, slow and slightly gloomy day, it helped me recharge my batteries to gear me up for the delights of Seoul.
[Site 3: Experience 4]
---
I have now visited all three WHS listed dolmen sites in Korea and consider the Gochang site to be the most interesting. There I saw a whole mountainside dotted with 128 dolmen of several different styles. Altogether there are around 2000 dolmen on this district. The visitor centre at the dolmen site is served by a bus from Gochang town, which in turn has bus connections with Jongeup and Janseong, both stations on the Mokpo railway line.
The Hwasun dolmen I reached from Neungju railway station, and the Ganghwa site by bus from the Sincheon bus station in Seoul.
---
2.50 California - United States of America - 15-Apr-10 -
These pre-historic dolmens site are just as fascinating as some of those found in the UK or France. Not as spectacular as Stonehenge or some of the other stone circles in the UK, but altogether impressive if at the very least by the sheer number of them. The largest dolmen is located on Ganghwa Island, which is only about an hour or so from Seoul. Some of the best preserved and largest clusters are found in Gochang in the Southwest. There are three different styles of dolmens. The major dolmen at Gangwha is by far the most impressive. Yet, the other dolmens on the island are often collapsed or difficult to locate.
Gochang has the largest concentration of dolmens perhaps anywhere in the world. Most Gochang dolmens are table-top style and are found spread out over a broad hill. Many look like boulders, but on closer inspection you can see they are placed on two or four small rocks. There is an excellent small museum at the Gochang site just completed in 2010. I visited some of the Ganghwa dolmen sites in 2008 and I visited the major Gochang dolmen cluster in 2011. I was most awed by the Ganghwa dolmen, but as far as visitor experience Gochang holds the greatest value. Will anyone venture to the Hwasun Dolmen cluster? Perhaps on my next visit, as I explore the nearby Unjusa Temple.
A caveat in choosing Gochang is that Gochang County is a UNESCO Biosphere Reserve. This reserve includes the dolmens, Gochang Fortress, Gochang Tidal Flat, Ungok Wetland, and Seonunsan Provincial Park. Choosing Gochang means 1 WHS, 1 TWHS, 1 UNESCO Biosphere Reserve, and 2 Ramsar Wetlands! Perhaps one of the most unique and beautiful counties in Korea.
Read more from Kyle Magnuson here.
---
I visited the dolmen site in Ganghwa Island in Jan. 1, 2010. It is an ideal day trip for those based in Seoul. The earliest bus from Sinchon station is at 5:40 a.m. and the trip will take about an hour and a half.
There are many things to see in Ganghwa. Apart from the dolmen sites, I also visited fortresses (overlooking the sea) and a palace. Be sure to check the bus schedule as they are quite few. It was cold when I went and waiting for buses going back to the terminal or to other locations in the island took at least 30 mins each time.
---
Prof. K.P.RAO
It was really a wonderful experience visiting the Hwasun megaliths in December, 2007. As a person studied widely, the megaliths from India, I find the Hwasun megalithis really amazing. They are huge and impressive. I feel we need to make a comparative study of the Korean and Indian megaliths. In india also we have cup-marks on megaliths. I am happy that the site is well protected and maintained.
---
2.00 The Netherlands - 18-Sep-01 -
Of these Korean dolmen sites, I only visited the big one at Ganghwa Island (near Seoul). No entrance fee there, though the dolmen is placed in a little park and there is the ubiquitous soft drink vending machine.
Simply getting there, and enjoying the Ganghwa landscape was the most interesting part of my visit. The dolmen itself is "just" 3 stones put on top of each other. I have seen those before in Holland.
But I have good memories of visiting this site because it was the 7th and last world heritage I saw on my trip to Korea. As this one is quite out of the way and was not included in my original travel plans, I am glad that I was able to visit it after all.
---
Jacob Choi
First of all the Ganghwa dolmen are spread all across on a mountain park and you have to go through a steep climb to get there and to reach the park you need to go through a small village through the island but it was an incredible world heritage site.
---
Site Info
Site Links
Unesco Website
Official Website
Visitors
92 Community Members have visited.