Talamanca Range-La Amistad Reserves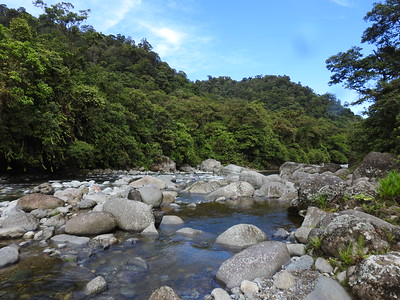 Talamanca Range-La Amistad Reserves/La Amistad National Park comprises a large mountain range covered with dense forests and marks of glacial activity.
Both the high mountains, the glacial features such as cirques and lakes and the natural forests are unique to Central America. It is also a land bridge connecting animal and plant species from North and South America. This is a vast contiguous and transboundary site comprising 8 parks: Barbilla, Chirripó, Hitoy Cerere, La Amistad (Costa Rica), La Amistad (Panama), Las Tablas, Rio Macho and Tapantí-Macizo de la Muerte.
Community Perspective: It is quite hard to gain deep access to any of these parks; they are best for hiking and birding. In Costa Rica, Anthony visited La Amistad, Esteban Chirripo National Park, and Els Tapantí-Macizo de la Muerte. Jarek covered the Las Nubes section of La Amistad on the Panama side.


Map of Talamanca Range-La Amistad Reserves
Load map
Community Reviews
---
Site visited during Panama – Costa Rica trip (November, 2017) – since Els carefully described Costa Rican part of this serial heritage I will focus on Panamanian side. Technically, this National Park in Panama is divided in two sections: Las Nubes (in the south of Talamanca Range, Chiriquí Province) and Wekso (northern part, Bocas del Toro Province, more interesting, but far more difficult to get).
As I was travelling from Coiba National Park by public transport I went only to Las Nubes. It is possible to get from Santa Catalina (main access village for Coiba snorkeling activities) to Cerro Punta (central village around Talamanca Range) within one day. The journey requires 3 different buses and some luck. From Santa Catalina you should take first bus to Santiago de Varaguas, than change to the one for David, and change again there for the final trip to Cerro Punta (via Volcan). With a bit of luck you should arrive late in the afternoon to Cerro Punta. As hotels at central Cerro Punta were closed that time for unknown reason I moved closer (to Talamanca) to the village called Guadalupe, some 3-4 km from the center of Cerro Punta; place with its own shop (supermercado), restaurant and hotels (hostels), everything within walking distance.
Next day, with the help of organized local taxi lift I went to the Las Nubes section (the entrance is around 7 km from the village, google coordinates: 8°53'26.6"N 82°36'39.6"W). As in other National Parks in Panama you have to buy an entrance ticket (5 USD for foreigners / extranjeros). Around the Ranger's Station it is also possible to camp (6 USD), there is also a small Visitor's Center as well as some maps of surrounding area. Only a small portion of National Park is designed for tourism – there are 3 different hiking paths (or to be specific only 2 as the third of those paths are just a 400 m walk around Ranger's Station). Both of the longer trails are only 2,5 - 4 km long, they are well marked, not very demanding and can be wandered without any guide. Sendero La Cascada – go and return the same way – as the name reveals – directs to the local waterfall (some 10 m high) and Sendero El Retono is the circle around the Ranger's Station. On both trails you go through typical rainforest, there is abundance of flowers, plants, insects and birds but at least with my case no bigger animals. Anyway – have in mind that you are located in the mountains (2300 – 2400 m above sea level), so weather conditions may change rapidly (during rain some parts of the trails can be slippery).
To be honest I found that part of Talamanca Range less impressive comparing to other natural heritage places in the area (Darien, Los Katios, Coiba, Guanacaste). Maybe that's because only a small portion of it can be visited within Las Nubes section and that is located close to populated areas. While reading about Wekso section, it certainly sounds more interesting – there is a local native Indian community, access is more demanding (including two different buses and boat / collectivo ride).
Practicalities: stayed overnight in Guadalupe - Chumbaga Bed and Breakfast (they are available on FB https://www.facebook.com/hostal.chumbaga.39?ref=py_c ), pretty descent accommodation, with (that time) reasonable prices. There were some other options in Guadalupe but they were more expensive or fully booked. Guadalupe is located in the mountainous area (the highest mountain in Panama – Volcan Baru 3474 m – is located nearby) – the nights may be cool, even if the days are hot (that was the case in November). Transportation in the area: walk, taxi or hitch – hike. Transport for Costa Rica – border crossing at Paso Canoas – you don't have to go back to David. Better and faster is to go to La Concepcion on Panamericana. From La Concepcion there are frequent buses to the border.
Places on the photo, bottom left, than clockwise: Ranger's Station, typical flower in the rainforest, main entrance to National Park, mirador La Nevera (2490 m. above sea level)
---
3.50 The Netherlands - 23-Mar-21 -
"The rugged terrain, difficult access and the formal protection status have kept human impacts at bay", the OUV statement for the Talamanca Range states proudly. That means that a proper visit of this WHS, although it covers over 7% of Costa Rica, is not so easy (for a glimpse of it you can drive Route 2, Carretera Interamericana Sur, from San José to San Isidro General and look to the left). It encompasses eight contiguous protected areas including one in Panama, as shown on this map. I first targeted Chirripó NP, however, it turned out that access is almost exclusively geared to trekkers trying to reach the peak of Chirripó mountain. Esteban found me one alternative, with a local rural tourism association in San Jeronimo, which may be worth looking into for a future WH traveller.
Eventually, I settled for the safe bet of Tapantí-Macizo de la Muerte National Park. This lies near the pleasant town of Orosi, 2 hours south of San José. Covid limitations to the number of daily visitors required me to reserve a spot beforehand for a specific day to visit, but otherwise, the park is easily accessible. It lies at the northern edge of the Talamanca range and is mostly known for its rainforest habitat. Consequentially it is also one of the rainiest parts of Costa Rica.
I arrived there at the opening hour of 8 am. On the advice of the Swiss owners of my guest house, I left the car at the park reception and continued on foot. The accessible part of the park consists of a 5-kilometer-long asphalt road, with 5 short hiking trails on either side. You can drive your car up and down, but because the forest is so dense the best views and best birding are actually from the main road. Large mammals such as jaguars and tapirs will not show themselves so close to civilization though. During the full 3 hours of my visit, I encountered no other tourists - I only met the park maintenance guy twice....
It was easy to walk on the paved road, which goes slightly uphill. The weather was lovely, about 25 degrees Celsius, but also partly cloudy so that the sun wasn't too hot. I heard many birds but saw only a few. Little brown and green birds in a green forest are always very difficult to spot. After about 2 km of hiking, I reached the entrance to the first trail. This is a 1200-meter-long, flat forest path qualified as "easy". It ends at the bank of a river. From the river, you also have a more open view of the wooded mountains.
Afterwards I walked another 2 kilometers on the paved road to the start of the next trail. There are actually two of them together there, the path splits halfway. It went down quite steeply at the start - this one has been qualified as "medium" -, fortunately, it was a dry day so it was not slippery. At the crossing, I choose the route to the waterfall. This leads up to a viewpoint from where you can see one vertically falling off a mountain wall. I also paused here for a bit and spotted a squirrel – my first Costa Rican mammal!
In conclusion, I find that the huge scale of this mountain range and its vast forests do not allow for more than a superficial impression. You probably won't encounter that puma, that quetzal, or that specific type of orchid. Its conservation importance is undoubted though, it being a land bridge between South and North America for fauna and flora species, and of course for the preservation of this huge stretch of natural forests.
Read more from Els Slots here.
---
This conservation area doesn´t only include La Amistad International Peace Park, but also a myriad of other protected zones, such as Tapantí-Macizo de la Muerte National Park, Chirripó National Park, Barbilla National Park,Hitoy-Cerere Wildlife Refuge, Las Tablas Conservation Area, Río Macho forest area and several indigenous reserves, on both the caribbean and the pacific sides of the Talamanca mountain range in Costa Rica.
As it becomes apparent this areas are spread all over that mountain range in the costarican side of the border and are a great percentage of our territory. They range over a diference of 3.000 meters from the rainforest and marshy lowlands on the caribbean to the high peaks in the range, that include most of Costa Rica´s highest peaks, including the Chirripó (over 3.800 meters o.s.l), Kamuk and Cerro de la Muerte, all them which in the ice ages were covered with glaciars and today still show the action of the icefields.
I personally recommend as a costarrican the Chirripo National Park, since I visited it some years ago. It is so different to what tourists are accostummed to visit in Costa Rica (beaches and rainforest) that it drives completely another kind of adventure and spirit to it. It´s a really spiritual place, the low temperatures, the difficult trails, the rocky landscapes and extremely pristine lakes and rivers, the ghostly forests, the winds, the fog, the view atop of Chirripo mount of both seas, and a great part of the country, the impressive sunshines and sunsets, the moles of the Crestones rocks overlooking the high mountain valleys...it´s a hard and phisically demanding adventure but also a moving and spiritual one.
Just to finish, I have to say that the accomodations inside the park are excelent and you get there after a 15 kms walk in which you see all the habitats from 1300 m to 3400 m, to the side of San Gerardo de Rivas, Perez Zeledon county.
---
Anthony Sun
In February, I was in Panama City for a meeting and decided to make it to Amistad. First there is a 6.30am flight from Panama City to David in Chiriqui province. I was picked up by a guide at 7.30am in David and travelled another hour passed Cerro Punta to get to the park entrance. The scenery along the way were all cattle farms and agriculture. Very lush as we are now up to 6000 feet.
In the park there was a small park HQ where you registered and paid a small fee. Then there were several trails to take in the forest. I took the El Retorno trail hoping to see the Quetzal bird. No luck on the bird and after a couple of hours we were done. I was planning on staying the night in David but decided that there was nothing to do there and forfeited my room to fly back to Panama City on the 5pm flight.
If you have seen tropical forest before, you can definitely skip this one.
---
Site Info
Full Name

Talamanca Range-La Amistad Reserves/ La Amistad National Park

Unesco ID

Country

Inscribed

Type

Natural

Criteria

7

8

9

10

Categories

Link
Site Links
Unesco Website
Official Website
In the News
Today the Center for Biological Diversity and more than 30 other organizations from the United States and Panama petitioned the World Heritage Committee to list La Amistad International Park as a World Heritage site 'In Danger' due to the planned construction of four controversial hydroelectric dams. The United States-based AES Corporation is pushing forward with plans to construct a series of hydroelectric dams in the Changuinola River basin of Panama, putting the exceptional natural values of La Amistad at great risk. The Changuinola River flows from the heart of La Amistad and is one of the only free-flowing rivers remaining in Central America. The four dams would permanently alter more than 600 miles of stream and flood significant areas of tribal land. (2007.04.24)
Visitors
64 Community Members have visited.