Kerkuane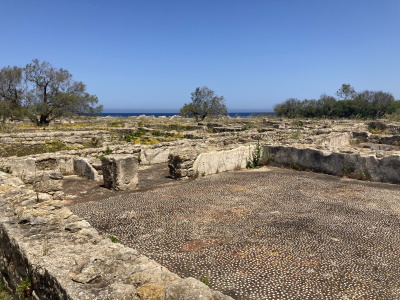 The Punic Town of Kerkuane and its Necropolis has the best ruins after the ancient Carthaginian country, as they were only partly destroyed.
Excavations have revealed ruins from the 4th and 3rd centuries BC. It was probably abandoned during the First Punic War (c. 250 B.C.) and as a result was not rebuilt by the Romans. It has existed for almost 400 years.
Around the site where the layout is clearly visible, many houses still show their walls, and the coloured clay on the facades is often still visible. The houses were built to a standard plan in accordance with a sophisticated notion of town planning.
A sanctuary has some columns preserved, and in a small atrium parts of mosaics are found. Curbstones, doorsteps, thresholds, and floors of simple mosaic layers are found all over.
Community Reviews
---
This is a really nice site to visit, it is out of the way and situated on a great piece of coastline. There is not much left (everything is less that a metre in height!) but it provides a great example of Punic towns especially good if you have seen other sites in the country which did not fair so well under the Romans! The site is right next to the sea and contains some features which you would not see at other archaeological sites such as the minimalist mosaics and almost fully intact bathrooms in every house.
The site is best reached from pleasant fishing town of Kelibia where local buses can drop you of at the turn off then it is a 1.5km walk to the site, or alternatively you could get a taxi there which should cost about 4-10TD (€2.5-7)
---
Site Info
Full name: Punic Town of Kerkuane and its Necropolis
Unesco ID: 332
Inscribed: 1985
Type: Cultural
Criteria: 3
Site History
1986 - Extended

To include Necropolis of Arg al-Ghazwani

1985 - Inscribed
Site Links
Unesco Website
Official Website
Connections
The site has 8 connections.
Visitors
39 community members have visited Kerkuane. Show all