Huascaran National Park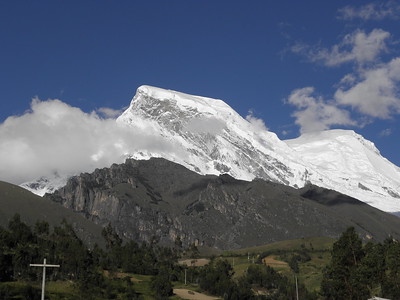 Huascaran National Park is an area of exceptional natural beauty because of its number of high snow-capped peaks, its glaciers and its high-altitude plateau.
The National Park is located in the Cordillera Blanca range of the Andes. It is the highest tropical mountain range in the world.
The park measures ca. 154x30 km. It includes El Huascaran, at 6786 meters the highest mountain in Peru. And 26 other peaks over 6000m in altitude. There are 30 glaciers and 120 glacial lakes.
The park has a wide range of vegetation, including the gigantic Puya raimondi. Spectacled bear, puma, deer, vicuna, hawk and condor are among its fauna.
There is some volcanic activity, the last earthquake was in 1970.
Map of Huascaran National Park
Legend
Visit May 2011
Huascaran is a popular area for hikers. The regional centre of Huaraz is well geared to serve them, and it is a pleasant place to stay for a couple of days. I encountered many Swiss travelers here - mysteriously attracted to a landscape that is quite similar to that in their home country. Huascaran's forte clearly is the beauty of its snowcapped peaks.
For a non-walker, the easiest way to see the National Park is to take a tour from Huaraz to the Lagunas Llanganuco. These kind of tours are conducted daily. Like other organized day tours that I have taken in Peru, they try to take in too much in a too short time span. The guides only speak Spanish but are pretty knowledgeable.
The Huascaran peak was hidden behind clouds for the first part of our tour. There are supposedly great vistas from the towns in the valley below. One of these towns is Yungay, for ever connected to the mountain after an earthquake and a consequential avalanche destroyed the village in 1970. They now have turned the location of the former village into a impressive place of remembrance.
After several stops in the valley, we finally reached the first of the Lagunas Llanganuco. It's a pretty turquoise glacier lake. There are some short walks in the area that let you come close to the plant life here. The lake is partly surrounded by the typical Polylepis Forest. Animal life is much more scarce.
On our way back the clouds finally left, and we had good views of the Huascaran and the surrounding peaks.
There's another WHS closeby, Chavin. En route from Huaraz to Chavin you will pass a different part of Huascaran National Park. The views of the snowcapped mountains are not so great here, but it shows the high altitude plateau really well. And there's a great blue lake here too, Lago Querococha.
Click
here
to see more of my photos of Huascaran National Park
Community Reviews
---
Again, I am delighted to be the first to review this wonderful WHS.
Huascaran NP is a truly beautiful place. I doubt there is anywhere else on Earth where you can so easily access such enormous mountains. The hiking here is truly wonderful, and hugely varied. I have spent several days walking to glaciers, lakes and valleys. I cannot recommend this site highly enough.
I am lucky enough to be writing this at a charming place called 'The Lazy Dog Inn', which is on the border of the park. From here, some of the most beautiful and least visited parts of the park are easily visited. I highly recommend walks into 'Quebrada Llaca' and 'Quebrada Cojup' (excuse any spelling).
Entry fees are a very reasonable $2 per day or about $25 for a month pass.
---
Community Rating
Community Rating 3.93. Based on 7 votes.
Site Info
Full name: Huascaran National Park
Unesco ID: 333
Inscribed: 1985
Type: Natural
Criteria: 7 8
Site Links
Unesco Website
Official Website
Connections
The site has 20 connections. Show all
Visitors
42 community members have visited Huascaran National Park. Show all