Hahoe and Yangdong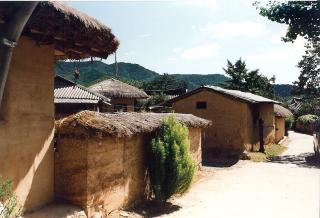 'Historic Villages of Korea: Hahoe and Yangdong' comprises the two most representative historic clan villages in the Republic of Korea.
They preserve Joseon-style architecture, folk traditions, valuable books, and the old tradition of clan-based villages.
Hahoe Folk Village is located in Andong. The village is organized around the geomantic guidelines of pungsu and so the village has the shape of a lotus flower or two interlocking comma shapes. The Byeongsanseowon Confucian Academy is also part of the core zone.
Yangdong Folk Village lies in Gangdong-myeon, 16km northeast of Gyeongju. The village has over 160 tile-roofed and thatched-roof homes built throughout the dense forest. Fifty-four historic homes over 200 years old have also been preserved. Included are three clusters: Yangdong Village, Oksanseowon Confucian Academy and Dongnakdang House, Donggangseowon Confucian Academy.
Map of Hahoe and Yangdong
Legend
Visit September 2001
On my trip to South Korea in 2001, a trip that lasted only 2 weeks, I visited the country's all 8 WHS. And a number of other nice places - the distances within South Korea aren't that far, and it's an easy and rewarding place to travel in. Two of these sites now have become a WHS in 2010: Hahoe Folk Village and Yangdong Folk Village.
The bus ride to the Hahoe from Andong takes only 35 minutes. The very well preserved village "Hahoe" appeared still in deep rest when I approached. At the town's entrance is a ticket gate, otherwise it is an ordinary village. The weather was wonderful, the town smelled just how a rural site should (after manure). A wonderful quiet place. Almost all of the thatched roof houses here are still occupied, so it's not possible to look inside them.
Hahoe is especially known for its mask dances. From the village it's a 2 kilometer walk to the Mask Museum. About 200 Korean masks are exhibited: a glimpse into the folk history of this often so westernized country.
I also visited Yangdong. This village is located near Gyeongju. I was the only passenger in the local bus, and the driver dropped me at a crossing from where I had to walk another 1.5 km. However a car stopped after a few minutes and gave me a lift - that happened so often in Korea!
There was no entrance fee to be paid in Yangdong: it was just a peaceful and very quiet village. Also less accessible than Hahoe, without a map or a guide. So I just walked around for an hour or so before returning to the bus stop.
At the time I surely wasn't aware visiting possible WHS, but I always do have a soft spot for these "folk villages". So I'm happy that I see them rewarded WHS status in 2010!
Community Reviews
---
---
---
---
---
---
Community Rating
Community Rating 2.90. Based on 10 votes.
Site Info
Full name: Historic Villages of Korea: Hahoe and Yangdong
Unesco ID: 1324
Inscribed: 2010
Type: Cultural
Criteria: 3 4 5 6
Site Links
Unesco Website
Official Website
In the News
Locations
The site has 5 locations.
Connections
The site has 21 connections. Show all
Visitors
70 community members have visited Hahoe and Yangdong. Show all