Fujian Tulou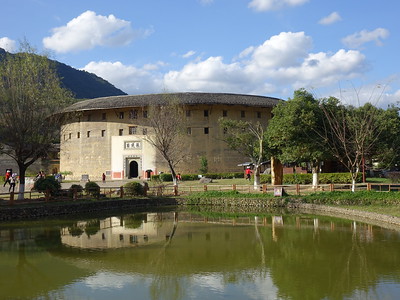 .
The Fujian Tulou are unique Chinese residential buildings constructed by the Hakka people from Fujian Province.
The Tulou are enclosed by a thick, defenisve earth wall and are communal buildings housing up to 80 families. They were mostly built between the 12th to the 20th centuries.
Map of Fujian Tulou
Legend
Community Reviews
---
Geoff Carey, Hong Kong 28-Apr-11
Recently went to Tu Lou sites in Yongding County and elsewhere in a more rural setting.
These buildings are certainly interesting, though to a certain extent it's a case of 'seen one, seen them all'. Only to a certain extent, however, and as long you choose buildings in different areas (rural v town edge, for example, or different styles (Hakka v Fujian), then they remain of interest.
For me, however, the big downside was the sale of cheap tourist souvenirs and other stuff everywhere. Every unit on the ground floors of most of the tulou we visited was flogging this stuff, and the internal courtyard was marred by large, brightly coloured umbrellas, there to keep the sun off the stallholders.
In addition, although tea is offered 'free' to drink, you are pushed to buy. That's fine, but there appears to be a lot of cheating going on via bait and switch. The tea you drink is nice, but the tea you buy is not. I found this particularly distasteful in a World Heritage Site.
I would suggest that consideration is given to ways of taking the sale of souvenirs out of the tulou in order to retain an element of their original feel and splendour. At present, they are marred.
---
Boj Philippines 14-Oct-08
Went with a friend last week of August 2008 for a short weekend trip. Shanghai to Xiamen flights can be cheap, so check regularly. Regular buses from Xiamen to Yongding county; takes three to four hours. Haggle with the local drivers for a private coach to see several tulou locations.
The best tulou clusters are in Chuxi - quite far (almost close to the border of Guangdong) but it offers the best view from the nearby hill. The family in Yanxianglou (Mr. Su) are extremely friendly.
---
YS Chee, Malaysia 08-Jul-08
I went to vist this beautiful village of Yongding in 2005 with some friends. We went there from Xiamen by a van and on the way to Yongding we stop at several villages and the food was indeed home cooked type of the Hakka people. The village people are mainly Hakkas and speak their hakka dialet which sound a little bit Cantonese and Mandarin. I was surprise to see that all those Tulou were quite well maintained and liveable.
I think goverments with large population should learn from the Hakkas on this type of housing programme. Would condsider another visit soon.
---
Community Rating
Community Rating 4.50. Based on 3 votes.
Your Rating
Site Info
Full name: Fujian Tulou
Unesco ID: 1113
Inscribed: 2008
Type: Cultural
Criteria: 3 4 5
Site Links
Unesco Website
Official Website
Related
In the News
Locations
The site has 10 locations.
Connections
The site has 10 connections.
Visitors
54 community members have visited Fujian Tulou. Show all