Dilmun Burial Mounds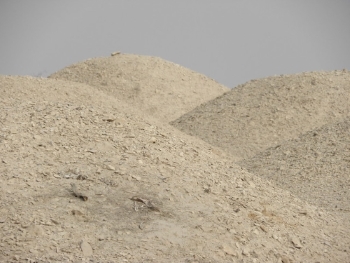 The Dilmun Burial Mounds represent the architecture and sepulchral traditions of Early Dilmun culture.
Newly gained prosperity lead the ancient inhabitants to start using less fertile land for the development of these cemeteries. There are thousands of burial mounds, spread across 21 locations. Each of the mounds - usually meant for one deceased person - is composed of a central stone chamber that is enclosed by a low ring wall and covered by earth and gravel. The graves can vary considerably in size and style and are not all from the same era. People from different social strata were buried this way, and the more elaborate mounds also included alcoves filled with mortuary gifts.
Community Perspective: the mounds and the fields are underwhelming, but the sheer numbers of them do leave a lasting impression. A'Ali seems to be the best to visit and also is reachable on public transport. The National Museum of Bahrain has good displays of these tumuli.
Community Reviews
---
I visited A' ali on the 23rd of january. Just a few hours before I had marked all dilmun burial mounds on an off-line map of maps.me in order to find all relevant mounds in that area even without an internet connection.
A'ali is easily reachable by public transport. I just took the bus from Manama's central bus station to Isa Town Bus Terminal and from there another bus to A'ali . The bus stopped a stone's throw away from the royal burial mound nr. 2 ( If I remember correctly) . I visited as many burial mounds as I could in A'ali. I lost track of how many I really saw there. One of them had its own guard and a tiny guardhouse. I just asked the african guard if I could go inside. He had no objections and even opened the gate for me. All other mounds were fenced off by a more symbolic kind of fence. I climbed up on some of them.
I spent around 2 h in A'ali, visited many burial mounds,had a karak tea in an indian cafe and a long chat with two elderly australian ladies.
All in all I had a pleasant time in A'ali and the trip was worth the spent time and energy. A'ali is a strange place with all the mounds plastered around the city. Makes it a kind of unique place in the world.
As Frederick wrote:""" The mounds were quite underwhelming, but collectively with its sheer numbers of burial mounds showing the long history of burial tradition in Bahrain creating the city of dead with the sea of burial mounds, Dilmun Burial Mounds became something that worth to come and see while in this small Gulf country""""
I fully agree with the above mentioned statement. The sheer numbers of burial mounds is truly worth to see with your very own eyes.
Public transport in Bahrain is quite good and easy to understand(unlike-for example-Kuwait's one). A'ali is very well connected with Bahrain's capital Manama. Every 10 minutes there are buses to Isa Town bus terminal. From the bus terminal you can take every 30 min a bus which passes through A'ali
---
2.00 Netherlands - 01-Jul-20 -
I visited Dilmun Burial Mounds before UNESCO recognized its status. This World Heritage site was part of my private half day tour around Bahrain. Actually It was not a part of the original tour program, but after had a fruitful discussion on ancient Dilmun civilization with my historical buff guide during our walking tour to see Pearling Heritages in Muharraq, my guild wanted to show me the Dilmun royal mounds, so after negotiated with a driver, we squeezed Dilmun Mounds in the plan. We went to city of Aali, after made a brief stop to see few remains water springs of Bahrain, it hard to believe that Bahrain was once full with water springs and very green island and was considered a heaven on earth, I found myself to be standing on the top of the Royal Mound No.1.
The large earth mound was uninspiring surrounded by the city, similar to what I saw royal tombs in Japan near Nara, a big hole show ruins of multi burial chambers and indicated that it was already excavated by archaeologists or grave robbers. My guide recommended me to go to the top of the mound to see the view of whole city, something that should not be allow anymore after UNESCO listing. From the top I saw other big royal mounds blending with the whole urban landscape, a very interesting sight. After my guide explained different styles of burial ritual of Dilmun and what I should see in the national museum tomorrow, we drove to see the fields of smaller burial mounds. The sheer amounts of burial mounds along the highway were impressive even though the sea of mounds may look like countless piles of construction debris. If those burial mounds covered by green grass, they would be exactly similar to Chinese or Korean cemeteries in East Asia and Southeast Asia.
The mound was quite underwhelming, but collectively with its sheer numbers of burial mounds showing the long history of burial tradition in Bahrain creating the city of dead with the sea of burial mounds, Dilmun Burial Mounds became something that worth to come and see while in this small Gulf country, but to be honest except for history or archaeology interests or World Heritage enthusiasts, I would not recommend the site for casual visitors, visiting Bahrain National Museum and Bahrain Fort are enough to understand Dilmun civilization, and better to spent more time with Shaikh Isa Bin Ali House and Bahrain and Muharraq old city centers.
---
1.00 Switzerland - 23-Aug-19 -
Visit: January 2016. It is quite difficult to get around Bahrain without spotting at least one of the burial mounds. They are numerous and spread around the island. Just be aware that not all of them are inscribed. I mainly visited A'ali field, passing by other fields by car. The place is far from touristy. It's actually next to a military premise and the soldiers there checked my camera to make sure I did not photograph their structures. There is not much to see anyway. The fields look like the work of a giant mole. At the time of my visit (2016) there was no information on site and no special protection of the mounds.
I must admit I am not especially fond of Bahrain. I didn't warm up with the country and tried to visit as many TWHS as possible in order to avoid having to go back. None of them were good. But luckily my efforts paid off with this visit. I understand the value of these mounds, but due to the lack of information and the fact that it's just a bunch of hills this was a dull visit.
Just drive down Shaikh Salman southbound. You will see the mounds from the highway.
---
1.00 The Netherlands - 06-Jan-11 -
The Tumuli fields are the most distinguishable historical landmarks of Bahrain. There are a number of them in the northwest of the island. I visited them while driving around this small country for a day, taking in its first oil well and Riffa Fort as well.
The Tumuli field at Hamad was the first one that I encountered - it's located next to the main road. Somehow I had thought of it as a remote archaeological site, but this field (and the others that I saw) is right in the middle of a town. Think of the size of a football pitch or a small park. And then it's just sandy hills with small rocks as far as you can see. Unfortunately, there are no interpretative signs on site.
The bigger field at A'Ali I even found full of garbage and litter. I don't think that they are being worked into proper tourist sites.
The National Museum of Bahrain has good displays about these tumuli. There are so many of them left (170000!) that once it was even thought that people from the Arab mainland were buried here (and that Bahrain was an island solely for the dead). But statistics proved that there were tumuli accounting for 1 dead every 3 days, leading to a local population of about 4500 inhabitants.
---
We visited most of Bahrain's T List sites in 2005 and, with Bahrain hosting the 2011 WHC, are interested to guess which (if any) might be inscribed as that country's "reward"! Could it be the "Burial Ensembles of Dilmun and Tylos"? Now, right from the start, I must make it clear that we were blown away in amazement at these remains – burial mounds stretching into the desert as far as the eye could see (photo 1). At first sight one thinks that they must be the detritus from some huge modern construction project and that dumper trucks have left thousands of mounds of unwanted spoil. But no – each one represents a single or family burial. Go to the magnificent Bahraini National Museum to see a reconstruction of one shown in section. Most of the mounds are 1-2 mtrs in height but, in some areas, there are enormous hills which tower over the surrounding houses. Their age covers the period "mid 3rd millennium B.C. till the mid 1st millennium A.D." – such continuity, such enormity!!
Now this T List site was only added in May 2008 and encompasses 11 different sites of moundfields and associated remains. Surprisingly, these 11 include 2 other sites from Bahrain's earlier T List which dates back to Sep 2001 and which have been allowed to remain in the new list
a. The Hamad Town Tumuli moundfield
b. The Saar Honeycomb tombs
So could this be Bahrain's 2011 "prize"? Certainly the fact that the new T List entry was made as recently as May 2008 might indicate that work is in progress to get it inscribed. The description is much more "on message" than that for the earlier one. I note the use of phrases like "The Cultural Landscape of Aali" (CLs are definitely a "plus point" when it comes to gaining inscription!). In terms of its intrinisc merits I put it in a very high category – I know of nothing like it elsewhere in the World and there are not that many T list sites to which I would apply the epithet "Unique" ( and even many Inscribed sites don't reach this bar!!). Yet I somehow feel that this particular T List entry is too "big". Can Bahrain really satisfy ICOMOS across all 11 sites- perhaps if a fair number of them were sacrificed and effort were concentrated on just 1 or 2 – e.g the "Aali cultural Landscape"? But another problem is the integrity and preservation of the sites. Bahrain faces similar problems to other countries in arriving at a balance between the needs of development and preservation – the island is short of development land, has an increasing population and is not as rich as other Gulf states. In addition it faces a religious dimension to these tensions. Conservative Islamists (with Wahabbi influences?) can actively oppose the preservation of ancient artefacts and especially those of non Islamic provenance. "Attempts to protect the burial mounds have run into opposition by religious fundamentalists who consider them unIslamic and have called for them to be concreted over for housing." One MP said in Parliament "Housing for the living is better than the graves for the dead. We must have pride in our Islamic roots and not some ancient civilisation from another place and time, which has only given us a jar here and a bone there." The larger mounds of the Aali mound field for instance are not well preserved – they are situated among housing (photo 2) and the burial chambers of some are used for play. So, on balance, I would be surprised if Bahrain was able to bring this site to a suitable level of conservation by 2011.
---
We visited most of Bahrain's T List sites in 2005 and, with Bahrain hosting the 2011 WHC, are interested to guess which (if any) might be inscribed as that country's "reward"! Could it be the "Hamad Town Tumuli Moundfield" site? Well this site appears to have been superseded by the "Burial sites of Dilmun and Tylos" which includes the mounds around Hamad in tis own right so it isn't clear why Bahrain has left it on its T List. We saw these but felt that the Aali area provided a better site if you have to choose just 1 (there are plenty to choose from and you are likely to drive past several in getting to one to view in detail).
---
Site Info
Site History
2017

Requested by State Party to not be examined
Site Links
Unesco Website
Official Website
Visitors
61 Community Members have visited.