Alvaro Siza's Architecture Works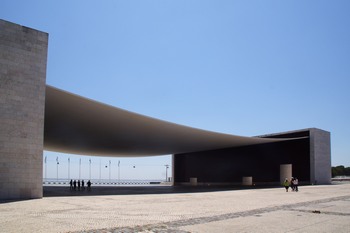 Ensemble of Alvaro Siza's Architecture Works in Portugal is part of the Tentative list of Portugal in order to qualify for inclusion in the World Heritage List.
Álvaro Siza is a contemporary architect and designer and is considered a major representative of modernism. He received the Pritzker Prize in 1992 for the reconstruction of the Chiado district in Lisbon, which was destroyed by a major fire in 1988. His work in Portugal includes various building types: individual houses and entire residential areas, churches, restaurants and public buildings such as schools, universities and libraries.
Map of Alvaro Siza's Architecture Works
Load map
The coordinates shown for all tentative sites were produced as a community effort. They are not official and may change on inscription.
Community Reviews
---
In 2023, I visited several components as part of a week-long road trip through Portugal. We started in Porto at the school of architecture (FAUP) and we continued the same day by car to Matosinhos for the two components there. A few days later, I visited the Expo Pavilion in Lisbon together with Samuel and Natasa.
The most memorable building of those I saw was the Piscina for its scenic location facing the Atlantic. The architecture of the sites felt fairly common and followed general modernist trends. Perhaps only an architect can spot the local sprinkle Alvaro Siza gave his buildings; I couldn't.
What I did spot were two egregious safety issues, akin to those reported by Ian. At FAUP, there was an inclined staircase without a rail on one side (see picture), so anyone walking straight would fall several meters. At the Piscina, there was a low-hanging concrete roof (<1.50m) where you could hit your head brutally. From Le Corbusier, I am used to Modernist buildings lacking in basic amenities (e.g. too few toilets in his Tokyo museum). I had not yet encountered an architect ignoring common sense regarding basic safety measures.
OUV
While I may appreciate its style and local importance, its limitations in terms of global impact raise concerns for me. These are not buildings that have sparked a global architectural movement (e.g., Bauhaus), but rather local interpretations of styles developed by earlier generations of architects. Making my point, Els refers to his architecture as "Le Corbusier-ish", very true.
Furthermore, the fact that the buildings were constructed relatively recently made me question the criteria for inscription on the World Heritage List. Shouldn't a site have to be of a certain age or historical significance to be considered a heritage site? Is it enough for a structure to represent a certain style or philosophy of architecture, or does it need to have a wider impact on the global architectural scene? The Pritzker Prize for architecture should not be a precursor to a UNESCO listing.
While I can appreciate the ensemble's significance in its local context, its recent construction and limited global impact make it difficult to fully embrace as a UNESCO World Heritage Site. I would at least recommend waiting a few decades and then revisiting the subject to see if the buildings have stood the test of time.
How to Get There
It's important to note that the components of the ensemble are spread out across different locations in Portugal. The two main components of the ensemble are the Boa Nova Tea House and the Leça Swimming Pool, both of which are located in the coastal town of Matosinhos, a suburb of Porto. Other components, such as the Faculty of Architecture at the University of Porto and the Serralves Museum of Contemporary Art, are located in the city of Porto proper.
To visit the Boa Nova Tea House and the Leça Swimming Pool, you can take the metro from Porto to Matosinhos. Once there, you can walk along the picturesque coastal path that leads from the tea house to the swimming pool, which offers stunning views of the Atlantic Ocean.
In Porto, the Faculty of Architecture at the University of Porto is located near the Carolina Michaelis metro station, while the Serralves Museum of Contemporary Art is located near the Casa da Música metro station. The easiest option is probably the Expo Pavilion in Lisbon, which is within walking distance of the Oriente metro station.
While You Are There
Both Porto and Lisbon are well worth a visit and boast their own WHS (Belem, Oporto).
From Lisbon the following WHS are in reach:
Belem
Cultural Landscape of Sintra: Take the train from Rossio station to Sintra station.
Historic Centre of Évora: Take the bus from Lisbon Sete Rios bus station to Évora.
From Porto:
Porto
Guimarães: Take the train from Porto's São Bento station to Guimarães.
Douro Valley: There is a train line running along the Douro to the core zone. You may also want to check out some of the tentative sites of the area.
---
We decided to throw ourselves into this tentative site a little more by staying in an apartment in the Barrio da Bouca in Porto, located a short walk (or two metro stops) from the centre of the city.
I rather liked the unique layout and aesthetics of the estate, squeezed into a triangle of ground, it was densely populated but provided ample space between buildings, and the units themselves were pleasant and spacious. The interiors offered design touches that separated it from your standard holiday rental. I liked the sliding wall that separates a bedroom from the main living space, and the wooden shutters across the doors and windows were both very functional and aesthetically pleasing, bringing back fond memories of Casa Barragan.
The car park buried underneath the whole complex was a lovely solution to parking concerns in a dense urban setting. The small business units also brought some more interest to the estate, especially the lovely little architecture book shop. In the three days we stayed there we saw plenty of guided tours, seemingly for students, where lecturers were pointing out the finer details of the site.
However there certainly were flaws. The bathrooms being buried in the centre of the units must be plagued by mold (as ours was) due to the lack of fresh air and ventilation. The bannister free staircases, whilst visually appealing, certainly make this parent of a rampaging toddler very happy to live in the UK with its building codes that forbid such structures. Similarly the external staircases, whilst offering a decorative quality seemed a little too steep to be useful to me, and whilst there was ample space between the blocks these communal open spaces felt a little desolate.
Did it pass the liveability test, i.e. if I was to relocate to Porto would I contemplate living in one?
Yes, I would. My wife (as ever the sane one in our relationship) who has a keen eye for modernist architectural aesthetics however said the place reminded her of a dystopian prison block, so I guess the final answer would be a no.
---
Although I have a fondness for modern architecture, I was not very familiar with Álvaro Siza's work when it was included in Portugal's revised T-list in 2017. His style is often classified as Critical Regionalism and is characterised by clear forms, simplicity and the restriction to the essential elements. Alvar Aalto (on the Finnish T-list) also represents this style. The list of Siza's works is extensive and includes many private homes, social housing complexes, residential areas and public buildings such as banks or swimming pools. Later in his career, he also designed museums or Expo pavilions and other representative buildings. All these buildings are still used for their original purpose. Therefore, most of them are not open to the public, or only partially during regular opening hours.
When I was preparing for my trip to Portugal in May 2018, I spent some time selecting the Siza buildings that would be worth visiting. The Unesco entry doesn't help. It is more a hymn of praise to Siza and his impact than a detailed description of his buildings. Only a few are mentioned, but it is obviously not yet decided which sites will be included in a nomination. Meltwaterfalls compiled a list of sites and coordinates here on the forum. That was very useful, so a belated thanks to him.
Álvaro Siza's buildings are spread all over Portugal, many of them are in Oporto and its surroundings. It is therefore easy to include some of these sites in your itinerary, especially if you are travelling by car.
A few comments on the eleven buildings that I visited on my trip.
Siza became known for two buildings in his hometown of Matosinhos, the Boa Nova Tea House and the Piscinas de Maré, not far from each other directly on the Atlantic coast. Both are a perfect blend with the rocky landscape in which they are built. Unfortunately, the Tea House was closed when I visited; it is today a first-class restaurant open only in the evenings. And the tide pools were not yet filled with water in mid-May. But the area was accessible and you could see how the pools are integrated into the landscape, bordered by man-made concrete walls and by the natural rock formation. I would have loved to take a refreshing bath in this oceanside setting with an unobstructed view of the sea.
In Oporto, I visited four sites. The Serralves Museum of Contemporary Art is located in the northwest of the city. The collection is worth seeing, the architecture is rather unobtrusive, very functional, the art is in the focus and the harmonious integration of the building into the surrounding park.
The Porto School of Architecture (photo) was one of my favourites. It consists of several white pavilions, the most striking are the four towers facing the Douro River. I visited the site on a weekday in the lecture period, so I was also able to take a look inside some of the buildings.
Shortly after the Carnation Revolution, Siza designed his first social housing estate, Bouça II in Porto, a neighbourhood consisting of four rows of multi-storey terraced houses. However, the complex was only completed in 2006, after an interruption of three decades. It is not far from the city centre, right next to the Lapa metro station.
And finally, the easiest tick in Oporto, the São Bento metro station, within the core zone of the WHS, under the square in front of the historic train station.
Marco de Canaveses was a short detour on the way from Guimarães to the Douro. Here is the only religious building on this list, the Igreja de Santa Maria. The church is a solid whitewashed cube with two projecting blocks at the front that function as bell towers. Only the apse is formed by two concave curves. A building typical of Siza's style.
The Adega Mayor Winery is located about 25 kilometres north of Elvas. It is an elongated building on a hill overlooking the vineyards. It looked almost a bit too picturesque: the white walls of the winery with the green of the surroundings and the bright blue sky. There is a public wine tasting area and maybe also guided tours to the production facilities, but it was already closed when I arrived there in the evening.
The Quinta da Malagueira neighbourhood, located next to the historic centre of Evora, is another social housing project. It consists of two-storey terraced houses with courtyards, and has a total of 1200 residential units. In the 1970s, this was certainly an innovative project, in the tradition of the housing estates of Berlin or Amsterdam, but for today's visitor it is not outstanding.
Siza is probably best known in Portugal for the rebuilding project of the Chiado district in Lisbon, parts of which were destroyed in a fire in 1988. It is the area right next to the famous Elevador de Santa Justa. Every visitor to Lisbon comes there but probably pays little attention to the renewed pedestrian walkways and staircases around the ruins of the Convento do Carmo.
And finally, the Pavilhão de Portugal, built for Expo'98 as the pavilion of the host nation. The most striking feature, however, is the open space between the two parts of the building. It is spanned by a concrete roof that curves down in the middle (shown in the intro photo). A daring construction and probably the most iconic of Siza's buildings.
I very much enjoyed exploring the architecture of Alvaro Siza. These buildings were welcome spots of modern architecture among all the historic WHS on my Portugal trip. My favourite sites were Piscinas de Maré, Porto School of Architecture, the Church in Marco de Canaveses and the Expo-Pavillon in Lisbon.

But should Siza's architecture be a World Heritage Site?
His style can be seen as a successor but also as a counter-movement to the International Style (Bauhaus, Le Corbusier, Niemeyer). The latter is already well represented on the WH list. So, from a chronological point of view, it makes sense to now focus on the second half of the 20th century.
But it is difficult to assess Siza's influence in comparison to other contemporary architects. There are no exceptional or iconic buildings in Siza's work, which is also a consequence of his architectural approach. An inscription of a series of Álvaro Siza buildings would place him on the same level as Le Corbusier and Frank Lloyd Wright. In my opinion, this is not justified. Thus, a thumbs down from me.
Nevertheless, I can highly recommend to include some of these sites in your itinerary when you visit Portugal. At least for those who have a fondness for modern architecture.
---
October 2020 - I am a big fan of modern architecture, inspired by Bauhaus and Corbusier. But this nomination might be a bit early for an architect who is still living and working. The Corbusier WHS is encompassing his most striking buildings in the world, this nomination whereas just lists almost anything Alvaro Siza built within Portugal. Anyway we enjoyed the few buildings we saw. The Portugal Pavillon of Expo 98 has a majestic roof reminiscing a cloth blanket. Unfortunately we missed the housing estate in Evora, which I regret. But we have also visited the bank in Vila Conde, the Piscinas de Mare, which were in renovation, and the Casa de Cha de Boa Nova. A beauty! As iconic as Frank Lloyd Wrights Falling Water. We spent the night on the parking lot next to the Teahouse and got to see it at three different times of day. Did not have the pocket money for dinner there though. This building will make it onto the list at some point. In whatever constellation.
---
Álvaro Siza Vieira is a contemporary Portuguese architect, who has been productive since the 1950s. His works can also be found abroad: in the Netherlands, Brazil, Italy and the USA for example. However, he built mostly in Portugal, in the region around Porto where he was born. A broad selection of his work is on the Portuguese Tentative List as "Ensemble of Álvaro Siza's Architecture Works in Portugal". So during my recent trip there I interrupted the long drive between Braga and my next overnight stop Vila Viçosa with a visit to two of his built works.
The first one that I chose to visit lies in Vila do Conde, a small seaside resort between Braga and Porto. I had to go to the city center, where there is a branch of the Borges & Irmão Bank which was designed by Siza Vieira. Parking closeby did not work on a busy Saturday morning, but I found a spot a few blocks away for 0.45 EUR per hour.
Siza's building is not difficult to recognize, it is something white and Le Corbusier-ish with many windows in a street with mainly traditional buildings. That contrast with its surroundings is conscious: "a dialogue with and distance from the urban fabric". You actually have the best view of the building from the sidestreet, it shows the intriguing all-glass elevator shaft. Much more is not visible from the exterior. As it is a public building, one could go in posing as a customer but the bank seemed closed to clients on a Saturday. The bank building and its architect were the 1988 winners of the Mies Award, an European architecture award.
The second structure lies about 5 kilometers away, in Pavoa de Varzim. I drove there along a coastal road and noticed beaches packed with people. With a bit of puzzling on Google Maps I gathered how to find the Casa Carlos Beires. It is located in a residential area with more interesting modern buildings. It lies in a very ordinary street and the neighbors watched me when I got out of the car and walked over to the house. I had seen pictures of the yellow building beforehand, otherwise I wouldn't have recognized it. The address is Rua Doutor Alberto Pimentel 43 but there is no house number visible.
This Casa Beires is one of Siza's earliest and most defining works. It is a family house with a courtyard and walls partly made out of glass. However, one wonders what has happened to it: the large trees in the garden obscure the view from the street and you cannot walk around it (it is fully surrounded by neighbouring plots). I found the gate closed, but there is a bell and a letterbox so it seemed inhabited. Recent photos of the courtyard shows it looking very run down. However, apparently an over 90 year old lady still lives there among her memorabilia and old furniture.
Álvaro Siza Vieira is seen by some as one of the greatest living architects. Despite the fairly recent deaths of contemporaries IM Pei and Zaha Hadid, he still has to beat the likes of Frank Gehry, Renzo Piano, Norman Foster, Rem Koolhaas and Moshe Safdie to receive that honour. He won the prestigious Pritzker Prize already in 1992. But I find it doubtful that his reputation would be enough for a WH recognition: what has his influence been on the work of others for example? And which of his works do really stand out? Certainly the current list of 22 works would need a lot of trimming to be convincing.
Read more from Els Slots here.
---
California - United States of America - 11-Aug-18 -
On my last night in Portugal I had booked a hotel in Lisbon, near the airport, just South of Vasco da Gama Bridge. This area is known as Parque das Nações (newly created district, 2012) and its a vastly different area of Lisbon. In this Northeast area along the Tagus River, you can see the massive bridge (longest bridge in Europe). There is also a plethora of venues for music, art, and culture.
This is the setting we find Alvaro Siza's "Pavilion of Portugal". In some sense this is New Lisbon, in part a product of the 98' World Expo. The Pavilion itself is quite unique, its design elements have been described with an "enormous and impossibly thin concrete canopy, draped effortlessly between two mighty porticoes." This is an accurate description. My picture partly captures this, but not perfectly. This public venue seems well-used as a musical and cultural space. As I visited the Pavilion, workers were preparing for a large concert.
The setting is excellent, the nearby esplanade on the water and museums all made a fine area to walk. For any architectural enthusiast, this site and other works by Alvaro Siza should be interesting. A living modernist architect of whom's work spans seven decades, perhaps this can be seen as exceptional?
Read more from Kyle Magnuson here.
---
Driving the most popular motorway Lisbon-Porto we made a quick detour to see the university campus in Aveiro, especially its library building, placed on Portuguese T-List. The library, according to the description of the proposal, is one of the best examples of Alvaro Siza's architectural style. I am not familiar with modern architecture and I have not heard about Alvaro Siza before, but I liked the library building and the whole campus. In style and atmosphere it is so different from (not so distant) University of Coimbra but if I was a student again, I might consider these two places equally. I am not aware how many buildings of the Aveiro University have been designed by (or in cooperation with) Alvaro Siza, but the library building is similar in style to all other edifices of the campus. The library building can be seen from outside, taking photographs is not allowed inside (and as a visitor you can only enter the lobby). Although all my family liked the visit, being ignorants in modern architecture we could not understand the potential outstanding universal value of the place.
---
Site Info
Site History
2017

Added to Tentative List
Visitors
49 Community Members have visited.