Su Nuraxi di Barumini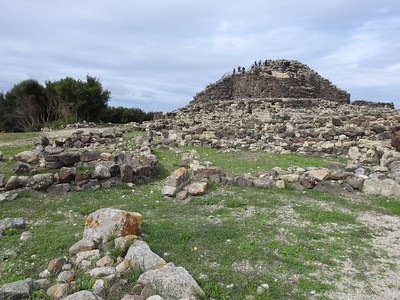 Su Nuraxi di Barumini is the most important 'nuraghe' megalithic monument of Sardinia. It is centered around a three-story tower built around 1500s BC.
Nuraghe (Nuraxi) typically are truncated cone towers, in the shape of a beehive, built with huge square blocks of stone, and usually located in a panoramic position. The monument has no foundations, and stands only due to the of the weight of stones, which may weigh as much as several tons. Some Nuraghes are more than 20 metres in height.
Today, there are more than 8,000 Nuraghes in Sardinia, though it has been estimated that once the number was more than 30,000.
Community Reviews
---
3.00 The Netherlands - 04-Oct-20 -
I finally gave up on public transport in Corsica & Sardinia at Barumini: there's no way to do it on a day trip by bus or train. Not that the experience of renting a car for a day was such a pleasure: I found the Hertz office at Cagliari-Elmas airport understaffed at 9 am, their printer did not work so they had to write my contract by hand (oh, I so wish for a full digital transformation of car rental companies) and the directions where to pick up my car were immensely vague. I guess the lady behind the desk had lost her sense of direction because of the stress. Together with a German tourist, I went on a thorough search for our cars, which we finally spotted after 20 minutes using a high vantage point. It turned out that there is an additional parking lot just in the shadow of the large parking garage.
All these delays meant that I could throw overboard the plans that I had to visit another site or two beside Su Nuraxi di Barumini. If you have your own wheels and a full day to spare from Cagliari, you could easily extend a trip to Barumini to the Sulcis Iglesiente TWHS and the Temple of Antas.
Fortunately, the visitor experience at Su Nuraxi di Barumini is exemplary. There's free parking and a (book) shop. The 14 EUR entrance fee is steep, but in addition to entry to two museums in town it also provides employment to the guides and tours are frequent. Together with a German couple, I was given a tour in English within 20 minutes of my arrival. A guide is really necessary here because otherwise, it's the proverbial 'heap of stones'.
The prehistory of both Sardinia and Corsica is an interesting subject to contemplate while travelling in this part of the Mediterranean. There are findings from the Paleolithic in Sardinia and early Sardinians crossed the Strait of Bonifacio to Corsica around 9000 BC. In Corsica, I had already visited the archaeological sites of Filitosa and Cuccuruzzu-Capula. Both are really fun to explore, as they cover large areas and display those cute menhirs. These sites pre-date the Nuragic civilization, of which Su Nuraxi di Barumini is the showcase.
I like it that Barumini was chosen as the example to represent the nuraghe – had it been proposed in a later year we probably would have had a serial WHS called "Nuraghe of Sardinia" (there are 8,000 of them left). But this is the biggest, the best and it tells the story. There may be an extension on the radar though: Sardinia's nuragic culture.
The stones that define the image of Su Nuraxi di Barumini are not all related to the nuraghe / tower. Much of them belong to a later settlement that grew in the shadow of the then ruined tower and re-used stones from it. The guide brought a picture book showing the original shape of the tower. It looked like a medieval castle, with high ramparts and watchtowers. Stairs and plateaus were made of wood, which (except for one plank) have not been preserved. As with the other nuraghi in Sardinia, the top is gone. A modern wooden staircase has been installed to climb and look into the 3-story nuraghe itself. I found the solid building style particularly striking when seen in close up. The stones were stacked loosely, cement was still unknown. Smaller stones were used towards the top. Looking down from the top you see a courtyard with a well.
---
September 2009 - with my best schoolmates we decided to do an one week trip to Sardegna. After 2 days in Cagliari we rented a car and planned to drive around the Island. I had to pesuade them to go first up north to visit Sardegnas only whs. A pile of stones when looking from outside. But we did a tour going into the beehives, which was quite impressive. However, after the visit we drove back to the shore. An amazing place I can advise: Piscinas dunes on the westcoast. A memorable experience and the best we have seen on the island.
---
I visited this WHS in March 2017. Having visited most of the 'beehive' sites on the list and knowing that the cost of this visit would be quite steep at 11 euros per person, I had low expectations.
Upon arriving at the Su Nuraxi parking lot, just outside the village of Barumini, I immediately spotted the highest nuragic structure and what seemed like circular structures which are quite similar to the ones of Choirokoitia in Cyprus. So to actually 'see' the site you can stroll by the street and view the nuragic site with the 15th century castle remains of Las Plassas in the background.
However, you'd be missing out on the very interesting guided walk through the nuragic complex and most importantly inside the nuragic 'fortress' which offers an unbeatable panoramic view of the whole site from the highest tower. Moreover, included in the entrance fee to this site are visits to Palazzo Zapata, which houses a limestone (whitish) nuraghe and several important remains found in Su Nuraxi and Centro Giovanni Lilliu which has an interesting collection of excavation photos and 3D models. The most important remain in Palazzo Zapata is the limestone model of a nuragic tower which was found in 'hut' 80 as it gives an idea of how the upper part of the towers must have looked like. It also helps to appreciate the signifance of the numbered basalt stones scattered around the site's perimeter which most probably belong to the uper parts of the towers.
The site bears no aesthetic beauty even though the surrounding green countryside in March is quite pleasant. However, compared to other similar sites on the list, this WHS is by far the most complete and the most important out of the over 7000 nuragic sites in Sardinia.
PS: bring sturdy shoes and comfortable clothes as you'll be climbing and crawling through some seriously narrow stairways and passages during your 1 hour guided visit. Visiting in the shoulder months also meant that we had a guide for ourselves and we were allowed to revisit and take photos alone after the guided visit. The UNESCO WHS inscription plaque is situated to your right once you enter through the wooden gate.
---
The Su Naraghi near Barumini have the distiction of forming one of the largest and most complete of these strange villages. The dwellings are conical in shape and constructed of dry stone boulders carefully wedged together.
The WHS is stuated 20 minutes walk from the village of Barumini. Although there are infrequent direct buses to and from Cagliari, I travelled to Barumini by train from Cagliari Republicca station to Isili on the Ferrovia de Sardegna railway. Then I caught a bus from Isili to Barumini.
---
Frans Boeijen
The site is very impressive and large. I was surprised one could go in, but this was only possible with a guide. There was no English speaking guide available, which made it hard to understand what we saw. With a little English book it was possible to understand some of it.
It was not difficult to find the site. I found it very worthwile visiting and would certainly recommend this to anyone visiting Sardinia. However the countryside was a bit disappointing...
---
Site Info
Full Name

Su Nuraxi di Barumini

Unesco ID

Country

Inscribed

Type

Cultural

Criteria

1

3

4

Categories

Link
Site Links
Unesco Website
Official Website
Related
Visitors
115 Community Members have visited.