Roșia Montană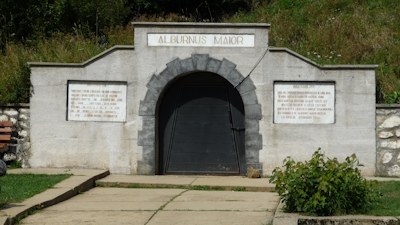 The Roșia Montană Mining Cultural Landscape comprises the archetypal example of Roman underground gold mining.
Archaeologists have discovered in the town of Alburnus Maior ancient dwellings, necropolises, mine galleries, mining tools, 25 wax tablets and many inscriptions in Greek and Latin. Metal has been extracted here since the Bronze Age.
Community Reviews
---
With Roșia Montană scheduled for the 2020/2021 WHC, I had made it a fixture in my travel plans for Romania. Figuring out which bus connection to take wasn't easy, but eventually I found one that would work. Plan was to arrive at 18:00h by bus from Alba Iulia, hike to my B&B, drop the luggage, get some food and finally some rest.
And then the rain came. It was at 17:30h when the road between Abrud and Campeni was closed due to flooding. It took two hours to repair the road and when I got off the bus, it was 20:00h. I still had 5km of hiking to get to town, my stomach was empty, and, how could I forget, the road leading to Roșia Montană was also flooded. To add insult to injury, I had sprained my ankle in the morning in Sighisoara; Romanian roads and sidewalks are full of potholes. A strenuous hike with luggage up a flooded road at nightfall was just what the doctor ordered.
In addition, google maps in Romania provides some rather unconventional directions. With nightfall 30min away, I was stuck in the hills of Roșia Montană looking for a trail that just wasn't there.
Side note 1: Follow the car road if hiking.
Side note 2: The "car" road may still be more a trail than a road.
Side note 3: Really consider if you want to do Romania with your own car.
Stanislaw is also right, that at current Roșia Montană has very little tourist infrastructure. You could say it's non existent. There are three sleeping options on booking.com, two of them rather overpriced. I am not aware of any restaurants, ... Having made it to town, I realized I would go hungry that night.
Eventually, my B&B hosts picked me up on some random trail with dogs barking all around. The whole town was dark, as the floods had killed the electricity. Frankly, I was a bit frustrated with the day, having to go hungry, being lost at nigh tin the hills, and my ankle hurting plenty.
But lucky me, I was in for a Romanian dinner. Fresh cow milk, homemade cheese, mushrooms from the garden, tomatoes, pickles... Lovely. I also got to learn a little about the nomination from a local's point of view.
You see, all the stress mentioned above, was in light of a 50/50 chance of Romania pulling out of the inscription process at the last minute. They had done so before and they could do so again.
Apparently, some evil Canadian mining corporation has a contract with Romania to extract the remaining gold from the hills. Romania has stalled as there are severe environmental and preservation concerns. According to my host, the locals are afraid of the deadly chemicals (cyanide) being used in the extraction and the major impact open-pit mining would have on the landscape; the impact being that the landscape would be gone. Reading the entry on wikipedia makes my stomach turn. I have a hard time fathoming this would or should be legal at all in Europe.
The Canadians and Romanians have been involved in arbitration for years. Romania is afraid to lose and having to pay out a large award in damages. By making the site a world heritage, the option for an open pit mine is essentially gone now. Let's see what happens.
The site itself according to the official map is fairly large. I think the description by Els which focuses on the Roman mines does not fully capture what the site actually is. The Roman mines are but a part. In sum, it is a mining landscape spanning from pre Roman times to today with several different periods represented.
The most prominent feature is obviously the Roman mine in town. Unfortunately, the mine museum isn't open on weekends which could have been remedied with money and calling them ahead of time to arrange a visit. But no electricity and thereby no light due to the previous day's flood was a rather hard no. Still, there was much to explore. The town boasts nice rural Romanian houses, very different from the typical central European mining town. There are two big churches (and the one I picked for my photo). In town, you can also find the house of a mining company. I liked the small rural houses best. Outside of town are several open mines up in the hills. The stones are yellow from copper I guess. There are also lakes, one shaped in the form of a heart... Plenty of hiking opportunities.
In sum, it's a nice visit, way better than e.g. Erzgebirge. With the long history of mining in the area, I think this is a valuable addition to the list and a worthwhile detour when visiting Romania.
Last but not least, the feat that amazed me most on my visit where Romanian youth repairing the road pretty much immediately after the flood was over. In Germany, everyone would have waited for the construction crew.
Getting There
Assuming the streets aren't flooded, there are four connections to Abrud and/or Campeni that run at least daily: North (Cluj via Turda), West (Oradea), South (Deva) and East (Alba Iulia). As useful a resource as autogari.ro is, their bus schedules are not always correct. It's best to check at the bus station, if you can. Be mindful, that schedules may differ between weekdays and the weekend. The easiest option (and the one I chose) is via Alba Iulia. The main bus line (excellent trans) was missing from autogari. The Deva bus was also missing from autogari and it only runs between Abrud and Deva, so you would need to figure out how to get to Roșia Montană.
If your bus runs between Campeni and Abrud (all but the Deva one should), you can get off at Gura Roşiei. From there, it's a one hour hike to Roșia Montană. Alternatively, you can hike across the mountains. The rough path between Abrud and Roșia Montană takes you to the open mines, including a Roman one.
With the bus schedules as they are and without a fast way to make it to the town proper, I am not sure you can do this as a day trip if relying on public transport. If you are looking for accommodation in Roșia Montană, ... the simple B&B I stayed in (mountain sanctuary), albeit simple and at the time without electricity, is a nice experience and has a warm host. It's also the cheapest option in town, but notoriously hard to get to if night sets in as it's remote.
I returned to Alba Iulia the next day. With the flooding, I wasn't sure if my bus was running at all and ended up hitchhiking. The best pickup point - if you are hitchhiking inclined - in Abrud is at the gas station at the end of town. It also has the added benefit of saving you several kilometers of hiking into Abrud as you pass by the gas station anyhow coming down the mountain. It should go without saying: Be mindful when you hitchhike.
While You Are There
There is a steam train running between Campeni and Abrud. They have a facebook page where you can check the time schedule.
Alba Iulia (T) is worth a visit. It's a nice 18th century fortress in good state, more interesting than either Terezin or Alessandria, and with Roman roots and ruins. Around Roșia Montană the Romans built their own Limes, the Dacian Limes, another Limes tentative nomination. Apart from that, most other sites are at least a day trip away.
---
Visited June 2019
In my opinion this is one of the most dramatic natural and man-made landscape in Romania! Underground and open mine sites, artificial lakes, old houses and roads, industrial monuments hidden in the forests, beautiful nature, lots of walking paths through abandoned industrial scenery, history that started before the Romans came in, and that continues to our time. Two days is not enough to discover all that. But in my case, it was not about discovering gold mining history of the region, but enjoying the breathtaking beauty of the area. Be prepared if you decide to take Roşia Montană village as you base, because the tourist infrastructure in here is not very well developed; there are some places where you can spend a night or two (in old houses, of course – you'll have a chance to see how the wealthier ones used to live, i.e Casa Petri), only one store, and no restaurant at all (there are two or three local ones and bigger shops in Dăroaia/Coasta Henţii, 3 kms to the west).
Some archaeological findings prove that gold mining in this area started well before Romans. While visiting the Roman mine you'll hear that the gold of Thracian kings came from this region. And the Romans developed mining to the point that today the underground network of tunnels is the most extensive ever created in antiquity. Ancient dwellings, cemeteries, mine galleries, lots of artefacts, wax tablets among them – all that come from the most ancient times. And all can be seen or visited while in Roşia Montană. But this is only one part of gold mining history. Remains from Middle Ages, Austrian Empire, communist times – all is there! Different methods of mining, different tools and machines, open pits, cave-like mining corridors (photo), very rich urban planning, very interesting small architecture, including churches, bridges, villager's houses, storages, corporation buildings, even blocks of flats from 60…
And the nature, omnipresent nature. Where green plays with earth colours. Forests, lakes, mountains, hills… (And Cariera Poieni which probably won't be in the core zone).
And the very difficult question: to keep on exploring (RMGC) or preserve this landscape as it is?
---
Site Info
Site History
2021

In Danger

Upon inscription, due to unsure mining future
2018

Advisory Body overruled

ICOMOS adviced Inscription + In Danger
Visitors
14 Community Members have visited.