Risco Caido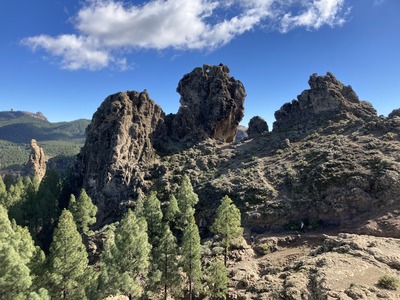 Risco Caido and the Sacred Mountains of Gran Canaria Cultural Landscape are testimony to the pre-Hispanic culture of the island.
This mountainous area around the Caldera de Tejeda includes a large number of troglodyte settlements, archaeological sites and rock art. The ancient Canarians, who descended from Berbers from North Africa, developed their culture in isolation until the 15th century.
Community Perspective: Solivagant and Clyde have provided invaluable information on how to visit the included components, which are scattered around the mountainous interior of Gran Canaria. Els suggests topping it up with a visit to the Canarian Museum in Las Palmas to get to know the indigenous culture.
Community Reviews
---
2.00 The Netherlands - 17-Jan-23 -
I hadn't expected ever to visit Gran Canaria, a small Atlantic island overrun by millions of tourists yearly. But I had to secure my last World Heritage Site of Spain: I am now at 49/49. The decision to go there was made easier due to some EasyJet vouchers that I still had from Covid times. And because there's an interesting way to leave: I hopped over to Casablanca in Morocco on a tiny propeller flight.
I rented a car for 24 hours and first drove the winding roads to Roque Nublo. It was so busy that the parking lot was full already and cars were parked at the roadside for a km or so. The hike up to the main rock is only 1.5km long, but it is a tricky rocky path and I encountered a woman that had fallen and hurt her ankle (on the way back I saw her being carried away by firemen). The trail ends at a large plateau, from where you have good views of the Roque Bentayga and even Teide on Tenerife. And you get close to Roque Nublo of course, a key feature in the 'Astronomy Skyscape'. There's no interpretation provided here (there must be rock drawings as well but who knows where?) and all other visitors seemed to be on a family outing scrambling over rocks.
The websites of the Interpretation centers at Roque Bentayga and Artenara both say you have to contact them before visiting. I did, and Bentayga turned out to be closed for renovation. But Artenara was open, 'tentatively' they said. The Interpretation Center in Artenara has a replica of Cave 6 of Risco Caído. This is the cave with the best rock drawings (pubic triangles) and an elaborate projection of sun and moon light connected to the changing of the seasons. This is imitated via a video display in the replica cave, there's also a detailed explanation in English available. As it is free, it is interesting enough for a quick 10-minute visit but not much more than that.
Other sublocations seem either difficult to drive to, and/or difficult to reach on foot, with closed caves that need someone with a key. You get the idea that the landscape is the real star here (it's a Biosphere Reserve as well) and that is enough for the Canarians. Not that Gran Canaria needs more visitors anyway…
The Canarian Museum in Las Palmas is worth visiting for getting to know the Guanche, the indigenous inhabitants who revered and created this landscape. This is a serious museum, over a century old, and not some tourist trap. Maybe go there first, as it will give you a better insight into these people (I found interpretation in the core zone is lacking). There's a collection of intriguing pintaderas, which are stamps decorated with geometrical motifs. They also have a room full of skulls and a few mummies, preserved by natural circumstances. 
Read more from Els Slots here.
---
I visited this WHS in January 2020. Even though there are direct flights to Gran Canaria, I wasn't eager to spend a week on this island (even before WHS inscription). Although it is quite a big island of the Canaries, I knew I'd find the smaller ones much more interesting and to my liking.
So I opted for a fully packed return ferry trip from Tenerife (departing from Santa Cruz de Tenerife NOT Los Cristianos). With careful planning beforehand (a big thank you to Solivagant as his review was by far the best information and travel advice online about the Risco Caido WHS), I managed to follow an almost perfect loop from Agaete, up along the GC-220 road till about Juncalillo, then towards Artenara and Tejeda along the GC-21 and GC-210, going inwards to the Roque Bentayga interpretation center and Cuevas del Rey, and then following the GC-150 back to the Juncalillo point after enjoying the Roque Nublo and Pico de las Nieves viewpoints. That was the plan, so I printed out all my Google maps which turned out very handy and way better than the GPS dirt track alternatives I was given on the spot.
Just before reaching the GC-21 road to Artenara, I passed through a pine forest which had suffered extensive damage from fires in the previous years, and on the left hand side of the road (coming from Agaete's direction) I noticed a steep hill with a faded turquoise signpost marking the Zona Arqueologica Cuevas del Caballero. This was not planned at all but just a matter of luck. However, since it was still relatively early compared to my plans, I decided to check it out. Not trusting the steep but narrow road uphill, I parked my car nearby and ventured on foot to a series of 12 caves, most of which were used as dwellings. These caves are locally known as Las Machas because of a popular belief that this place was once used by women that practised witchcraft. Legends aside, there are several engravings here even though they aren't very visible. Nearby and deeper in Risco Chapin there are Cueva del Cagarrutal which I didn't visit and Cueva de los Candiles where there are more triangular engravings that have been identified as fertility symbols (vulvae?) used by ancient Canarios. Those who are keen on rock art (think Rock art of the Iberian peninsula, Samuel!) might have a field day here (perhaps with some purposely developed app to help spotting the engravings/art). Compared to the other sites I visited later, I would skip this uphill hike in favour of more time around Tejeda.
Next I drove further uphill after Artenara and Tejeda following the signs to the 1414 metre Roque Bentayga. There is a small intepretation centre here displaying a very informative video which is ideal to understand this WHS's "story" and importance as well as knowing what to look out for when visiting Cuevas del Rey afterwards. There is no UNESCO WHS plaque yet but I've seen lots of blank information boards around clearly showing that everything is pretty much still being slowly prepared.
From the interpretation there's an easy uphill hike (definitely not 1 hour long even with extensive photo stops) to the Almogaren, one of the main astronomical markers used by the Amazigh people of Gran Canaria who possibly used this place as a shrine. The Roque Bentayga rampart also served as a fortification in the conquest of Gran Canaria Weather permitting, you'll be able to take in a wonderful view of the Tejeda ravine. This linear 2 kilometre ridge to Risco Caido which is so important for the bygone indigenous troglodyte settlements, including Roque Bentayga and the Roque del Camello and Anden del Tabacalete burial niches, is the core area of this WHS. The Tejeda Ravine was also declared part of the World Biosphere Reserve by UNESCO, covering 14 million years of geological history of Gran Canaria.
Even though the video in the Bentayga interpretation center describes the Cuevas del Rey as practically inaccessible due to erosion, to date it is still possible to visit. There are no signs, perhaps to deter most from visiting, however if you follow the signs to El Roque and the GC-607 road you can't miss it. Cuevas del Rey is home to one of the island's best painted caves which is part of a troglodyte settlement where a large fortified granary in the upper areas of the ridge stands out. With the necessary caution, on a sunny day it is still possible to visit. There's a rope over the eroded ridge to help you keep your balance, however if you don't have a head for heights don't even try visiting it. My recent visit to Huayna Picchu, Peru, was a piece of cake compared to this even though it's not as high.
There are both natural and man-made caves located on different levels. In addition to cave dwellings, there are also cavities adapted to serve as granaries or burial niches. The biggest and best cave is the Cueva del Guayre were there are as much as 44 dug out holes on the ground and its walls have contrast of black and red paint. It is believed to have been an important area used for rituals.
After visiting the Ayacato and the pine forests near Roque Nublo and Pico de las Nieves mostly for the superb views, I decided to drive back to Artenara as the afternoon sun was much better for photography there. It was funny to see the replica cave of Risco Caido in pieces on the roadside just outside the new visitor centre which is supposed to be opening soon in February 2020. The Mirador de Unamuno and the Museo Casas Cuevas (only 200 metres away; open daily 11:30-16:30) made for a worthwhile stop too. From there I drove to Barranco Hondo to briefly explore Las Cuevas. There, next to a metal cross near some public gym furnishings, I spotted a small blue sign pointing towards Risco Caido Yacimiento Arqueologico. From here head staight on for quite a long way downhill till you pass a water catchment area and dam and you'll then see 21 restored caves which are now closed with brown doors/windows. Risco Caido is even compared to Mesa Verde on information boards around Gran Canaria but, although I haven't visited MV yet, is surely an exageration. Without the possibility of freely exploring the main cave (even if somewhat possible as Solivagant explained in his review), and without the extraordinary nightime photos accompanying the nomination dossier, I'd easily skip Risco Caido altogether if I were to revisit.
So all in all, even though I was initially against Spain's policy of obsessively adding a WHS on each Spanish territory and not having high expectations, the fact my short visit was like a sort of treasure hunt, trying to match Google maps' coordinates with the reality on the ground, made it a very pleasant one overall. It is one of those WHS for which the "story" in the nomination dossier adds meaning to the few tangible heritage left and as such it has OUV and fills a few gaps in the list. I felt I learnt quite a lot through this adventure visit thanks to this WHS. Without its inscription, perhaps I would have only enjoyed the great views the island has to offer, possibly missing out on all the inscribed area.
Photos: Candiles engravings (top left), Bentayga and Cuevas del Rey (top middle), Cuevas del Rey interior (top right), Bentayga and Almogaren (bottom left), Risco Caido (bottom middle), Bentayga and Teide view from Roque Nublo (bottom right).
---
Spain's apparent objective of gaining WHS status for all of its islands continues in 2019 with Gran Canaria (GC) - Menorca is next in line for 2022! Serendipity, rather than an obsessive chase after potential upcoming WHS, took us there for just 1 day in Jan 2019 and we fitted in a visit to the nominated site of "Risco Caido and the sacred mountains of Gran Canaria Cultural Landscape"
The Canaries (population c2.2 million) already have 3 WHS. A "colonial town" (the rather "average" San Cristobal de Laguna), "Volcanism" (Teide NP) and "relict Macronesian vegetation" (Garajonay NP). So - what could be left for other islands – a "near duplicate" of one of the former subjects? Luckily there is an, as yet unrepresented, possibility - the archaeological sites of the pre-Hispanic inhabitants of the Canaries, known as the "Guanche"! They are considered originally to have reached the Canaries from N Africa some time after 1000 BC (possibly no earlier than 500BC) and to have been of Amazigh (Berber) origin. By the time of CE they had, on each island, developed a range of different but similar cultures and appear to have remained reasonably isolated from their continental neighbours until they were invaded in 1402 by a Norman adventurer working for Castille - Jean de Béthencourt. Although they only had primitive weapons, some of the islanders put up strong resistance, and their final defeat took until 1496. Subsequently they were "ethnically and culturally absorbed by Spanish settlers" (Wiki). Genetic studies have shown significant Guanche DNA content among current Canarians, which no doubt contributes to their pride in their pre-Hispanic history.
But, what form should such a nomination take? We had visited the Museum of Nature and Man in Tenerife which contains a fine section on the Guanche ("considered the best repository of objects from the Pre-Castilian Canary Islands" - Wiki) and gained the impression that Tenerife perhaps contains the greatest number of Guanche remains in the Canaries. They are, however, rather spread around the island with no particular location standing out. GC also has a fair number of such sites including a major one in the form of the Cueva Pintada in Galdar . Spain could presumably have "picked and mixed" from among these across the islands (and even included examples from the, as yet, unrepresented islands of Fuerteventura and Lanzarote) - or else have homed in on just one representative site (E.g Cueva Pintada?). Instead it has followed a route which has recently proven so successful for many States Parties, by choosing a larger area with multiple remains and badging it as a (Relict) "Cultural Landscape" (CL)
The one chosen is centred on the "Caldera de Tejeda" in the NW of GC - a spectacular landscape of eroded volcanic peaks with deep ravines and pinnacle rocks. Anyone visiting GC would try to include a visit simply for its scenic/natural values. But, in addition, it contains a good selection of Guanche remains. I quote from a Visitor Centre notice board – "The Cultural Landscape of Risco Caido and the Sacred Mountains is a vestige of the indigenous society that continues to exist in a well preserved natural environment. The entire protected area is part of the Gran Canaria Biosphere reserve and accounts for about a third of the same. The main heritage landmarks within this cultural landscape are the archaeological sites of the ancient Amazigh societies of the islands, especially those linked to the archaeo-astronomy and fertility rituals of their symbolic and ritual world. There are 4 main archaeological complexes in this privileged location"
Note the reference to "Archaeo-astronomy". This is becoming something of a Spanish "speciality" (see my review of Antequera!) but, in this case, Spain has also tapped in to the "Dark-sky movement" with GC already majoring on its merits as a tourist destination in this respect. It thus claims that the sky is as much a part of the "landscape" as the ground and the sea such that its "natural" clear state should be preserved and then neatly links this to the nominated CL on the basis that the Guanche used the stars in positioning their structures and in their rituals!
GC isn't very large and one might think that it would be possible to visit all/most of the 4 locations reasonably quickly. Roads, however, are very twisty and slow (but well engineered) and it takes both a fair time to reach the area and to travel around/walk to the precise sites. Our GPS consistently under-estimated driving times - e.g the 43kms from Sta Cruz to the village of Tejeda at the "centre" of the Caldera (not included in the nomination) took 75 minutes to drive! We only had 7 hours in all and eventually only fitted in 1 of the 4 complexes plus a couple of other sites. To a greater or lesser extent, all of them contain similar "typical" remains of man-made troglodyte caves, ritual sites, burial chambers, granaries, and carvings/paintings. The excavated remains of pottery, carved figures, "mummies" and tools etc will need to be seen in musea or visitor centres (The "Mummies" in the Tenerife museum are regarded as "World significant" by aficionados of such matters - so that also extended our "Mummies of the World" tick list!!).
My understanding of the 4 "complexes" referred to within the single "location" is as follows -
Risco Caido – Barranco Hondo. This contains perhaps the most famous of the archaeo-astronomical sites - the "Sanctuary" is a cave (photos) with a man-made oculus through which sunlight shines at specific times. This is now only available to visit with prior booking for limited spaces. The Nomination file states "An application must be filed on line to gain access……Only 36 visits were organised in 2016, with 432 visitors as part of a site conservation plan". Here is a link which explains and initiates the process. It only operates on certain dates from May - Sept, 10 persons max but is FREE - read "Condiciones de la Visita" for full requirements, waiting list procedures, prior registration, documentation required etc etc! A visitor centre has been/is being built nearby in Artenara, apparently with a replica "sanctuary", but wasn't yet open in Jan 2019.
Acusa. An area of several groups of "Cave houses" ("home to one of the largest and most spectacular troglodyte enclaves" Nom File page 95 etc) around this point 28.007353, -15.679077 . Some caves are still in use (e.g as agro-tourist B+Bs) and I don't know to what extent the more interesting are freely open.
Risco Chapin. "the site chosen for excavating an exceptional group of highly symbolic and ceremonial caves that are clearly in alignment with Roque Bentayga" (Nom file page 92 etc). Cuevas Candiles and Caballero contain significant examples of rock art – but again I don't know how accessible they are. Google Maps shows a road to the area of the former at 28.017793, -15.633465
Bentayga. We concentrated our efforts on this "complex". Its focal point is the "Roque Bentayga" – a fortress/troglodyte settlement where one of the last battles between Guanches and Spaniards took place. This is situated within a gated area designated an "Archaeological Park". A road goes to an Interpretation Centre at 27.989589, -15.638337 . Entry is free but it is closed on Mondays (including, I think, the path up). The info centre is interesting if not fantastic. It shows a video which I suspect was produced for the nomination and its information boards were clearly set up utilising the UNESCO title and Nomination file quotations. The guide on duty had no information about any issues which might have emerged from the ICOMOS visit. One can climb a fair way up the rock (the notice board says 1hr but 40 minutes with plenty of viewing time was easy even for this 76 year old) past the fortress wall and various caves to the "Almogaren". This is a rock carved area with a platform, steps, circular grooves and runnels, which is thought to have been an "astronomical marker and ritual space" (Nom file) - see site photo above. It has magnificent views including of a nearby second rock monolith - the "Roque Nublo". Unfortunately we ran out of time in order to get back to Las Palmas for our flight and had to miss the "Cuevas del Rey" – the largest of the island's caves with paintings and carvings and situated just 3.5kms West of Bentayga at 27.992914, -15.654362
Even though it isn't one of the 4 "settlement" areas, we visited Roque Nublo both for its views and because it is included within the nominated area for its "current and historic symbolism" (It does apparently have examples of carvings but we didn't see them). On our Saturday visit the hiking trail was very busy and the Nomination file identifies it as the most "pressurised" area for tourism. My photo of the caldera is from a viewpoint outside the inscribed area but showing the "Roque Bentayga (Right) and "Roque Nublo" (left). We also visited GC's highest point at nearby Pico de las Nieves where, if you are lucky with the weather, there is another magnificent panorama looking down onto Roque Nublo and across to Mt Teide (we were - though, within an hour it had completely clouded over). It is outside the nominated area but figures in the Roque Bentayga description thus "A final important astronomical connection of the almogarén concerns window V (certainly artificial). This clear artificial notch frames Pico de las Nieves, the highest peak of Gran Canaria where Sirius rises today"
We don't feel that we "bottomed" this nominated WHS. It will surely gain inscription at some time and, even if it doesn't, maybe we will return to GC when we get "really" old and do so!! In particular, we missed all of the more famous named caves. Ok, that at Risco Caido is closed, but the replica sounds worth seeing, and missing the "Cuevas del Rey" was a blow - but flights won't wait!! If we went again I would stay in one of the Caldera villages (or even a troglodyte house!) for a couple of days. Tejeda has been badged as one of "los pueblos más bonitos de España" ….. and then there's still the rest of the island!
---
Site Info
Site Links
Unesco Website
Official Website
In the News
Visitors
43 Community Members have visited.