Ouro Preto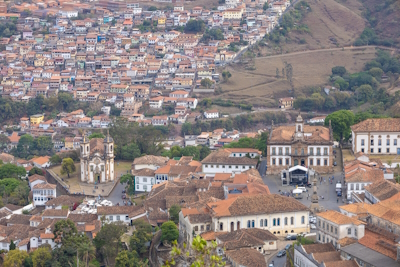 The Historic Town of Ouro Preto is a unique representation of Baroque architecture in a homogenous cityscape.
The city's wealth has its origins in the late 17th century, when gold was discovered here. The exploration of gold was a monopoly of the Portuguese crown. Small settlements of miners in search of El Dorado were joined to create the city and the settlers were divided into parishes and ethnic groups. Each group constructed its own church (religious orders were banned), bringing in baroque artisans that created sculptures and paintings that show a fusion of European and American elements.
Community Perspective: the example of a colonial-historic town in Brazil, in a hilly location with steep streets and some breathtaking views. The main attractions are its churches: the Basilica of Nossa Senhora do Pilar, the church of Nossa Senhora do Rosário, and the church of Sao Francisco de Assis (with Aleijadinho carvings) are among the highlights.
Community Reviews
---
4.00 Philippines | New Zealand - 13-Feb-23 -
I think that Ouro Preto has got all the characteristics of an outstanding cultural World Heritage site: it contains architecture and artwork of high aesthetic value; its buildings, roads, and other colonial infrastructure are well preserved and conserved; and it is a setting of important historical events in the country, particularly the Brazilian independence movement. Schoolchildren are taught about its historical significance and many visit as part of their school trips. Additionally, this former center of gold mining enjoys a status of being a popular tourist destination among locals, as Rafabram attests.
I spent two and a half days in Ouro Preto in September 2022. As of Feb 2023, Passaro Verde bus company runs 12 departures per day from Belo Horizonte (2-3 hours). As in previous reviews, visitors must be wary of the town's terrain and the steep roads could be physically challenging for some. The town is divided into parishes, and one may organize their itinerary by using the churches as the focal point and strolling around the surrounding streets from there. Areas that I have visited are as follows:
Praça Tiradentes – the main public square of the town that is surrounded by beautiful buildings. Notable of these buildings is the Museu da Inconfidência, which provides visitors a background to the history of the town. On the other side of the plaza is Museu de Ciência e Técnica da Escola de Minas, which mostly houses natural history, mineralogy, mining collections.
Antônio Dias Parish – an area to the east of Praça Tiradentes. The exquisite Igreja de São Francisco de Assis exhibits Aleijandinho's artistic genius and it's criminal not to visit this church. The imposing Igreja Matriz de Nossa Senhora da Conceição and the historic Casa de Tomás Antônio Gonzaga are worth a visit as well.
Pilar Parish - an area to the west of Praça Tiradentes where the Igreja Matriz de Nossa Senhora do Pilar is located.
Rua Conde de Bobadela – a street to the west of Praça Tiradentes where visitors can shop, eat, and drink.
Morro São Sebastião – a rather unkempt viewing platform that offers magnificent panoramic views of the town.
Overall, Ouro Preto is an enjoyable town to visit and a great place to learn about Brazil's colonial history and see some of the finest Baroque architecture in the country. Moreover, the town is an ideal base to explore the charming colonial town of Mariana and the sleepy cobbled village of Lavras Novas.
---
I think Ouro Preto might be sort of an unknown destination for foreign travellers, but among brazilians it's a popular city. It's the model of a historic town in Brazil, declared very early as a national monument, in the 1930's, even before the creation of IPHAN, the institute responsible for the preservation of brazilian cultural heritage. It was one of the first preserved heritages in the country, so Ouro Preto has a long background of actions of preservation and restoration, and it isn't a surprise that it was the first WHS of Brazil. The city is also very related to two figures every brazilian study in history books of elementary school: Tiradentes, the national hero of the failed independence mutiny (the day of his death is a national holiday), and Aleijadinho, the baroque sculptor whose works are an important reason of inscription of the nearby WHS Sanctuary of Bom Jesus do Congonhas.
I spent three very rainy days in December 2019 there. The streets are steep, some very steep, so not the best weather to walk around the city and its stone paved ways. Because of its hilly location the city doesn't have an orthogonal layout, usual in colonial towns, or even close to it. The map of the city looks like a mess, what makes it fun to explore. The main sights are well signposted, so I didn't get lost. Some buildings have small signs on the facades explaining a bit of the attraction, what is rare in Brazil. The overall feeling of the city made me remember of the portugueses cities of Oporto and Guimarães, specially for its very similar row of houses. It all looks very homogeneous now, but there's some issues: after it being protected as national heritage, the city still had a lot of empty spaces, but the new buildings had to look like the colonial ones. The sign on the facade of the Vila Rica movie theater tells an interesting history: the building was remodeled in the 1950's to look more colonial, because the former preservation authorities didn't like the eccletic/neoclassic style.
Despite the Tiradentes square, with the Inconfidência Museum (the former City Hall), the main attractions of Ouro Preto are its many churches. The Basilica of Nossa Senhora do Pilar is a mandatory visit, with its very baroque interior, lots of gold decorations and a theater feeling caused by the cabins and its red velvet curtains. The church of Nossa Senhora do Rosário, a church of the enslaved people, is also a highlight for its peculiar shape, all curved and round forms. Aleijadinho made stone carvings on the facades of three churches, around the main doors: Nossa Senhora do Carmo, São Francisco de Assis and Bom Jesus de Matosinhos. In the interior of the first, he also made a stone washbasin, and in the second, the stone pulpits. I didn't visit the last one, but the interior of the other churches are also beautiful, in rococo style, so more light, less ornated. Aleijadinho is buried in another church, the Basilica of Nossa Senhora da Conceição, that also has a little museum of his work, but I was told it's now closed for restoration. The artist worked mostly with a local kind of stone, named soap stone (pedra sabão). In front of São Francisco de Assis church there's an open air market, very popular, of handmade products made of that stone.
The city is very appealing, with some breathtaking views. Even with a bad weather, it can be charmful, like the view I had sometimes from the window of my room, of two churches on top of hills in a misty landscape. It may look too touristic around Tiradentes square, with souvenir shops and that stuff, but walking a little further it's possible to see everyday life. Ouro Preto also has an important university, so the historic centre is filled with students housing with funny names (in portuguese only, sorry guys). Maybe it was because of the weather, but I had an impression of a calm town. It's a place that makes me want to go back there someday to explore more of it.
---
In August 2018, I made a day trip by bus from Belo Horizonte to Ouro Preto, a colonial-era town constructed in Brazil's gold mining area in the 18th century while under Portuguese rule. I spent the day wandering the cobblestoned center, dotted with Baroque churches built with wealth from Brazil's gold rush. After the gold boom, Ouro Preto was economically isolated for most of the 19th and 20th centuries, which helped preserve its historic buildings and urban pattern. I visited on a Monday, bad news since I couldn't visit the interior of the churches or the museums, but good news since I didn't have to deal with mobs interrupting my photos.
---
Paula Fonseca
Ouro Preto is a fantastic city, where is possible to see a kind of live that is desapearing in Brazil, a small comunity united by religion, relatives and habits. And more, there are the Art. It's one of the best examples of colonial/ baroque art in Brazil
---
4.00 The Netherlands - 12-Oct-04 -
Locals here must be in good physical condition: the town´s cobblestoned streets go up and down and up again. These locals can enjoy themselves though, living in such a great city, wonderfully preserved and indeed very homogeneous in its looks.
I stayed here for three days, which is a good period to get to know the place. I visited museums and churches, but wandering around is also great fun. It doesn't matter where you're going, at about every street corner there's a great view.
Some great spots: the Igreja de Sao Francisco de Assis (with Aleidinhija carvings), the Museum de Oratorio, and the view down from the road to Mariana. You can also explore one of the huge old mines (Mina de Pasagem) just outside the town. Which I did, of course, becoming some kind of mining expert after visiting other mining WHS in Blaenavon (Wales) and Spiennes (Belgium).
---
Eduardo Marubayashi
There is no doubts that Ouro Preto deserves a visit.
The beauty of some churches, specially Nossa Senhora do Pilar and Sao Francisco de Assis, with their mind-boggling golden interiors, and the bucolic early morning views over the town contrasting with the students parties at night offer the visitor a complete pack of culture, South American colonial history and art.
However, Ouro Preto has been preserving its heritage with careleness. First, there is no preservation counciousness, as a historic house in the town's main square recently burned down and a beautiful fountain was destroyed by a truck. Also, the hills surrounding Ouro Preto were dominated by modern and ugly statements, and the once beautiful wide landscapes are now limited to the town itself using the Itacolomi rocks as background.
There are no doubts that Ouro Preto deserves a visit, as it is not so far from big centers like Sao Paulo and Rio de Janeiro, and the region is packed with other sensational destinations, including other World Heritage sites like Diamantina and Congonhas, but bad use is consuming Ouro Preto's charm and beauty.
---
Site Info
Site Links
Unesco Website
Official Website
In the News
Visitors
106 Community Members have visited.