Ouro Preto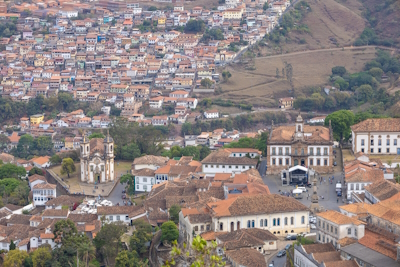 Historic Town of Ouro Preto is a unique representation of baroque architecture in a homogenous cityscape.
The city's wealth has its origins in the late 17th century. At this period expeditions to the interior of Brazil started, in search of minerals. This became succesfull in what now is the state of Minais Gerais: in 1693 gold was discovered here.
The exploration for gold was a monopoly of the Portuguese crown. They taxed 20% on the findings. A heavy system for collecting the tributes and taxes was in places. Of course the miners didn't like that, so an uprising took place in 1789. It was put down, and its leader Tiradentes was cut in pieces - his head was displayed on the main square of Ouro Preto.
Small settlements of miners in search for El Dorado were joined in 1711 to create the city of Villa Rica (later renamed to Ouro Preto, 'Black Gold'). The settlers were divided in two parishes and in ethnic groups. Each group constructed its own church, bringing in baroque artisans.
At the height of its Golden Age, Ouro Preto had some 110.000 inhabitants (mainly slaves). The city was left to itself in 1897, when the state capital moved to Belo Horizonte.
Visit October 2004
Locals here must be in a good physical condition: the town´s cobble-stoned streets go up and down and up again. These locals can enjoy themselves though, living in such a great city, wonderfully preserved and indeed very homogeneous in its looks.
I stayed here for three days, which is a good period to get to know the place. I visited museums and churches, but wandering around is also great fun. It doesn't matter where you're going, at about every street corner there's a great view.
Some great spots: the Igreja de Sao Francisco de Assis (with Aleidinhija carvings), the Museum de Oratorio and the view down from the road to Mariana. You can also explore one of the huge old mines (Mina de Pasagem) just outside the town. Which I did, of course, becoming some kind of mining expert after visiting other mining WHS in Blaenavon (Wales) and Spiennes (Belgium).
Community Reviews
---
---
---
---
---
Community Rating
Community Rating 3.25. Based on 6 votes.
Site Info
Full name: Historic Town of Ouro Preto
Unesco ID: 124
Inscribed: 1980
Type: Cultural
Criteria: 1 3
Site Links
Unesco Website
Official Website
Connections
The site has 12 connections. Show all
Visitors
64 community members have visited Ouro Preto. Show all