Hampi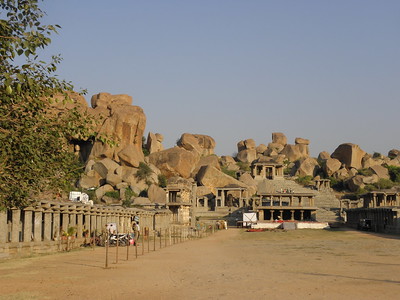 The Group of Monuments at Hampi represents the ruins of Vijayanagara, the former capital of the Vijayanagara empire.
This South Indian Hindu kingdom existed here from 1336 til the city's destruction in 1565. The extensive group of buildings in a spectacular natural setting shows the importance and wealth of the city; they include some 1600 surviving structures varying from forts to palaces. They are mostly constructed in the original native traditions of southern India. Some of them show a certain amount of Islamic influence due to interaction with Indo-Islamic kingdoms.
Community Perspective: these are the ruins of a complete city, and one can easily spend more than a day here. "What makes the site "special" is its location within a striking boulder-strewn landscape and a very relaxed uncrowded atmosphere."
Community Reviews
---
I visited this WHS in November 2016. It was part of my personal Top 100 list and it didn't disappoint. Perhaps it isn't as iconic as Angkor Wat or Bagan but it is one of those temple sites which in my opinion deserves at least 2-3 days to take in.
The most important temples are those of Virupaksha (still in use) just next to Hampi bazaar and Vittala which is quite a distance away. The latter temple houses the famous elephant-drawn chariot and it shouldn't be missed. It is also one of the few temples/sites requiring an entry ticket. For photography Vittala Temple is best left for the afternoon while Virupaksha Temple is ideal for morning light (especially the view from Hemakuta Hill.
The royal enclosure and the Zanana enclosure with the elephant stables (truly unique!), the queen's bath, the step well and the lotus mahal are also worth visiting. These are pretty much the most visited sites in Hampi. Two very impressive temples worth mentioning for their intricate carvings are the Mahanavami Dibba and Hazarama Temples (my personal favourites).
During the last day of my visit, Hampi was converted into an enormous festival centre for the Vijaya Utsav Festival. I enjoyed the colourful costumes and Karnataka dancers and musicians but more attention must be paid to avoid any damage to the site by the lighting equipment, the huge crowds and the unimaginable amount of litter generated by this event.
All in all, I had a great time in Hampi and I'd rank it as one of India's top WHS.
---
Hampi is one of the largest ruined cities in the world, inscribed at UNESCO World Heritage List. The place is the vestige of powerful Vijayanagara empire. Given the relatively short distance from Goa, the place is very popular and bustling with tourists. There are two ways to visit Hampi from Goa – by bus and by train. Although travelling by bus saves time (it is an overnight ride), I recommend taking a train, which is far more comfortable and allows to watch beautiful landscapes on the road.
Although Hampi requires a lot of maintenance work, there are plenty of well preserved buildings, such as Elephant Stables, Queen's Bath or Lotus Mahal. The symbol of Hampi is stone chariot, placed in the biggest Vittala Temple. It requires at least one full day to visit the place, however archeological maniac may spend there two or even three days.
Although the ruins were really impressive and worth visiting, I did not like Hampi. The place is a real tourist trap with lots of locals offering their services intrusively, a couple of restaurants serving western food and tourist attractions like sunset on top of the mountain (which is nice, but not exceptionally unique).
---
If you are liable to get "Templed out" by a surfeit of historic ruins it could happen to you here! The site consists of the monumental remains of an entire city from the 14th century covering some 25 sq kms and takes at least a full day to achieve a reasonably "comprehensive" visit. Some will want to stay several days but 1 was enough for us – you will know how "fast" you like to travel! A few of the structures are of particular architectural/artistic significance but I guess what makes the site "special" is its location within a striking boulder-strewn landscape and a very relaxed uncrowded atmosphere. It appears to be something of an R+R destination among the back-packer community and I can imagine people all over India agreeing to meet up at the Mango Tree restaurant – we felt very old there! It is also within reach of package tour overnighters from Goa, but the place seems big enough to take them all. And yes, we found it a worthwhile visit, if not of the most memorable of our Indian WHS.
You will need to consider how you are going to cover these distances – are you comfortable walking in the sun or do you want to rent a bike/motor bike etc. Some slightly incongruous electric vehicles have recently been acquired by the management authority to transport tourists to/from the Vitthala Temple but, to us, only seemed geared to taking them to/from their car park!! We had a car but there was still quite a lot of walking and, in retrospect, we perhaps dallied too long over our breakfast in Hospet, some 10 kms away. There is a premium on getting to the site early before the heat of the day!! If you only have a day and "completeness" is important to you then a bit of planning is worthwhile – and possibly even having a guide (who can also help with the meaning of all those Hindu carvings!). Having started at around 9.30 we were rushing to get into the Queens Baths as they closed at 5pm! There are at least 5 main temple complexes plus some significant other buildings such as the Elephant stables (photo) to fit in.
Most of the site is "free to enter" but you will need to pay the R250 foreigners entry fee to get into the highlight temple complexes. The operational Virupaksha temple also has its own separate entry fee. As well as the monumental structures there are remains of several covered markets and one has become "Hampi Bazaar" where people live and operate small guest houses, restaurants, tourist shops etc – it has an interesting photographic museum with old pictures of Hampi. Some restoration has taken place since those days but many of the structures still seem in considerable need of some TLC. The main temple within the "highlight" Vitthala complex was "closed" for restoration – or rather possibly to prevent bits falling onto tourists as nothing much seemed to be happening. Other buildings were supported from behind by ugly breeze-block buttresses and the revolving wheels on the iconic "Chariot" had been cemented to prevent further damage by tourists. Hampi was on the "In Danger" list from 1999-2006 but mainly because of plans to build bridges over the river and unsuitable development within the area - particularly at Hampi Bazaar. The Monitoring Report of 2007 seemed remarkably relaxed about the state of the structures themselves and concentrated on the Management Plan, the new shuttle bus service etc.
---
5.00 The Netherlands - 20-Jan-11 -
In preparation for this RTW trip, my image of South India somehow blurred into one big temple experience (I do like temples, so no problem for me). Hampi however is much more: a complete city, stretching out over several kilometers. The monuments are in different states of repair, varying from complete ruins to active temples. The natural setting is magnificent, a quiet rural area dominated by a river and strangely shaped boulders.
I spent 1.5 days in total at the site. The first late afternoon I walked along the river to the Vittala temple - one of the finest excursions here. The view of the river and the boulders is breathtaking. One of the reasons that Hampi has been on the "In Danger" List for several years is that there were plans to build a bridge here. That certainly would spoil the view. The Vittala Temple is also the place where the sculpted chariot is located, the icon of this WHS.
The next day I started out on foot from the town of Kamalapuram. It lies just to the south of the Royal Enclosure. This is a vast area, with several highlights like the Stepped Tank, the lovely Lotus Mahal, the surprisingly luxurious Elephant's Stables and the Underground Siva Temple. It took about 4 hours to make my way up to Hampi Bazaar, visiting most of the sites along the route.
After lunch in Hampi, I took the ferry across to Virupapur Gaddi. This is a backpacker place in its most pure form, full of Israelis also (I even noticed a makeshift Orthodox synagogue). I rented a bike there and cycled in about 45 minutes to the village of Anegundi. According to the Lonely Planet, this is part of the WHS also. I'm not sure, as reports on the Unesco site are conflicting about this (there's a very crude map drawn by hand which seems to suggest that nothing on the other side of the river is within the designated area). Well, I liked cycling there, very quiet and Anegundi is a sleepy village that's worth a look. It has several temples. They look of a more recent date than the ones at Hampi, but maybe that's because most of them are still in use.
Hampi is "worth a journey" for everyone, it somewhat resembles Angkor in rural atmosphere and size (though the latter has more imposing single monuments). Despite its clashes with Unesco regarding the management of the site, I found the site a pleasure to visit - well-signposted, quiet, clean and dozens of very different sights to see.
---
Site Info
Site History
2006

Removed from Danger list
1999

In Danger

Integrity threats, construction of two cable-suspended bridges
1984

Deferred

Needs better definition
1983

Deferred

Deferred as conditions under which recommendation made not yet fulfilled
Visitors
95 Community Members have visited.