Gulf of Porto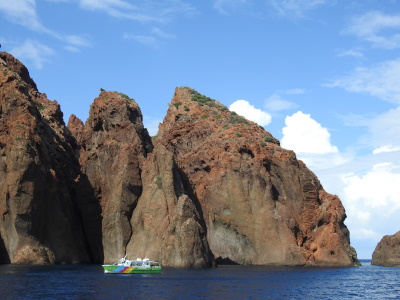 Gulf of Porto: Calanche of Piana, Gulf of Girolata, Scandola Reserve is a natural area with dramatic geological landforms and wealthy undersea life.
It also is the habitat of the rare osprey, peregrine falcons and bearded vultures. The Gulf is situated on the western coast of Corsica, between Punta Muchillina and Punta Nera.
The sheer cliffs of the Gulf contain many grottos and are flanked by numerous stacks and almost inaccessible islets and coves. The coastline is also noted for its red cliffs, some 900 metres high, sand beaches, and headlands.
Community Reviews
---
My most recent World Heritage Site visit was truly serendipitous, since the last day of my Mediterranean cruise was to take me to Monaco last December. Instead, due to rough waters, we were rerouted to Corsica, birthplace of Napoleon and an island of incredible beauty, of which the Gulf of Porto World Heritage Site is no small part. There was no way I would miss an opportunity to see a European natural World Heritage Site, so I joined a tour to visit the gulf upon arrival in Ajaccio.
The Gulf of Porto is one of France's earliest World Heritage Sites, and its first natural site. Although the site includes three main parts, I only had time to visit one of the parts: the Calanche of Piana. Up to now, I realize that I never did ask what calanche actually are: apparently they are narrow, rocky inlets (singular: calanca in Corsican). Even without knowing what the word meant, the appeal of the calanche was readily apparent with the juxtaposition of the red granite cliffs, dotted with scrub brush and evergreens, against the rich blue waters of the Gulf of Porto. Because we were visiting in December, the main road through the calanche was remarkably free of traffic, and our tour took an unofficial hike along the road for a few kilometers. The weather was sunny and warm, and we were surrounded by amazing rock formations in all directions -- pinnacles, walls, and even a heart-shaped hole in a rock. There was not much wildlife to see, but the natural beauty was fully evident.
I've read from other reviews here and elsewhere that boat tours enhance the visit to all three parts of this World Heritage Site, so if I ever find myself back in Corsica, I may have to consider taking one. This site was a memorable end to a trip!
Logistics: The Calanche of Piana is about two hours by road from Ajaccio; there are trails to explore and pull-offs on the road for scenic overlooks -- getting out of a vehicle is worth it!
---
Although the views of the Gulf of Porto from Piana, Porto and Girolata are spectacular, it was really necessary to take a cruise with one of several operators in Porto to get a close-up experience of the coastline.
The three spectacular seascapes of the area included in these cruises are:
The Calanches of Piana on the south side are steep rugged cliffs of red rock, the colour of which varies with the light over the course of a day. The cliffs are riddled with caves, some at sea level which vessels can enter.
Girolata is a small touristy village beside the gulf's only beach. It is only accessible from the sea, being surrounded by steep, high cliffs.
The Scandola Reserve is an area of rocky stacks rising vertically out of the water, with arches and other features only reachable by boat. The bird and sea life is prolific here.
Porto is difficult to reach because of Corsica's terrain. I travelled there by bus from Ajaccio, and away to Calvi. Both routes involved crossing steep mountain passes and fast-flowing streams, both journeys of several hours duration. But very scenic with frequent glimpses of the coast.
---
Adrienne A.
Corsica is by far, by FAR, the most beautiful place I've ever visited. Crystal-clear water, pristine beaches, mountains, and a friendly atmosphere. I would recommend it as a vacation spot to everyone.
---
Site Info
Full Name

Gulf of Porto: Calanche of Piana, Gulf of Girolata, Scandola Reserve

Unesco ID

Country

Inscribed

Type

Natural

Criteria

7

8

10

Categories

Link
Site History
2006

Name change

From "Cape Girolata, Cape Porto, Scandola Nature Reserve and the Piana Calanches in Corsica" to "Gulf of Porto: Calanche of Piana, Gulf of Girolata, Scandola Reserve"
1996

Name change

Name Change to add "...and the Piana Calanches"
Site Links
Unesco Website
Official Website
Visitors
67 Community Members have visited.