Gulf of Porto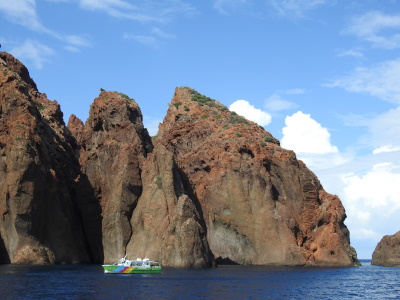 Gulf of Porto: Calanche of Piana, Gulf of Girolata, Scandola Reserve is a natural area with dramatic geological landforms and wealthy undersea life.
It also is the habitat of the rare osprey, peregrine falcons and bearded vultures. The Gulf is situated on the western coast of Corsica, between Punta Muchillina and Punta Nera.
The sheer cliffs of the Gulf contain many grottos and are flanked by numerous stacks and almost inaccessible islets and coves. The coastline is also noted for its red cliffs, some 900 metres high, sand beaches, and headlands.

Community Reviews
---
3.50 The Netherlands - 23-Sep-20 -
Ranked #728, this is one of the lesser visited sites in Europe among our community members. It comprises a coastal area in northwestern Corsica, recognized for both its marine and terrestrial features. The cumbersome name probably doesn't help to market it: "Gulf of Porto: Calanche of Piana, Gulf of Girolata, Scandola Reserve" actually comprises one integral core zone with three distinct parts. Only the Calanche of Piana (the correct name should be the plural I think - Calanches of Piana) actually lies in the Gulf of Porto. The Gulf of Girolata is a bay of its own and the Scandola Reserve borders that bay as well.
I visited the site from Ajaccio with 1 of the 2 large companies (Cap Nava, Decouvertes Naturelles) that offer day tours there. My tour cost 59 EUR and we were out for 10 hours on a large ship with some 70 passengers. From Ajaccio, it takes 2.5 hours to get to the core zone. If you're not relying on public transport to get around Corsica as I did, you could start your trip from one of the smaller towns north (Porto, even Girolata). Tours with smaller boats will be available from there. I visited on September 23 and though the low season had started already, there were plenty of boats around.
The Scandola Nature Reserve lies at the northern end of the Gulf of Girolata. We had been crossing a very heavy rain shower on our way north from Ajaccio, but the sky cleared just right on time and the sun actually came out. This is necessary for the rocks to show their beautiful orange-red color. You can see these rock formations not only at the coast but also in the sea. It's a bit like looking at the karst landscapes in Asia - some of the rocks have anthropomorphic or zoomorphic features.
Around lunchtime, we were dropped off at picturesque Girolata, the only village on this coast. About 100 people live here and it can only be reached by sea or via a footpath. This is the lunch stop for all boats, so there are plenty of restaurants. You can also go for a walk or enjoy the beach. At the beach, I found lots of hairy balls, which I recognized from an earlier trip to Formentera as the remains of Posidonia sea grass.
We sailed back southwards, along the third part of this WHS: the Calanches of Piana. This landform covers a deep valley with steep slopes, partly submerged in the sea. It is less green than the Scandola Reserve. Its steep cliffs however are in the same shade of red. We saw an osprey nest up against one of the cliffs – this area upon inscription was one of the few places in Europe where ospreys reproduced, but in recent years they have been making a comeback elsewhere in Europe (even in the Netherlands). We did not see the birds - if I correctly understood the commentary of the French guide on the speakers, they were already on their way to their wintering place in Africa.
The Calanches are also known for their many caves. The small boats around us sailed in and out, but we also came close with our relatively large ship. The skipper always first pushed the nose of the ship against the entrance of a cave and then turned 180 degrees so that the passengers in the back could also have a look. Just like earlier in the day at the Scandola Reserve, there was ample time to photograph every rock, view or cave.
Despite the fact that we rarely hear about it, like so many other WHS this has suffered from overtourism in the last decades. While an estimated 30,000 people visited Scandola each year in the 1980s, this had risen to 1.1 million between April and October 2012. The threatened and protected population of ospreys for example has been plummeting in the Reserve. "A joint Franco-Italian study … has shown that tourist activities constantly disturb ospreys at the end of their reproductive season, leading to a decline in reproductive success."
Read more from Els Slots here.
---
My most recent World Heritage Site visit was truly serendipitous, since the last day of my Mediterranean cruise was to take me to Monaco last December. Instead, due to rough waters, we were rerouted to Corsica, birthplace of Napoleon and an island of incredible beauty, of which the Gulf of Porto World Heritage Site is no small part. There was no way I would miss an opportunity to see a European natural World Heritage Site, so I joined a tour to visit the gulf upon arrival in Ajaccio.
The Gulf of Porto is one of France's earliest World Heritage Sites, and its first natural site. Although the site includes three main parts, I only had time to visit one of the parts: the Calanche of Piana. Up to now, I realize that I never did ask what calanche actually are: apparently they are narrow, rocky inlets (singular: calanca in Corsican). Even without knowing what the word meant, the appeal of the calanche was readily apparent with the juxtaposition of the red granite cliffs, dotted with scrub brush and evergreens, against the rich blue waters of the Gulf of Porto. Because we were visiting in December, the main road through the calanche was remarkably free of traffic, and our tour took an unofficial hike along the road for a few kilometers. The weather was sunny and warm, and we were surrounded by amazing rock formations in all directions -- pinnacles, walls, and even a heart-shaped hole in a rock. There was not much wildlife to see, but the natural beauty was fully evident.
I've read from other reviews here and elsewhere that boat tours enhance the visit to all three parts of this World Heritage Site, so if I ever find myself back in Corsica, I may have to consider taking one. This site was a memorable end to a trip!
Logistics: The Calanche of Piana is about two hours by road from Ajaccio; there are trails to explore and pull-offs on the road for scenic overlooks -- getting out of a vehicle is worth it!
---
Although the views of the Gulf of Porto from Piana, Porto and Girolata are spectacular, it was really necessary to take a cruise with one of several operators in Porto to get a close-up experience of the coastline.
The three spectacular seascapes of the area included in these cruises are:
The Calanches of Piana on the south side are steep rugged cliffs of red rock, the colour of which varies with the light over the course of a day. The cliffs are riddled with caves, some at sea level which vessels can enter.
Girolata is a small touristy village beside the gulf's only beach. It is only accessible from the sea, being surrounded by steep, high cliffs.
The Scandola Reserve is an area of rocky stacks rising vertically out of the water, with arches and other features only reachable by boat. The bird and sea life is prolific here.
Porto is difficult to reach because of Corsica's terrain. I travelled there by bus from Ajaccio, and away to Calvi. Both routes involved crossing steep mountain passes and fast-flowing streams, both journeys of several hours duration. But very scenic with frequent glimpses of the coast.
---
Site Info
Full Name

Gulf of Porto: Calanche of Piana, Gulf of Girolata, Scandola Reserve

Unesco ID

Country

Inscribed

Type

Natural

Criteria

7

8

10

Categories

Link
Site History
2006

Name change

From "Cape Girolata, Cape Porto, Scandola Nature Reserve and the Piana Calanches in Corsica" to "Gulf of Porto: Calanche of Piana, Gulf of Girolata, Scandola Reserve"
1996

Name change

Name Change to add "...and the Piana Calanches"
Site Links
Unesco Website
Official Website
Visitors
81 Community Members have visited.