Gobustan Rock Art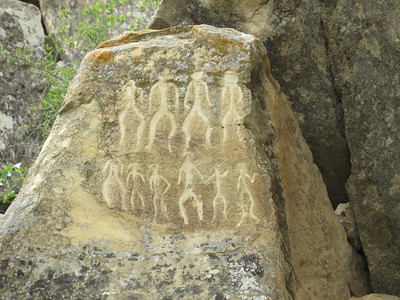 Gobustan Rock Art Cultural Landscape has an outstanding collection of more then 6,000 rock paintings.
They depict primitive men, animals, battle-pieces, ritual dances, bullfights, boats with armed oarsmen, warriors with lances in their hands, camel caravans, pictures of sun and stars, on the average dating back to 5,000-20,000 years.
Map of Gobustan Rock Art
Legend
Visit April 2016
What would an international trip be without a visit to a fine example of rock art? Azerbaijan is represented among the at least 60 rock art-related WHS with the Gobustan Rock Art Cultural Landscape. Gobustan is the name of a region near the Caspian Sea, where in the 1930's the first discovery was made by local miners looking for gravel. The petroglyphs were carved into blocks of stone that had fallen from the cliffs above, blocks that provided natural shelter for those living in the area.
The site now lies a couple of kilometres inland, but when the rock art was made the water level was much higher and these rocks were near the sea shore. It's a quite barren area nowadays, from which you can see the offshore oilfields that keep Azerbaijan's economics afloat. Next to the entrance of the sizeable archaeological area lies the modern Gobustan Museum. Other reviewers already have sung praise about this museum which is a 2011 addition to the 'visitor experience'. I can only second that: it has a comprehensive exhibition that relies heavily on audio-visuals and computer animations. Our enthousiastic Azeri guide loved showing the developmental history of the site by swiping forwards and backwards in time.
The WHS officially comprises 3 areas with rock art, surrounding 3 table mountains that can be seen from the entrance. We only went to see one of these, Boyukdash. It seems that all tourists are immediately directed there, I even doubt that the other two locations are visitable by non-scientists. There's a short trail here that leads along some 20 rocks with engravings. The rocks are all numbered (another relic from Soviet times), but no explanation is given where to look and what to look for.
We visited in the early afternoon, and the petroglyphs were easy to see. The stone is quite soft, and most of the time the chiselling technique that leads to broader and deeper carvings seems to have been used. One of the highlights lies immediately at the start of the trail: 'the dancing people'. A fragment of this is also displayed on the Azeri 5 Manat banknote (in the top left corner, you have to look closely).
It is tempting to compare this site to the Coa Valley Rock Art WHS, which I visited just a few weeks ago in Portugal. Both are petroglyphs (i.e.: not paintings or drawings), and date from about the same period: the Upper Palaeolithic. There are various ideas about the exact age of Gobustan, but the displays in the museum start at about 15.000 BC. This was seconded by our guide, who had been a deputy director of the Gobustan archaeological site in the 1990s (in his lifetime he also had grown up on a kolchoz and served in the Soviet army, and now makes a decent living in tourism).
The visiting experience between the two sites however is completely different: due to the secluded location of the Coa Valley the visit there felt more exclusive, and the carvings were explained in more detail by the specialized guide. Here in Azerbaijan only a short overview for general tourists is provided (there were also many schoolchildren around). Gobustan's engravings span a longer period though, so it has greater variety in depicted objects than Coa. Best known among these are the boat petroglyphs, made famous by Thor Heyerdahl).
During the bus ride back to Baku with my tour group I was asked to explain a bit about World Heritage and why Gobustan has become a WHS. It is a rocky story, where Azerbaijan proposed inclusion on 3 criteria but only one was awarded (hesitantly). The claims for 'place of worship' and 'interchange of ideas' weren't substantiated enough. The UNESCO website now shows a meagre explanation of Gobustan's OUV, calling it "a testimony to a way of life that has disappeared".
Community Reviews
---
---
---
---
---
Community Rating
Community Rating 2.88. Based on 12 votes.
Site Info
Full name: Gobustan Rock Art Cultural Landscape
Unesco ID: 1076
Inscribed: 2007
Type: Cultural
Criteria: 3
Site History
2007 - Advisory Body overruled

ICOMOS advised referral (Action Plan, reviewing boundaries core and buffer zone)

2007 - Inscribed

2004 - Deferred

To undertake a research and analysis programme for the site, in order to quantify its significance in the wider world context
Site Links
Unesco Website
Official Website
Related
Locations
The site has 3 locations.
Connections
The site has 13 connections. Show all
Visitors
66 community members have visited Gobustan Rock Art. Show all