Fray Bentos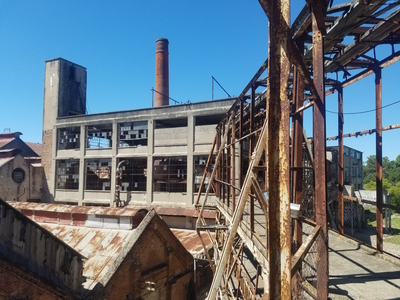 The Fray Bentos Cultural-Industrial Landscape is a port area shaped for industrial production processes.
In 1899 a company called 'Anglo' started a meat packing plant here on the Uruguay River. It attracted immigrant workers from over 50 countries. The factory (then owned by Liebig) was closed down in 1979.
Community Reviews
---
Fray Bentos is situated at the first river crossing between Argentina and Uruguay of Rio Uruguay. The main town on the Argentinian side is Gualeguaychu. And that's where I found myself stuck after my bus from Buenos Aires ran late. Again. As all other busses in Argentina. So I missed my connection. Instead I ended up hitchhiking across the border.
The town itself is a somewhat sleepy backwater nowadays. But this wasn't always the case. While I was making my way to Barrio Ingles (English Quarter) I crossed several nice squares and buildings. For instance, Fray Bentos has a theater, impressive for a town this size. The buildings could use some paint, but they point to the high time of the town when the meat processing plant was active.
The world heritage itself, the Barrio Ingles with the meat processing plant, is on the edge of town on the river for shipment. The plant used to supply the UK with food, the name being synonymous with corned beef. Fray Bentos was especially important during both World Wars. Operations were moved to the UK around 1960 and it's astonishing to see how quickly the plant fell into disrepair. The brand, though, is still in use in the UK, most people not knowing what Fray Bentos actually refers to.
If you are looking for a great photo opportunity, Fray Bentos will deliver. There are plenty of great shots of ruins and decay to be taken. In addition you have great views of Rio Uruguay. As a world heritage site I am not fully convinced. The preservation of the site is poor, especially when you take into account that this is a 20th century site.
Getting There
There are direct busses from both Montevideo (4:30h) and Colonia (4h). There are also busses from Buenos Aires, but these are night busses bound for Montevideo arriving at Fray Bentos at 2 a.m.
Alternatively, you can go from Buenos Aires to Gualeguaychu and try to cross the border/river from there. There is one daily bus connection between Gualeguaychu and Fray Bentos. If Argentinian busses were to run on time there would be a good connection. But they don't. Ever. So either get a taxi. Or hitchhike (stand at northern junction).
To check bus schedules visit cut corporation.
Getting In
The site is closed on Mondays as I came to learn. For certain parts you have to join a tour. Check their website. However, you can explore plenty from the outside. And if you are lucky, they don't lock every door and you can sneak in. Not saying I did ...
---
When I first made up my mind to use my long holiday in Uruguay visiting my parents in law to visit Fray Bentos I couldn't resist the annoying thought of visiting a slaughterhouse as a vegetarian. It is still a part cultural history, I told myself. Thankfully, however, Fray Bentos has a lot to it other than its indispensable share of death toll. The city is situated about 300 kms or four hours drive from Montevideo (the Uruguayan capital) and about the same distance from Buenos Aires. It is next to the closest bridge connecting the two countries. The city isn't too big and you can easily walk from the city centre to Barrio Anglo which is the historic company town.
The cultural landscape includes not only the factory, but its adjacent buildings and the living quarters. You can book a guided tour to Casa Grande, which was a typical manager residence, or to the factory complex (we did both). You can also join a guided bike tour through the entire residential area including the historic tennis court and golf course. At the factory there is a little museum, but visiting it would certainly not suffice for an overview of the complex. The factory is very large and includes (apart from the slaughter room) several machine rooms, offices and a lab, all of which are open to visitors. Outside you can see the water pump and some cranes at the historic pier. The complex was very international at the time with employees from over 60 different countries. Its role in feeding soldiers in WWI and WWII so far away from the combating countries makes it clear why Fray Bentos was nominated for representing modern globalisation.
The site is extensive and worthwhile exploring. It is very well preserved and reasonably well maintained. Further work on the complex is also underway. I would recommend booking all three guided tours and dedicate a day to seeing it. We needed about 4 hours without walking to the more distant areas of the CL.
---
Site Info
Full Name

Fray Bentos Cultural-Industrial Landscape

Unesco ID

Country

Inscribed

Type

Cultural

Criteria

2

4

Categories

Link
Site Links
Unesco Website
Official Website
Related
Visitors
17 Community Members have visited.