Forts and Castles Gold Coast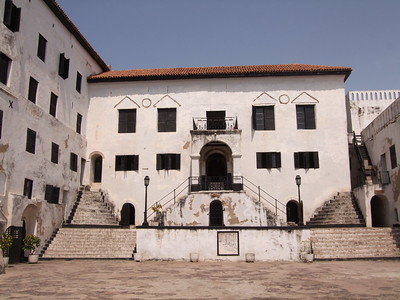 "Forts and Castles, Volta, Greater Accra, Central and Western Regions" is the collective designation of Western-style fortifications and outposts (mostly Portuguese, Dutch and British) along the Gold Coast during the colonial period.
They were constructed as posts for the trade in gold and later slaves.
The term specifically applies to 28-35 ensembles designated as a World Heritage Site by UNESCO in 1979.
Map of Forts and Castles Gold Coast
Legend
Visit February 2010
Two of the castles/forts that are designated as WHS are located in Elmina. In fact, those two phenomenal historical buildings still dominate this small fishing town. I started out with a tour at St. George's Castle (Elmina Castle) - the oldest European castle (and according to some sources even the oldest European remains) in Africa below the Sahara. There were about 8 foreigners in my tour group, more than I had met so far in the rest of Ghana: these castles obviously are the closest thing Ghana has to a tourist attraction.
Right after entering the castle, I was amazed how pretty it is. I somehow had expected a gloomy atmosphere in a half-derelict castle. But this one is freshly whitewashed, very large and holds several buildings within the main compound. The governor slept well in his spacious residence. At the center of the main courtyard there is a Portuguese church. The ugliness starts underground, with the dungeons where the slaves were being kept until they were put on transport to the Americas.
From St. George's one gets good views at Fort St. Jago, on a hill in Elmina. From that spot the Dutch raided the former Danish castle in 1637, and were able to keep it for 234 years. It's a steep walk to get up there, one that I did forsake because of the extremely hot sun.
About 15 minutes drive eastwards along the coast lies Cape Coast Castle. This one has been British for most of its history. Like St. George's in Elmina, this is also an extensive and intact complex. Here even more slaves were held, there was room for 1000 men. Via an underground tunnel they were lead to a door (the "Door of No Return"), where at the other side a ship would be ready to take them overseas. The conditions under which they where held in the castle were really excruciating: 200 men a room, little fresh air, damp and dark.
To summarize my visit, I would say that I was happily surprised about the size and condition of the castles. They seem to be visited by a number of foreign tourists and also by busloads of schoolchildren. I did find the tours conducted at both castles a bit uninspired though.
P.S.: I even had to fill in a WHS questionnaire! A guy at Cape Coast Castle was interviewing visitors, and his questions focussed on the castle's WHS status (Have you visited more WHS in Ghana? Can you name them? Have you visited WHS elsewhere in the world? etc). The reason behind this research is to find out what more can be done to keep the castles in good shape.
Community Reviews
---
---
---
---
---
Community Rating
Community Rating 3.20. Based on 5 votes.
Site Info
Full name: Forts and Castles, Volta, Greater Accra, Central and Western Regions
Unesco ID: 34
Inscribed: 1979
Type: Cultural
Criteria: 6
Site History
1979 - Deferred

Bureau - ICOMOS in favour but Bureau wants more info/maps etc

1979 - Inscribed
Site Links
Unesco Website
Official Website
Locations
The site has 24 locations. Show all
Forts and Castles Gold Coast: Elmina Castle (St. George's Castle/ Fort St. Jorge) Elmina (Central Region), Ghana
Connections
The site has 23 connections. Show all
Visitors
40 community members have visited Forts and Castles Gold Coast. Show all