Forts and Castles Gold Coast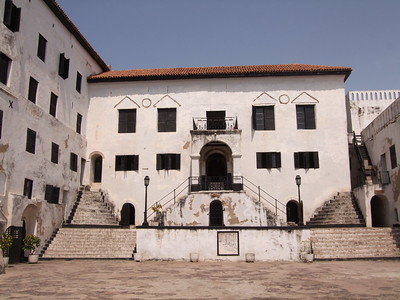 "Forts and Castles, Volta, Greater Accra, Central and Western Regions" comprises the remains of trading posts along the Gold Coast from the colonial period, which shaped the world's history for centuries.
These Western-style fortifications and outposts (mostly Portuguese, Dutch and British) were constructed to support the trade in gold and later slaves. The most notable is Elmina Castle, one of the oldest European buildings outside Europe, built in 1482.
Community Perspective: Elmina Castle and Cape Coast Castle are the most visited components and are in good condition. Chris managed to take in 11 castles on a road trip, and Richard dwells upon the fate of the slaves held captive here.
Map of Forts and Castles Gold Coast
Load map
Community Reviews
---
3.50 South Aftica - 15-Jan-20 -
Visited March 2019.
I guess i shouldn't have been so shocked given humanity's track record of inhumanity to others.
Visiting these sites is interesting from a historical perspective but it is mind numbing from a human perspective. Expect to be appalled.
The builders and occupants of these forts went to very great lengths to taunt and crush the spirits of the slaves: The hell of the dungeons, packed full with slaves, no light or air, an unbelievable stench, a floor thick with faeces, vomit and blood, while directly above the heavenly chapel and the commander's godly quarters.Very biblical connotations.
You might think that conversion to christianity might have been the objective here but no: Heaven and god were literally and figuratively out of reach for these broken souls.
The uncomfortable question arises: If slaves were valuable why treat them so badly? Surely as a slave trader its not good for business if your slaves die in such numbers before you can sell them? Distressingly, the supply of slaves from the surrounding fractious populace was inexhaustible: Africans profiting from the miseries of their own people.
And why build a fort at all and garrison it? Certainly not for fear of the population, but rather to protect themselves from each other. If there is no honour amongst thieves, think what that says about slave traders. The occupants of each castle eyeing the other suspiciously across the bay, on the lookout for any sign of weakness, opportunity or threat.
Be sure to engage a knowledgeable guide to understand the centuries of tragedies that endured here. If the walls could talk... Thankfully though, I am not clairvoyant, it would have sent me mad.
Photo:The door of no return.
Read more from Richard Stone here.
---
Chris W.
I visited all 11 castles that are on the list during my week road trip along the coast of Ghana. Driving yourself is straightforward (international drivers license is needed and enforced). Google Maps is your friend by finding the castles. A short summary and some tips if you plan to visit them all too:
If yuo have just a day these 3 are a must see. Cape Coast is "best" as the guided tour has lots of information and there are some small expositions. Elmina can be done without guide I think then but ELmina is nice with local fish market. Do go there with guide so they can show you more and do make the walk up to St Jago too! Worth it.
- Cape Coast Castle, Cape Coast
- Elmina Castle, Elmina
- Fort St. Jago (Fort Conraadsburg), Elmina
From Takoradi you can visit 5 forts on a day without problem. There are 3 to the west of which Axim and Dixcove are very nice restorted. Butri is located on Butri beach which is a beautiful beach to also relax! Put Google Maps to "The Hideout" on the beach. From there you can walk up to the castle.
- Fort Saint Antony, Axim --> i already visited after Nzulenzu stilt vilalge and the 2nd day i did 4 forts and Butre beach.
- Fort Metal Cross, Dixcove
- Fort Batenstein, Butri
2 forts are to the east of Takoradi:
- Fort San Sebastian, Shama
- English Fort (Fort Vrendenburg), Komenda
Komenda is not maintained; it's a ruin and i wouldn't go if it wasn't UNESCO. Komenda is beautiful restorted too. All these small forts take about 30 minutes to see/tour.
The following 3 forts are best visited on the way back from Takoradi. In the morning I visited Kakum park and then the 3 forts.
- Fort Amsterdam, Abandze --> ruin, but nice to visit and I think the only one where you can actually walk through the door of no return.
- Fort Patience (Fort Leysaemhyt), Apam --> restored and very nice
- Fort Good Hope (Fort Goedehoop), Senya Beraku --> it has now a guesthouse; you can walk around and ask to go up the ramps.
Read more from Chris W. here.
---
Jorge Daniel Magaña García
I went to the castles at Elmina and Cape Coast, both which to me are integral testimonies of Ghana's colonial history. The tour at Cape Coast castle enabled me to revive the impressive history of this castle and its influence on Ghana as a british enclave. Both castles are well kept and truly deserve a visit. Hopefully UNESCO along with the ghanian authorities are able to see further from the declaration and include the cities, particularly in the case of Elmina, which I think has potential to become a WHS. Serious work has to be done to preserve the cities and to establish efficient touristic infrastructure, which is lacking. It would be a shame if work is not done to the towns, because, just as the castles, I truly believe they bear testimony to european first interactions with Africa.
---
In Nov 2010 we visited Cape Coast and Elmina castles (just 15 kms apart) and climbed up to, but didn't enter, Fort St Jago which is also at Elmina. These are the most popular cultural tourist sites in the country and a tourist visit to Ghana without seeing at least one of them is unthinkable.
Both castles are impressive buildings and are wonderfully situated right on a coastline of fine beaches next to fishing harbours and markets which extend right up to the castle walls. Their colourful activity is an interesting part of a visit. The blue of the sea, the gold of the sands, the greens of the palm trees, the white of the castles and the multi-coloured boats will lead you to use up a fair chunk of your digital photo card!
The buildings are of course indelibly associated with the Atlantic slave trade and, for many people that will be the main focus of a visit. The dungeons are certainly impressive in their size and, if you are so inspired, a stimulant for introspection on the events which happened there.
Beyond them however the buildings are really rather attractive and belie that aspect of their history – both were restored in the 1990s. In the centre of Elmina is a Portuguese chapel dating back to 1482. It was later used as an auction hall for slaves but is now a little museum covering a wide range of historical aspects beyond "slavery". Cape Coast castle was at one time the British seat of government and contains what seem more like "office" buildings. Indeed, apart from the rows of cannons, once one is inside it doesn't give off a particularly "miltary air". Apart from the dungeons it is primarily a late 18th century building
And if you only have time for one? A difficult call! I think I might actually go for Elmina. Although smaller and with "less impressive" dungeons it is in some ways the more significant historically. Also, as well as having 2 forts, the town is perhaps more interesting. But better to avoid the problem by taking in both – this is easy enough in a day!
---
3.00 The Netherlands - 14-Feb-10 -
Two of the castles/forts that are designated as WHS are located in Elmina. In fact, those two phenomenal historical buildings still dominate this small fishing town. I started out with a tour at St. George's Castle (Elmina Castle) - the oldest European castle (and according to some sources even the oldest European remains) in Africa below the Sahara. There were about 8 foreigners in my tour group, more than I had met so far in the rest of Ghana: these castles obviously are the closest thing Ghana has to a tourist attraction.
Right after entering the castle, I was amazed at how pretty it is. I somehow had expected a gloomy atmosphere in a half-derelict castle. But this one is freshly whitewashed, very large and holds several buildings within the main compound. The governor slept well in his spacious residence. At the center of the main courtyard, there is a Portuguese church. The ugliness starts underground, with the dungeons where the slaves were being kept until they were put on transport to the Americas.
From St. George's one gets good views of Fort St. Jago, on a hill in Elmina. From that spot, the Dutch raided the former Danish castle in 1637, and were able to keep it for 234 years. It's a steep walk to get up there, one that I did forsake because of the extremely hot sun.
About 15 minutes drive eastwards along the coast lies Cape Coast Castle. This one has been British for most of its history. Like St. George's in Elmina, this is also an extensive and intact complex. Here even more slaves were held, there was room for 1000 men. Via an underground tunnel, they were led to a door (the "Door of No Return"), where at the other side a ship would be ready to take them overseas. The conditions under which they were held in the castle were really excruciating: 200 men a room, little fresh air, damp and dark.
To summarize my visit, I would say that I was happily surprised by the size and condition of the castles. They seem to be visited by a number of foreign tourists and also by busloads of schoolchildren. I did find the tours conducted at both castles a bit uninspired though.
P.S.: I even had to fill in a WHS questionnaire! A guy at Cape Coast Castle was interviewing visitors, and his questions focus on the castle's WHS status (Have you visited more WHS in Ghana? Can you name them? Have you visited WHS elsewhere in the world? etc). The reason behind this research is to find out what more can be done to keep the castles in good shape.
---
Robert B. Houston, Jr.
I was posted at Accra in 1946-47 at the American Consulate, and took the occasion to visit as many as I could of the old trading forts built by European companies along the coast of the then British colony of the Gold Coast. This was long before the World Heritage program started, but fortunately, the colonial administration had taken steps to preserve most of the old forts. One served as the Residence of the Governor of Cold Coast Colony, at least one was in use as a prison, some were kept as museums, and many were preserved as temporary residences for travelling colonial officials. No fees were charged for admission, but access was of course controlled. I took photographs of most of the moe notable sites I visited, but have not been back since I left the Gold Coast in December,1947. It is good that the Government of independent Ghana has involved UNESCO in calling attention to these historic buildings, built by companies from various countries and in cases just outside of cannon shot range from a fort of another country.
---
Site Info
Site History
1979

Deferred

Bureau - ICOMOS in favour but Bureau wants more info/maps etc
Site Links
Unesco Website
Official Website
Visitors
70 Community Members have visited.