Via Francigena in Italy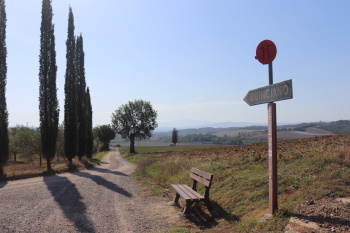 Via Francigena in Italy is part of the Tentative list of Italy in order to qualify for inclusion in the World Heritage List.
The Via Francigena in Italy is the first and most important road that in the Middle Ages connected the countries beyond the western Alps to Rome. Dating back to the Longobard era, the road was not a single road, but a network of roads, which converged at junctions or mandatory points of passage. During the Middle Ages, this road was used by pilgrims to Rome, one of the main destination for pilgrims from all over Europe, and is still used by pilgrims up to the present day.
Map of Via Francigena in Italy
Load map
The coordinates shown for all tentative sites were produced as a community effort. They are not official and may change on inscription.
Community Reviews
---
I had already visited several places which are part of the Via Francigena (some of which already inscribed as separate WHS) but in July 2019 I specifically visited the Sacra di San Michele, perched on top of Monte Pirchiriano on the south side of Val di Susa in Piedmont. It is the first main stop on the Via Francigena in Italy and served as one of the inspirations for the book The Name of the Rose by Umberto Eco.
Apart from the magnificent views of the Alps and of Turin from the Abbey gardens and right behind the abbey church, the intricate elements of both Gothic and Romanesque architecture are worth viewing as well as the remains of the Tower of Bell'Alda and those of an early 11th century church, monastery and a separate building with guestrooms for pilgrims on the popular Via Francigena, probably on the remains of an ancient Roman castrum.
After the uphill walk from the car park, and after visiting the splendid interior, we hiked for a short while along the poorly signposted pilgrim route to a small bench on a hilltop overlooking the Sacra di San Michele. Apart from the breathtaking panoramic views, we practiced our drone flying skills here. We also met a few pilgrims walking on the Via Francigena in Italy as well as the impressive Itinerario di Gerusalemme which is an imaginary straight diagonal route connecting Skellig Michael, St Michael's Mount in the UK, Mont Saint Michel in France, the Sacra di San Michele and Monte Sant'Angelo (Puglia) in Italy, St Michael's Monastery in Symi, Greece, and finally Jerusalem.
In the near future I wouldn't mind giving part of the Via Francigena a try as a pilgrim, even though I don't know if it will ever make it on the WH list.
---
This nomination should make me happy, because it includes several sites that I like and visit at every opportunity if I am in Italy such as Siena and Viterbo. However, this is not the case and I am rather confused, I would say. I am aware of importance of Via Francigena in midle ages, and I noticed, for example in Montefiascone and other small towns of central Italy, that it is still somehow active as a modern incarnation into a tourist trail. It is certainly positive that one can move from one town to another by walk (that I really like), especially in Italy where everybody prefers car to walking...
I am however afraid that the testimony of Via Francigena is corrupted by this nomination and it will not certainly increase popularity of long-range walking. My suspicion is that it simply helps nice but not so important places in Italy to be inscibed as WHS. From the list, I visited Fidenza (nice small town in Po region with cathedral with fine sculptrural decoration on western facade), Siena (great WHS), Viterbo (one of my favorite towns in Lazio region), and obviously Rome.
Besides Via Francigena, there are comparable "sites" already in Italy: the road network from ancient Rome such as Via Appia (I can imagine OUV in this case), Camino S Francesco (I walked from La Verna to Assisi, but it continues to Rome), and also routes going to Palestina used by pilgrims and also crussaders among others (they usualy travel to Palestina via Bari or Brindisi). Another atractive place for pilgrims from entire Europe is Monte San Angello in Gargano (already WHS).
All in all, I do not support this nomination. I include photo of my favorite place in Viterbo: Fontana Grande from 13th century, because I am pretty sure that pilgrims walking on Via Francigena might be thirsty...
---
Site Info
Full Name

Via Francigena in Italy

Country

Added

Type

Cultural

Categories

Link
Site History
2019

Added to Tentative List
Visitors
33 Community Members have visited.