White Sands National Monument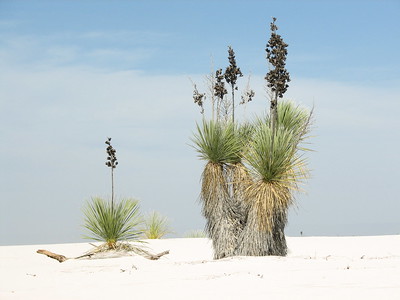 White Sands National Monument is part of the Tentative list of United States of America in order to qualify for inclusion in the World Heritage List.
White Sands National Monument preserves the world's largest surface deposit of gypsum sand. This gypsum desert in New Mexico contains dunes of sand encompassing more than 176,000 acres, of which over 143,000 acres are protected, and supports an ecosystem of plants and animals that have adjusted to its harsh environment. White Sands was officially designated as a United States National Park in December 2019, replacing its status as a national monument
Map of White Sands National Monument
Load map
The coordinates shown for all tentative sites were produced as a community effort. They are not official and may change on inscription.
Community Reviews
---
Not a lot to do here but what you can do is pretty cool. Sledding and hiking through the dunes is sandy but fun. Compared to sand, gypsum isn't as hot so you can go barefoot, even in the hotter times. Nearby Townes are pretty dumpy but a stay in nearby Cloudcroft would be the ideal way to break up a road trip here.


We paired this trip from El Paso to Guadalupe mountains, Carlsbad caverns (another unesco site) and White Sands
---
Chinese-Canadian - 13-Jul-19 -
White Sands is a marvel, an extremely underrated park, oops "National Monument", that should and probably would be inscribed instantly if not for the use of the US Army missile testing in the area!!
Start out with the usual visitor center. The video introduction to the park is wonderful to prepare you, the slides at the exhibit a little basic, the gypsum sandbox to fake footprints is cute. The gift shop is actually bigger than the visitor center. The park (covered by the annual interagency card) is a further few miles in. I hiked the first few short trails but it didn't seem so impressive, also I got totally distracted by some dude letting his dog off the leash and trampling the bushes. The "back" side of the park is the real gem. Leave the crowds and sand plows behind to see blindingly white dunes. Take the grueling 3h Alkali Flats Trail over these dunes and through untouched (since their last shift) areas, spotting animals (only saw a mouse and lots of white earless lizards) and taking plenty of pics. The dunes keep shifting so each hike is slightly different. Pro tip right now: do this really early morning! You can also do a sunset walk with a ranger but I didn't feel like hanging around the park all day for 7pm. This is not the same 3h hike btw.
White earless lizards are one of the aspects the park has for inscription: adapt to survive, don't blend in or you are eradicated. Only pale animals are surviving here (generally). The video also showed monsoon season which is technically when you would spot more animals with ease. Unlike deserts around the world, the gypsum is hard and the little water that drops from the sky keeps at the surface creating a short period of ponds and lakes.
Unfortunately most people only come here for dune sledding, probably 75% of the crowd, and then there are those dog walkers (seriously, poo on the dunes?!)
Many animals can be found here including bobcats but none of the big ones will appear during the day. It's just too hot.
I'm hoping the missile tests are moved and maybe by the 100th anniversary in 2033 it could get inscribed, but I'm not holding my breath. Consider this a de facto WHS and add it to your travel plans.
Pro tip: the park opens quite early, 7am in summer, but the visitor center not until 9am. It's advisable to do the Alkali trail as early as possible because it gets brutal hot, and don't ignore their advice of taking water, a compass (!), obviously your phone but also the hat/sunglasses combo. I wouldn't recommend doing this hike at dusk.
---
California - United States of America - 02-Dec-14 -
My visit in late November to White Sands National Monument is truly a unique experience. White Sands is an easy inscription, there is little to persuade in any nomination file about OUV. The largest Gypsum Sand Dunes in the world (by far), and some of the most unique symbiotic relationships seen on this planet are found in this remote region of New Mexico. White Sands is surely of exceptional value and a missing gap on the world heritage list.
However, there are different factors that may affect this nomination. Firstly, much of the monument is surrounded by the White Sands Missile Range, which is active and causes closures to the monument itself, and the major highway that crosses Southern New Mexico. In fact, there is a "cooperative use" zone inside the national monument that is periodically used by the US Military! Furthermore, there is a US Air Force Base nearby and an Immigration checkpoint in the immediate vicinity of the park entrance. US Nomination Files rarely include buffer zones, and I don't expect one here. I cannot imagine UNESCO & IUCN will have nothing to say about potential factors affecting the property.
My visit lasted 4 hours. The hike at the end of Dunes Drive is nothing short of sublime. Stark white dunes all to yourself, with 360 degree panoramas that are stunning, will leave most visitors giddy with excitement. My wife and I also chose a guided sunset hike; here I learned about the unique symbiotic relationships in this habitat that make life possible. The sunset was a photographers dream, the surrounding mountains turned almost pink, and the dunes whitened even further as the moon began to rise. The Gypsum Sand is as white as sugar or salt, and after sunset it truly feels as if your walking in a powdery snow.
Keep in mind White Sands National Monument is pretty remote, the nearest city is Las Cruces, not really a major stop for tourists. Driving straight from Los Angeles would have taken 12 hours, I made it into a 4 day trip in Southern Arizona and New Mexico. The entrance fee is a steal at $3 per person. I would recommend visiting during the late Fall or the Winter, when temperatures are a pleasant 55-75 degrees (F). I will be very curious when this nomination is completed, and how it is received by IUCN and the WHC.
Read more from Kyle Magnuson here.
---
It was very fascinating to visit White Sands, also to go there, I took the way from Carlsbad Caverns. The feeling that I remember was the very warm surface but if I just dug some decimeters down, it was rather cold. Perhaps there must be some more to show and I also remember that it was some kind of military area(1994) and the military could close it down when they needed. Perhaps not so good in a HHS.
---
Site Info
Full Name

White Sands National Monument

Country

Added

2008

Type

Natural

Categories

Link
Site History
2008

Added to Tentative List
Visitors
56 Community Members have visited.