The Olive Grove Landscapes of Andalusia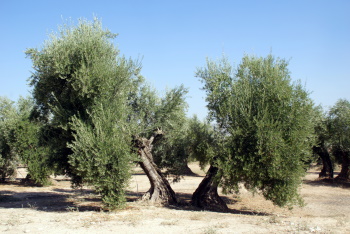 The Olive Grove Landscapes of Andalusia is part of the Tentative list of Spain in order to qualify for inclusion in the World Heritage List.
The Olive Grove Landscapes of Andalusia is a serial proposal comprising a selection of traditional olive groves from the provinces of Jaén, Córdoba, Granada, Málaga and Seville. Olive trees and extracting olive oil has a formative influence on the culture of the Mediterranean region since the Neolithic period. The selected sites represent traditional forms of land use and production techniques from the early olive mills and presses used in the Roman period to the beginning of the 20th century.
Map of The Olive Grove Landscapes of Andalusia
Load map
The coordinates shown for all tentative sites were produced as a community effort. They are not official and may change on inscription.
Community Reviews
---
With serial tentative sites there is always a risk that you visit a location that gets cut in the process. If you scroll down, you will find my review of Archidona which was originally part of the nomination, but got cut. In 2021, the nomination was grouped into locations and themes. Archidona features in none.
The locations around Sevilla seem to focus on industrial production of Olives. Around Malaga, there are several historic Olive Groves which are famous for their olives. Visiting Samuel and Natasa in Malaga, they took me to Periana. And travelling between Sevilla and Malaga I stopped at Alora. Of the two Periana was the more interesting site to as we saw several old, wicked olive trees. In Alora, I couldn't spot any trees of note and would have needed a guide.
OUV
The two new locations I visited haven't improved my opinion. Travelling across Andalusia's endless monoculture of olive groves has rather made me less inclined to support this. It can't be good for the environment to convert each and every open field into an olive grove.
If this needs to be inscribed, I would prefer to include them in an existing site. Ubeda comes to mind as it is literally in the middle of a huge olive grove. And you could make a similar argument for Sevilla.
Getting There
Periana, no idea. Around Sevilla, a combination of buses and walking should take you there. Alora has a train station, but the grove is 5km uphill and you have to take a huge detour to cross the river.
While You Are There
Obviously, buy olive oil. Alora supposedly has a nice old town and the glimpses I caught hiking to the grove were nice. Apart from that, the proposed site covers most of Andalusia with sites near Sevilla, Cordoba, Ubeda and Granada, so enjoy.
---
When you travel through Andalusia, you inevitably drive through olive groves. Actually, you do it all the time. The area around Jaen is called 'El mar de olivos' not without reason. But it's hard to say which of these countless olive trees would be included in a nomination and why. The monotonous olive landscape in Andalusia is more reminiscent of the mass product that fills the shelves of our supermarkets than of a cultural heritage of outstanding value. But the same could be said about vineyards, of course.
The T-list entry from 2017 includes a list of 15 areas, but without detailed information and without coordinates. Recently (April 2021) the nomination has been specified. A submission is planned to the WHC in 2023. The proposal was reduced to ten main locations and several sublocations, and Jasam was able to find an official document with maps and coordinates (see this Forum post).
I was happy to see that I had visited one part of the nomination on my Andalusia trip in 2016, the Hacienda La Laguna. At that time there were only news on the web about a planned candidature, but no T-list entry and no details. I had chosen the Hacienda for a visit because it is only ten kilometres from Baeza and because it houses the Museo de la Cultura de Olive. The draft nomination document reads that Hacienda La Laguna represents the period of industrialisation in the first half of the 19th century, when production facilities were modernised and olive growing became more commercial. However, oil is no longer produced at this Hacienda, the modern facilities are in the village of Puente del Obispo, right at the turnoff to the olive grove. The historic estate is quite large and impressive, but unfortunately the main buildings are not accessible. Today they house a hotel and a hotel management school.
The museum is located in an outbuilding and is well worth seeing. All the steps of olive oil production are explained and various historical oil presses are shown. In the garden you can see olive trees from all over the Mediterranean, amazing that there are 30 different varieties. The bodega, the historic storage cellar, can also be visited. It contains ten large oil tanks, each with a capacity of 100,000 litres, in a construction that is called the "Cathedral of Oil" (photos) - a little exaggerated if you ask me.
After visiting the museum, I took a walk through the olive grove to the lagoon that gave the property its name. It was a beautiful walk of about two kilometres through rather old-looking olive trees. The pond used to be part of the irrigation system, but today the wetland is a nature reserve.
I enjoyed my visit, but all in all, the Hacienda La Laguna had too little to offer for a WHS. Hence my 'thumbs down' rating. But it is certainly unfair or even inappropriate to rate a serial site when you have only visited one part of it. And I don't think that Hacienda La Laguna is a highlight of this serial nomination. The historic haciendas in Cadiz and Seville seem more interesting, espacially if these sites are open to visitors. There is definitely more about this proposal than just the 'Sea of Olives'. Thus, I would probably reconsider my assessment once I had visited more parts of the nomination.
Undoubtedly, olive cultivation and oil production had a significant influence on Mediterranean culture, for thousands of years. Vineyards are World Heritage Sites, many of them, so why not olive groves?
---
March 2017 besides the many naval orange trees, we saw a tremendous amount of olive groves on our trip. Which of these will be part of a future whs, i dont know. But looking at the map: we had a small stopover in Archidona, we spent the night on a campground in Cazorla between olivetrees, of course we visited Baeza, we passed Matorla and had breakfast in Baena. So at least we saw some of the proposed towns, which had nice settings within the olive groves. The groves we did not really visit, at least no guided Tour through olive Farms. However, olives are important for the mediterranen landscape, why not on the whs list. We are excited to see the emerging nomination.
---
The Olive Grove Landscapes of Andalusia is a serious candidate for WH nomination by Spain in the coming years. I have it written down for 2022, but it might have to battle with Talayotic Culture of Minorca first (things go much more slowly now only 1 nomination per country per year is allowed). It was added to the Tentative List only in 2017 and comprises a well-defined set of 15 olive grove locations of the continuing cultural landscape type. Andalusia is the world's leading olive tree grower, producing 30% of the global production of olive oil. Its 'olive history' stretches back "thousands of years": the Phoenicians introduced the cultivated olive tree, while locals already exploited the wild olive trees.
The landscape is impossible to miss when driving from Malaga to Cordoba on the A-45 past Antequera: one sees nothing but olive groves for about 100km on both sides of the road. The tentative site description calls it a "sea of olive trees" - maybe inspiration for a future Epic Subtitle?
After my visit to nearby Medina Azahara, I went to take a closer look at one of the proposed Olive Grove Landscapes: Lucena. This is a different location from the one visited by previous reviewer Nan, who choose Archidona which lies more to the south. Lucena has long links with olive production. The town has an interesting general history as well, as it was a predominantly Jewish city during the time of moslim-dominated Al-Andalus: "The Jews earned their living from olive groves, vineyards, agriculture, commerce, and crafts."
Nowadays the town is mostly known for its many catholic churches and extensive Semana Santa celebrations. Its Parish Church of San Mateo has been converted from a synagogue and later a mosque. I walked around for a bit and the churches are indeed impressive, but that's not what I came for. I needed lunch and photos of something olive related! Restaurants proved to be scarce and I resorted to some bread & serrano ham from the supermarket. The shelves were fully stocked with various types of olive oil, but none of them seemed to be locally produced.
After visiting the town I tried to get closer to some of the olive groves in the surroundings. They are everywhere, but difficult to access with a car. These are privately owned farms, with 'no entry' signs or security bars blocking casual visitors such as myself. I just snapped a few photos and left disappointed.
I like eating olives and there could really be something educating in here, how olives are grown, harvested and further processed into oil. And this is the #1 region for olive growing in the world. But my visit was a disappointing one, as there are no tourist amenities or interpretation centres focused on the olives. I'd liked to have visited an olive oil refinery for example. Of course there's a signposted wine route in Lucena and there are bodegas to visit....
---
Note: Archidona is not longer part of the nomination.
Our excursion to the Rupestrian Art of Bessarabia was not the first post meetup trip Philipp and I undertook. One year prior after our meetup in Gibraltar I joined him and his brother on a trip to Antequerra. And having done my map homework I convinced both to do a quick stop in Archidona. They were heading to Ubeda and it was on the route anyhow.
Archidona is one of the 15 locations proposed in the nomination. As is often the case with sites prior inscription we weren't quite sure where precisely the location was. We settled on the monastery on the top of the city mountain (Ermita virgen de gracia). And indeed just behind the monastery on the other side of the mountain we found an Olive Grove.
OUV
The monastery was nice. The views, too. And I like olives. I am not sure this is enough. But maybe olive groves are the next vineyards, who knows?
Getting There
There are buses connecting Archidona with Antequerra and Malaga. Having ticked off Antequerra in the morning, I just continued onwards to Malaga. You should also be able to go via Loja to Granada.
While You Are There
Archidona is a pleasant site with a nice Andalusian old town. I hiked down from the monastery through the olive groves and had lunch in town while I waited for the bus back to Malaga.
---
Site Info
Full Name

The Olive Grove Landscapes of Andalusia

Country

Added

2017

Nominated for

Type

Cultural

Categories

Link
Site History
2017

Added to Tentative List
Visitors
90 Community Members have visited.