Socotra Archipelago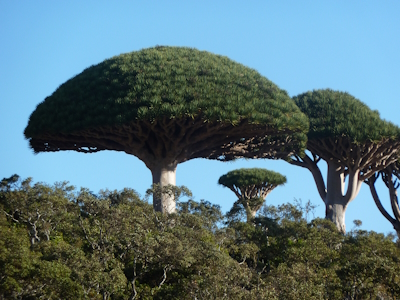 The Socotra Archipelago covers an isolated group of islands that is renowned for its species biodiversity.
Located at a 'crossroads' of the Arabian Sea, the Red Sea and the Indian Ocean, isolated for a long time and with a fiercely hot climate, its circumstances have led to the preservation of a unique ecosystem. Notable plant species found here include the bitter aloe, myrrh, frankincense and the distinctive dragon's blood tree. Its terrestrial and marine animals such as reptiles and land snails also show high levels of endemism.
Community Perspective: the archipelago has been under de facto control of the UAE since 2018, and access has become easier due to regular weekly flights from Abu Dhabi. Michael and Dennis describe what such a visit entails – beaches, dunes, dragon blood trees and flowering bottle trees.
Community Reviews
---
Socotra is filled with stunning landscapes.  The forest of iconic dragon blood trees on the Diksam plateau is truly unique in the world, and one of the main draws here, but there is so much more.  My first night, we camped between the amazing dunes of Arher beach and the ocean.  This has to be one of the most amazing campsites I have ever stayed at.  White sand dunes climb up to 200 meters along the face of towering 600+ meter cliffs. Besides the dragon blood trees, which never get old, there are also thousands of fuchsia-flowering bottle trees and a few frankincense trees to watch for.  There is great rugged hiking, such as into the Kalissan canyon where you can then cool off in emerald colored fresh water pools between gently eroded white limestone rocks. The white sand beach beside Detwah lagoon and near Qalansiya at the far northwest of the island is probably one of the most beautiful beaches in the world without any sort of hotel on it. Besides the handful of more famous beaches that are commonly visited by the small tour groups, there are literally miles of gorgeous white sand beaches that are practically untouched.
I visited in April 2022, and at this time, there is exactly one flight per week from Abu Dhabi, and you have to book an organized tour to visit. This makes it rather expensive, and just the Yemen visa, obtained through the UAE, costs $US 170. Our tour camped for all seven nights. While camping in the hot sun and sand was a little tiring, I have to say it is the best way to experience the island.  For slightly cooler temperatures, but to still catch the bottle trees in flower, come a little earlier, like in early March.
There isn't a lot of tourist infrastructure on the island, and that is part of the appeal. The current situation of one flight a week limits the number of tourists, which is a good thing (my flight was roughly half western tourists, half more local visitors/returnees). Tourists are still enough of a novelty that the little kids are happy to wave or ask you your name, or show off a pufferfish without expecting/demanding a tip.  But it probably won't last. As the UAE have taken more of an interest in the island and started buying up prime locations there, it might not be too long before luxury hotels start appearing on these exotic locations.  The current state of Yemen government would seem to make regulation or preservation or sustainable development just a dream.  Incidentally, the island felt untouched by the current mainland Yemen civil war.  It was actually one of the safest feeling places I've ever been.
---
I visited Socotra in November 2021.  At the time of my visit, Air Arabia provided Monday-only charter flights between Abu Dhabi and Socotra, so visitors were required to spend a week on Socotra.  Given that all tourists arrive and depart at the same time, tour operators seem to follow the same general itinerary, although they apparently coordinate so that sites are not inundated with tourists on the same days.  I went with Untamed Borders.
During the course of my week, we visited:

Day 1 (arrival): Delisha beach, not far from Hadibu, so seems like many visit this beach and sand dunes on the day of arrival
Day 2: Qalansyia in northwestern Socotra, where we picked up a small fishing boat for the ninety-minute trip to Shuaab, the island's nicest beach. Along the way we passed through several schools of sardines, so abundant that the turquoise water appeared black and attracting a feeding frenzy of sea birds, spinner dolphins and one whale shark. We spent the end of the day at Detwah Lagoon.
Day 3: snorkeling in the Dihamari Marine Nature Sanctuary at some of the richest coral reefs in Socotra, where it was easy to see colorful parrotfish and angelfish, but not lobsters. Fortunately, a local lobsterman had caught several spiny lobsters — I bought the largest for only $15, which we dropped off at the restaurant for dinner.
Day 4: Momi plateau, covered with desert roses, one of the rare bottle trees found only on Socotra, with most of the afternoon swimming in a natural pool at the bottom of a canyon, reached after an hourlong descent along a goat trail.
Day 5: we drove to the center of Socotra to visit Firmihin Forest, home to the island's densest concentration of dragon blood trees, named after the red sap.
Day 6: Homhil Nature Sanctuary in northeastern Socotra to hike to the natural infinity pool at the end of a valley lined with dragon blood and bottle trees.
Day 7: southern coast on the Indian Ocean to spend the day on the beach and climb the Zaheq Dunes.
Day 8 (departure): spent in Hadibu, the largest city on Socotra.
---
Many years ago we went to Socotra from Sinai. Socotra was mine 500th sites that I had been to. So different and exciting island. Many trees are endemic.The most remarkable ones are Dragon Blood tree, Desert Rose and Cucamber tree. And also many birds can be seen. Goats give big harm to the nature. But meat of goat is so delicious. Sea is so clear and full of corals. You should stay at least 4 days there. After Gallapagos Socotro is second interesting island. And also you should try Socotro Honey
---
Site Info
Full Name

Socotra Archipelago

Unesco ID

Country

Inscribed

Type

Natural

Criteria

10

Categories

Link
Site Links
Unesco Website
Related
In the News
Visitors
20 Community Members have visited.