Socotra Archipelago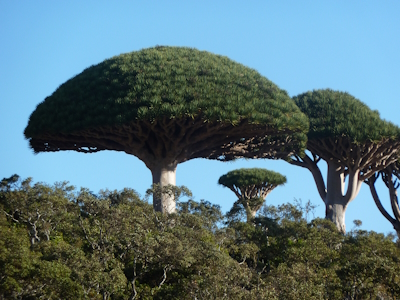 (c) UNESCO/Linda Shen
The Socotra Archipelago covers an isolated group of islands and coastal areas that are known for their plant biodiversity. They are located at a 'cross-roads' of the Arabian Sea, Red Sea an Indian Ocean.
The archipelago is 250km long. It consists of the main island of Socotra and the three smaller islands of Samha, Darsa and Abd al-Kuri. Its origins are not volcanic, but continental: it lies on a block that got separated from the African mainland some 36 million years ago. The area used to be part of the Gondwana supercontinent.
Its long isolation has led to the preservation of an ecosystem that has disappeared elsewhere. Combined with its climate, characterized by fierce heat and drought and a short monsoon season, Socotra has survived as a pristine, unique and spectacular endemic environment. The smaller islands in the archipelago even have their own endemism.
The islands are generally sparsely vegetated. The land is covered with granite mountain ranges, limestone plateaus and coastal and interior plains. There are a number of cave systems. The high plant diversity and level of endemism is particularly visible on Jabal Haggeher. Unique en medicinal plants are found such as the bitter aloe, myrrh, frankincense and the distinctive dragon's blood tree (relict elsewhere).
Due to its dry climate and small size, fauna is fairly limited except for reptiles and birds. Socotra has been identificatied as a separate Endemic Bird Area by BirdLife International, with 22 Important Bird Areas. Its marine zone holds a highly diverse fauna and flora, ranging from reef-building coral a resident population of Humpback Whales.
Map of Socotra Archipelago
Legend
Community Rating
Community Rating N/A. Based on 0 votes.
Your Rating
Site Info
Full name: Socotra Archipelago
Unesco ID: 1263
Inscribed: 2008
Type: Natural
Criteria: 10
Site Links
Unesco Website
Official Website
In the News
Locations
The site has 18 locations. Show all
Connections
The site has 26 connections. Show all
Visitors
7 community members have visited Socotra Archipelago.