Serengeti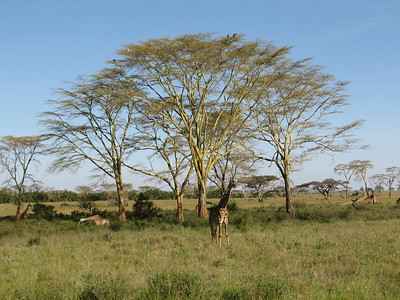 Serengeti National Park is a large area of savanna and open woodland that is renowned for the annual migration of its wildebeest.
The park has the largest herds of grazing animals in the world, including more than 2 million wildebeest, 900,000 Thomson's gazelles and 300,000 zebras. Predators include 4,000 lions and 1,000 leopards. Twice a year, nearly 2 million herbivores migrate in pursuit of the rains and cross the Mara River.
Community Perspective: Large predators such as lions, leopards and cheetahs are easy to see here. Try to time your visit with the wildebeest migration, although that will raise the cost of what is an already expensive visit even more.

Community Reviews
---
The plain of Serengeti has been a myth to me since childhood. I loved watching these wild and dangerous animals on TV. Now it was my turn to explore it live!
Having spent two weeks in Tanzania at this point we were well adjusted and used to being here, but nevertheless – it's a special feeling passing the Naabi Hill gate and entering the park.
By leaving our Ngorongoro lodge on the rim in the morning and visiting the Olduvai site on the way it was already noon when we entered the park, but as we were staying for three nights there would be enough time to explore this enormous plain.
The first experience meeting us in this eastern part of the part was all the kopjes (the rock formations) scattered around with its special vegetation, as taken straight out of Disney's The Lion King movie. While driving to the park we had animal encounters all morning, but around these kopjes we didn't have any luck, to our and our guide's disappointment. But soon after we had our first male lion within sight – resting on a tree branch. We were told that tree climbing lions were rare, but in fact we saw many of them. Shortly after we found a leopard resting the same way, which is more common. Five hours later and several animal encounters we arrived in Mawe Tented Camp for the night. It is a camp without much extravaganza, but still very nice. It's a friendly staff and they serve good food. The Serengeti sunset through acacia trees is iconic.
The next day starts "the same way" as the previous ends, with the iconic orange sky and the sun through the acacia trees. With a lunchbox in the car, we leave the camp for a full day safari.
There are a lot of animals to see so "my myth" is not a myth anymore – it is real! The fantastic encounters include a cheetah drinking, the profile with the back high up in the air and head down is awesome (picture), and meeting all "big 5" face to face. We spent another night in Mawe Camp and the following day we travelled across the huge plain from east to west.
On the west side we found the rear part of "the great migration". To us it was big herds of wildebeests and zebras, but in fact it was just a few animals compared to the enormous herds this migration really consists of. In total it was more animals here but little variety, and the annoying part is the swarms of tzetse flies.
The authorities burn down huge areas of grasslands apparently to fight the tzetses, but it seems to us it has no impact. On the contrary, this burning must do damage to other small animals and insects which probably is not the purpose.
The final night we spent in Lahia Tented Lodge in the western Serengeti which is more a luxury camp. The central unit is located on a hilltop the awesome "bungalow tents" placed around a bit further down. The infinity pool and the 360° view are fabulous.
The final day was another half day of safari and then we left Serengeti from the west side through the Ndabaka Gate. From there the drive to Mwanza airport was 2 ½ hours along the Victoria Lake, although the road is pulled back from the lake, so we really didn't see it. But from our flight to Zanzibar we could finally see the lake from the air.
---
The buffalo were nervous. Their ears twitched as they shifted uncomfortably. Visibly reaching a collective decision, they turned and started to walk away from our vantage point. It was at that point the first lioness appeared, padding purposefully through the long grass. First one, then another, then two more lionesses joined her. The buffalo started to run. So did the lions. The buffalo stampeded. Their galloping hooves threw up clouds of dust. And the lions were right on their tail. The herd turned as one to the right… except for one. One buffalo turned left. We have watched more than our fair share of David Attenborough documentaries. We knew what that meant. A lioness sprang onto the back of this lone buffalo, sinking claws and teeth into his black hide. That checked his run long enough for a second to leap aboard. He fought, bellowing and bucking. But the game was over for him. If he dislodged one lion another would take its place, using their superior numbers to tag-team him. One ran in from behind to nip at his hamstrings. One approached from the front and sank her jaws into his muzzle. Starved of breath he quietened. His bellows softened to snorts and then to gasping moans. He fell to his knees. Then, as one, the lionesses relaxed their grip and stepped back. It was over.
Before we arrived in Africa we had asked ourselves how we would react to seeing a hunt in progress. We had both agreed that we wouldn't be ghoulish enough to want to watch that. But in reality the excitement and adrenalin of being front row at an event you would normally only see through a TV screen was electric. Conscious thought wasn't an option in the moment. This was nature, red in tooth and claw, raw and alive on the Serengeti before us.
Of course, the fact that we witnessed this within the boundaries of the Serengeti National Park was in many ways a fluke. Not all visitors to the Serengeti will get to see an event like that. Nor do you have to be in the Serengeti to see it. There are no fences of note to restrict the movements of the animals – the annual Great Migration of the wildebeest circles from Tanzania to Kenya and back. The wider 'Serengeti ecosystem' spreads beyond the park borders. The previous day we had seen many of the same species several miles south around Lake Ndutu which lies just outside the National Park and within the contiguous Ngorongoro Conservation Area. Until I insisted that we enter the National Park proper our safari organiser had proposed to only go as far as Ndutu to offer much the same experience, but without the cost of park fees. But the National Park boundaries does guarantee a degree of protection to the animals and landscape and can certainly be classed as representative of the northern Tanzanian savannah.
(One fact to note: park fees are for 24 hours. So if you were to enter the park at, say 17:00 on a Monday, you would need to exit again by 17:00 the following day. This adds a degree of pressure to any wildlife spotting on the Tuesday afternoon because, no matter where you are or what you are watching, your guide will at some point need to make the decision to call a halt and high-tail it back to the park gates)
So, other than buffalo and lionesses (and the magnificently-maned male lion who appeared at one point to supervise and then, seemingly content that his dinner was imminent, amble away again) what did we see? Well, more lions: first at the Simba Kopjes just north of Naabi Hill Gate, then another pride with a different dead buffalo (the buffalo weren't having much joy while we were there). Hartebeest, topi, giraffes, an early morning dik-dik. A platoon of elephants pushing through grass that really was as high as an elephant's eye. Warthogs. A secretary bird making a nest in a tree, a goshawk swooping low, a goose chasing a black-tipped mongoose away from her eggs. A fleeting glimpse of a leopard as it rapidly disappeared up a tree trunk and into the foliage (that was to be our only leopard sighting of the holiday). And, at Retima, in a murky pool reeking of silage and a fishmonger's stall, dozens of hippopotamuses, their piggy eyes protruding above the water, swishing their tails like propellers to splash water – and occasionally their own fresh faeces – over their backs. We watched one hippo picking his way across the rocks as daintily as a portly Victorian gent trying to make his way into the sea but being constantly thwarted by finding his route blocked by crocodiles or other hippos. (In comparison, we didn't see wildebeest, zebras or gazelles, all of whom looked to be just east and south of the park boundaries. We also saw hyenas, jackals and a lazing cheetah outside the park).
A conclusion? If your aim is to go on safari and see the incredible wildlife of Tanzania, do you need to visit the Serengeti National Park? No. There are many other places you can see them with varying degrees of protection. If you have paid to enter the Ngorongoro Conservancy you can have a hugely fulfilling safari experience in the crater or in the wider Conservation Area. There are other national parks you can visit too – I would particularly recommend Tarangire for the sheer concentration of elephants. But that doesn't mean that you shouldn't seek to visit the Serengeti. You are guaranteed a truly special experience.
There was a comic coda to the dramatic buffalo hunt we witnessed. Once the kill was confirmed the lionesses padded back to a tree to retrieve a bundle of tawny cubs. One led the cubs over to the buffalo. In single file they trotted on their too-large feet over to the body, inspected it, and then followed the lioness to the nearest patch of shade. But it was noon on the savannah and the nearest patch of shade just happened to be… underneath our Toyota Landcruiser. We suddenly found ourselves the centre of attention from the other safari trucks that had pulled up. People pointed and laughed at us, cameras flashed. A good dozen-or-so safari-goers probably have very good photos of my puzzled face and a set of large paws poking out from underneath our truck. Then, one by one, the other trucks clattered off. Leaving us the question of how we dislodged a family of lions from beneath our chassis…
World Heritage-iness: 4.5
My Experience: 5
(Visited Feb 2015)
---
We visited Serengeti National Park for three days at the end of September and it did not disappoint.
Since we were based in Moshi after our Kilimanjaro climb, we first had to make a long drive to the park passing Lake Manyara and the Ngorongoro crater (which we visted afterwards).
Once in Serengeti, you will encounter countless animals (giraffes, zebras, gazelles, monkeys, elephants, the bizarre hyrax, ...). Over three days, we also spotted a dozen of lions – most of them resting under a tree in small groups but also one hunting a gazelle. Little anecdote in this respect: three meters away from a couple of resting lions, our jeep found it a good idea to stop working but another nearby jeep was radioed and was able to give us a push which helped us start again.
We were also lucky to see a number of cheetahs (be it from a distance), a lazy leopard in a 'sausage tree' and what looked like a miniature version of the wildebeest migration (an endless stream of wildebeests and zebras crossing the road but only in a single line). Another – be it smelly – highlight is the hippo pool.
Although most people visit Serengeti for the wildlife, the surroundings are also beautiful and worthwile to spend a couple of days, so in our opinion Serengeti is one of the top WHS!
In terms of accomodation, there are various options: lodges, moving camps (to follow the wildebeest migration), tented camps and camping. Lodges and moving camps are (very) expensive so we opted for a tented camp (the brand new Tukaone Camp), i.e. with fixed tents where all guests have their own large tent with bed, shower, toilet, ... and also a mess/restaurant tent. Although also not cheap at all, we felt we deserved this after spending five nights in a small tent at well below zero temperatures on the slopes of Mount Kilimanjaro.
Ps: a number of years ago, we visited Namibia's more or less comparable Etosha National Park so below a small comparison for travellers wanting to book a wildlife safari:
(i) driver versus self-drive: we visited Serengeti with a driver/guide (as most people do) while we did a self-drive in Etosha (as most people do). The advantage of a guide is that they are generally better in spotting the animals, more or less know where they are and it consequently is more laid back. However, looking for animals yourself and finding a rare to spot one is equally rewarding
(ii) cost: Serengeti is far more expensive than Etosha (park entry fee, accomodation, ...)
(iii) fauna & flora: Etosha looked like a much harsher and arid environment than Serengeti. We also had the impression that there is more variety in animals in Serengeti
---
4.00 The Netherlands - 15-Dec-08 -
At 8 a.m. we leave for the day-long safari through the Serengeti. Our lodge, the Ndutu Lodge, lies outside the boundaries of the park and therefore we must first take a ride on the plains until we reach the Naabi Hill Gate. Underway, we already see plenty of animals, especially a lot of gazelles and the first hyena.
The Serengeti seems a big dry plain but there still are some small pools of water. In one of them, about twenty hippos are submerged. They look like a group of stones as they have their heads underwater. Only very occasionally they show their nostrils above the waterline.
The first real predators that we see are the Cheetahs. First four at some distance, and then another two fairly close. They were sitting under a tree but when they see the jeep they walk away slowly.
The park also has many different kinds of deer and antelope. In addition to the ubiquitous gazelles, we see impalas, hartebeests and Bohor bucks. They all stand around in small groups along the sandy road that we must follow with our jeeps. If a jeep stops, they look up and pull back a bit, but they are not really skittish.
Then the time has come for the search for lions. Search is a relative concept here because the jeep drivers have a radio on board to keep each other informed. Also, oncoming jeeps are often asked for information. A group of four lions has made itself comfortable in the shade under a big tree. The two males and two females do not even look up when three jeeps stop in front of them. It is so remarkable how close you can come, but these animals are afraid of nobody, and also accustomed to the many jeeps. A bit later we find another couple. This time on their favorite lookout, a "kopje" (rock in the flat land).
After lunch at the visitor center (where you can also stretch your legs because in the park you are not allowed to leave your vehicle), we stated that we would like to see a leopard. "If you're lucky …", our driver Mouni replies. And we are! Within less than 10 minutes we encounter a traffic jam of jeeps. On a tree branch lies a very lazy leopard. He is close, you can see his spotted hide with the naked eye. We remain to watch him for quite a long time, but he does not move more than to rearrange his leg to lie even more comfortably. Surely the highlight of the day, because leopards are quite rare to see.
On our way back to the lodge, we come across two arguing elephants. A jeep is caught in the middle between them (a somewhat unhappy position), but the big beasts have only eyes for each other. They are only threatening: one takes a few steps forward and the other pulls back a little. A few minutes later, it's the other way around. At one point one elephant in his anger kicks a tree, which is overthrown like a twig. The giants keep on threatening each other but do not fight.
---
Brandon Davis
Recently visited Seregheti NP too on our honeymoon in early July (see Ngorongoro Crater NP). Weather was amazing. Mid-eighties and no humidity. Being the dry season the tsetse flies and mosquitos were not a problem. Had timed our trip for the Wildebeast migration. The beginning of our Safari with Thomson tours (without the "p", which I highly recommend) started at Tarangire NP where the migrating herds had left the week prior to our arrival. However we caught up with the herds in the western corridor of the Serengeti NP. Amazing! A vast expanse of grassland inhabited by millions of animals as far as the eye can see. And best of all, not one radio-tower with flashing red lights to spoil the view in the distance. Coming into the park via the Naabi Hill gate and traversing the endless flat plain is truely a sight to behold. You realize what a small speck you are on this earth. I would recommend visiting early/mid-June to avoid possibly missing the herds in Tanzania (they migrate to Kenya). The Kirawira Luxury camp is exquisite. The people of Tanzania are extremely friendly to foreigners and the use of English is spreading rapidly, thus making travel more comfortable for us westerners. I highly recommend seeing this eden.
---
Site Info
Full Name

Serengeti National Park

Unesco ID

Country

Inscribed

Type

Natural

Criteria

7

10

Categories

Link
Site Links
Unesco Website
Official Website
Related
In the News
Visitors
182 Community Members have visited.