San Pedro de la Roca Castle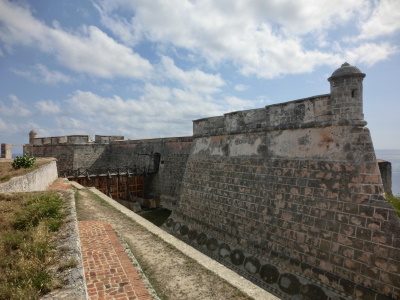 San Pedro de la Roca Castle, Santiago de Cuba, is considered the best preserved and most complete example of Spanish-American military architecture.
The castle and associated batteries protected the canal that leads up to the harbour of Santiago. It was designed by the Italian Giovanni Battista Antonelli in the Renaissance style. Built on a promontory with steep cliffs, a series of stairways connect the various levels. The fortress has been damaged and rebuilt several times after earthquakes and piracy attacks.
Community Perspective: locally known as El Morro, it is a pleasant excursion from Santiago. It can be reached on public transport via a local bus/boat combi, as described by Iain.
Map of San Pedro de la Roca Castle
Load map
Community Reviews
---
Visited this site in May 2018.
Castillo de San Pedro de la Roca del Morro is located about 10 km to the south from Santiago de Cuba on a strategic rock controlling harbor entrance. After over 150 years of painful planning, designing and construction, many times interrupted by the military attacks from competing colonial powers and pirates and earthquakes, it was more or less completed only in 1700s. The fortress served as prison once pirate threat declined in 18th century (you could visit some tiny prison cells). Castillo is considered the best-preserved Spanish colonial military fortress. It is quite compact site with stunning views over the sea, deep mounds, sharp edges and everything you expect from a military fortress. For a European eye is does not look something special but taking into consideration all the circumstances Castillo found its deserved place in the WHS list. Inside there are some rooms dedicated to the Caribbean piracy.
All in all, good site and pleasant excursion from Santiago de Cuba.
---
This site, known locally as El Morro, was easily reached from Santiago de Cuba at the time of my visit in February 2001. A local bus will take you to Ciudamar, a settlement on the southern shore of the almost enclosed bay with Santiago at its head, and from there it is possible to catch one of the little launches which shuttle between various points on the bay. I went first to La Socapa, a small village at the foot of the hill, from the easily reached top of which, excellent views of the castle across the narrow(400m?) entrance to the harbour, and indeed for miles along the coast in both directions, can be had.
I was surprised not to find any evidence of fortification on this side of the harbour entrance.
Once back in Ciudamar it's a walk of about 20 minutes to the foot of the hill on which the castle itself is located. It has grown over several different levels, the lowest being a little above the high water line with some of the rooms carved out of the soft rock.
At a higher level the castle is protected by a deep moat and bastions at every change in direction of the castle's hefty wall.The various levels are connected by staircases and by a series of tunnels which is fun to explore
Some of the castle rooms are now used as a museum illustrating local building techniques and telling the story of piracy in the region. There was also a restaurant.
I was able to wander hassle-free at will throughout this very impressive example of (mostly) Spanish military architecture in a Caribbean setting. All in all a very rewarding day's excursion from Cuba's second city.
---
Site Info
Visitors
90 Community Members have visited.