Sammallahdenmäki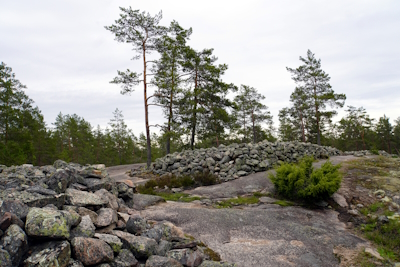 The Bronze Age Burial Site of Sammallahdenmäki is an outstanding example of Scandinavia's Bronze Age society and its funerary practices.
The site consists of 33 stone cairns in several clusters. They were made of granite boulders that were quarried locally. It dates from ca. 1500-500 B.C. Two of the most spectacular burial cairns are the quadrangular "Church Floor" and the dike-like "Long Ruin of Huilu". The cairns may relate to rituals of sun worship.
Community Perspective: "just piles of stones" to some, but they lie in a quiet and atmospheric spot and you'll find yourself traipsing through a moss-covered forest floor. It needs a 4km walk to reach by public transport. There are also guided tours on Thursdays in the short summer season.

Community Reviews
---
You can book a tour for €10 between mid June and the end of August at:
https://www.doerz.com/rauma/retki-sammallahdenmaelle?list_id=32
Tours occur only on Thursdays at 2pm from Rauma's main bus station. If you have a car it is only 20km from Rauma and parking is free. Don't go in winter as there will be nothing to see but snow.
I went in late July 2022 and there were a dozen of us plus the guide. The guide spoke in both Finnish and English and was knowledgeable and passionate about his subject. The tour lasted almost one and three quarter hours and transportation was about 20 minutes each way.
Yes it's a pile of rocks but they are a rather attractive pile of rocks. All three dozen cairns. Many were arranged into some discernible shapes and they present a rather colorful picture.
Originally a red brick hue to attract attention the stones have greyed over the years and are covered with various shades of black and white blotches. Original orange shows through on many as well as mottled spots of petrified green moss and white lichen.
The setting is in a lovely young green forest, carpeted with moss, white lichen and clumps of blooming lavender heather. It's an easy walk along a trail from one end of the site to the other.
I've been to other Unesco sites that are also just piles of rocks, but none as attractive or in as pretty a setting as this.
---
As a half-day excursion from Rauma, I visited Sammal-something-something. Again: I am not able to memorize Finnish place names exceeding two syllables.
Sammallahdenmäki is a burial site dating from 1500 to 100 BCE. It was originally on the coast. But ever since the ice age ended, the land has been rising and the coast is now 15km away. The burial rites spread to Finland from other parts of Scandinavia.
The cairns are distributed along a rocky hilltop in a forest. They are easy to spot. The surrounding scenery is lovely and I agree with Els that this is probably the main selling point of the site.
There is no wall or fence and you don't have to pay any entry fee. It's surprising how relaxed the Finnish authorities handle preservation and it seems to work. Still, proper trails and some explanatory signposts would go a long way to improve the overall experience.
Getting There
As far as I know, there are no direct buses to Sammallahdenmaki. Still, with a little walking, you can easily reach the site using public transport. There are regular buses running between Rauma and Huittinen. Get off at Lappi and from there it's a little less than 4km walk to Sammallahdenmaki.
Supposedly, during summer there are also guided tours once a week (Thu 13h) from Rauma including shuttle. But I cannot find the source.
While You Are There
If you are entering via the Southern entry, you will pass a large meat processing plant. They operate a shop/restaurant if you want to grab a bite. Not sure if they cater to vegetarians, though.
---
Read more from Joel on the Road here.
---
In September 2017, I rented a car in Turku to visit southwest Finland's World Heritage Sites. Early on a Tuesday morning, I found myself traipsing through a moss-covered forest floor and over granite boulders to locate some of the nearly 40 burial cairns, some of which date back more than three millennia, that make up the Sammallahdenmäki World Heritage Site. Needless to say, a Bronze Age burial ground is not as appealing as many World Heritage Sites, especially on a cold weekday, so I had the ancient forest to myself.
---
It was a 4km walk from the bus stop in Lappi village along the road to Eurajoki to the site of Samallahdenmaki. But it was a fine day and there was little traffic so it was quite pleasant. It was very peaceful there as I had the site to myself, but others arrived as I was leaving to catch the bus back to Rauma.
There are several groups of stone cairns, and I visited the 'Church Floor', a large mound of stones tightly compacted together.
---
2.00 The Netherlands - 27-Aug-05 -
The ICOMOS report on this site describes it as "spectacular in setting" and "remote". Sammallahdenmäki is well signposted from the major road between Tampere and Rauma. The number of visitors clearly has risen over the years, as there were "100 local schoolchildren" in 1999, and the guestbook now testifies some 10-20 visitors a day in summer. They come from all over the world, from the USA to China, to see this lonely place in Finland.
It still is a quiet and atmospheric place though. Brochures in different languages are available from a self-service box and free for use. There is no entrance fee. The cairns are spread out over a rather large area, a track through the woods guides you along.
One can easily walk here for 1.5 hours. The stone cairns aren't the most impressive aspect of this WHS, it's the pristine nature that grabs you. The pure smell, the quietness, the wild mushrooms and foremost the moss that covers large parts of this area. Also, I found its high degree of authenticity (sometimes lacking in other WHS) very refreshing.
---
Site Info
Full Name

Bronze Age Burial Site of Sammallahdenmäki

Unesco ID

Country

Inscribed

Type

Cultural

Criteria

3

4

Categories

Link
Site Links
Unesco Website
Official Website
Related
Visitors
107 Community Members have visited.