Rock Art in the Hail Region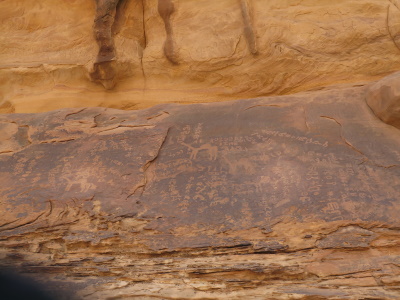 Rock Art in the Hail Region of Saudi Arabia covers two sites with petroglyphs and inscriptions northwest and south of the city of Hail.
The rock carvings date back to almost 10,000 years ago. The two included locations are:
Jabal Umm Sinman, Jubbah
Jabal al-Manjor and Jabal Raat, Shuwaymis
Map of Rock Art in the Hail Region
Load map
Community Reviews
---
To see the rock art, we headed north from Buraydah, through the town of Ha'il to the smaller resort of Jubbah. There are two sites for the rock art: Jabal Umm Siman in Jubbah, where we went, and the slightly more remote Jabal Al-Manjor/Jabal Raat double site. Jubbah is also one of the smaller towns in the northern part of Saudi Arabia. There are a few signs pointing from the main road towards a place with rock paintings, but the end of the road has to be navigated using any of the online or offline maps.
Although the map has pointed us towards the museum and the place with the petroglyphs, on the way we saw another site with something obviously there: there was a staircase attached to the stones, the whole place was fenced off, and workers were just putting up an information board in front of the entrance. A gentleman who appeared to be the head of this shift spoke to us in English, welcomed us and explained that the museum and the main petroglyphs were about a kilometre further down the road, but that we could go and see these if we wanted to. So we did. The stairs led us to a stone with images carved into it.
We continued towards the museum is probably a bold designation for the administration building for the caretakers who open and close the gates to the main set of rock formations, with paths and sometimes stairs leading between them if the petroglyphs are high up. While there were no exhibits inside, just toilets and empty spaces for various souvenir shops, we did at least find a framed deed of registration and a caretaker with whom we signed the visitors' book. His colleague opened the gate for us and we were free to explore.
The oldest stone images are up to ten thousand years old. They depict animals and people, everyday activities like hunting. Later, domesticated animals like camels or ostriches start to appear. As Zoe pointed out in her review, the pictures also show animals that were hunted to extinction. One of the pictures shows a king in profile, reminiscent of Egyptian hieroglyphics. Later, the Berber-Bedouin people added their descriptions on the rocks in their traditional script. The reason why people settled on this site was that there was once a lake here.
We looked at everything in detail, took pictures and appreciated the fact that we could do so in absolute privacy. As we walked out, a busload of Italian retirees came to see the site. Good timing, we really enjoyed experiencing it on our own.
---
We also visited the Jubbah section of the rock art in early Feb 2020. It is an easy day trip from Hail and we went on a friday afternoon. Note that the site is only open after ~3pm on fridays but can be visited in the morning also during the rest of the week. Having found the place more easily than we thought, we arrived a little after 2pm and sat in the deserted parking lot unsure if it would really open for only a couple hours. Sure enough it did but in the worst case scenario it is possible to see a few of the petroglyphs through the fence in all else fails.
There were maybe a dozen visitors in total including one small tour group. A surly guard opened the gate and waved us through without any offer of guides or anything. This was the biggest mistake on our part. Inside there is a path that circles rock formations covered with petroglyphs but no information explaining what we were seeing. There was much more rock art than I'd been expecting but which ones were 10000, 5000 or 2000 years old? I can see and intuitively understand animals and early writing but I'd probably be more inclined to give the site more stars if I'd had more explanation. No doubt further development of the site is planned and if their Vision 2030 comes to fruition, more restrictions will be necessary as well. It made me cringe to see visitors climbing on the rocks and directly over the petroglyphs themselves risking the destruction of such precious heritage.
---
4.00 Chinese-Canadian - 24-Jan-19 -
Hail Rock Art is one of the easier places to visit in the Kingdom. I wanted to come a day earlier but got stuck on a road leading into the dessert which I guess I wouldn't know without reading an Arabic sign or there wasn't a sign and they assume everyone will pass this area with a 4WD. No point in talking about it more but if you are coming from the southwest you have to get to Hail first, then turn west. If you are coming from Riyadh then it's clear how to drive anyway.
There are two locations, one in the far south of Hail but it's in the middle of nowhere so the choice was clear: Jubbah. I also inquired at the National Museum in Riyadh about a permit and they told me to find someone in Hail but actually that's not true. I think the term "permit" in the KSA means more like "get an official guide who arranges everything".
So I got to the Jubbah site in the morning and the signs are very clear to find it. There was a huge tourist bus with a few Asian tourists standing nearby and I thought after a week of no foreigners I would get hit by an annoying tour bus from SE Asia or something but it turns out it was just 5 friendly Thai guests and their tour guide uses the massive bus for any tour group size. I walked into the administration building thinking it is a visitor center and the admins invited me to breakfast and tea, talked about what I am doing in the KSA and what I want to see in the area. It's important to say you are really looking forward to the rock art, which I suppose I was, I also talked a lot about Vision 2030 which they enjoy hearing, and they organized a guide to take me into the area. The Thai group were also inside already and we merged into one group of 2 guides. With some translation issues I helped and quickly turned into what they called a "guide" as well, although grasping what the Saudi guides were saying doesn't make me an expert and I'm happy to pass on my understanding to the other group members.
Sorry, way too much personal trip stuff. The rock art in the starting area is interested but mainly animals. Surely what is important that whereas camels are still around, many animals were hunted to extinction in Arabia. I find important how the rock art is a history book. The Thai group were elderly but I was able to climb around the rocks with the guide to get close-ups of serval amazing art including an "Egyptian" posing king.
The area is still under minor construction but a new path leading all the way around the site has already been completed. It is very far and the guides took us to the second gate by roads. Without a guide one wouldn't find most of the rock art. Again, climbing gets you to the the best areas.
So why is this site considered so great? The details. Not just random animals, actual records of kings, signs, messages left behind, the evolution of written text can also be made out here. Plus I have never seen a bigger camel drawing on a rock before, that is just worth an extra half star lol
---
Site Info
Full Name

Rock Art in the Hail Region of Saudi Arabia

Unesco ID

Country

Inscribed

Type

Cultural

Criteria

1

3

Categories

Link
Site Links
Unesco Website
Official Website
Related
In the News
Visitors
32 Community Members have visited.