Qadisha Valley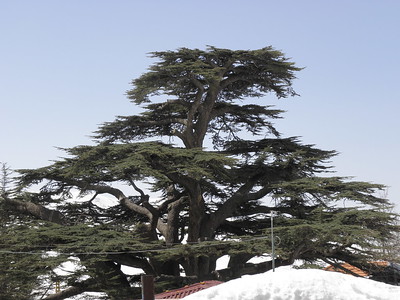 The Ouadi Qadisha (the Holy Valley) and the Forest of the Cedars of God (Horsh Arz el-Rab) is a cultural landscape encompassing early Christian monastic settlements and a rare forest of Cedar trees.
The valley has been a place of meditation and refuge since the earliest years of Christianity. The current communal and eremitic monastic complexes are mostly Maronite and are supported by terraces used for cultivation. The nearby Cedar Forest is seen as a sacred forest. It holds the remaining specimens of a great forest that supplied prized building materials and gave Lebanon its fame in Antiquity.
Community Perspective: best visited on a day tour or using private transport, as it is in a remote mountainous location. Juha hiked through the area and visited a number of its monasteries and chapels along the way.
Community Reviews
---
Site visited March 2019. Qadisha Valley was the site that I looked forward the most in Lebanon after Baalbek. And it didn't disappoint my expectations. During my hike I visited three out of four of the main monasteries of the valley and saw some spectacular sceneries. In this review I focus only on the Qadisha Valley, not on the Cedars of God.
The dramatic and rugged Qadisha Valley is one of the oldest and most important early Christian monastic settlements. Valley formed a natural rampart which sheltered these early monastic communities. Maronite hermits found refuge in a multitude of almost inaccessible caves and rock-cut monasteries. Around these shelters the monks and hermits had turned the slopes into terraces to grow grain, grapes and olives.
This is one of the World Heritage Sites that are best experienced by foot. That is because many of the most interesting monasteries, churches and caves are located on the slopes of the valley that are not reachable by car. Hiking is also the best way to enjoy the great views and nature around you.
It was quite clear that I wanted to visit Qadisha Valley by hiking. At first I thought about independent hiking option but I found it too difficult. Distances are quite big and I couldn't find good enough map of hiking routes. Private hiking tours are very expensive. The only alternative was to participate a group tour. I'm not really a group tour kind of traveller but I can bear it if itinerary is interesting. There are lots of Qadisha Valley tours available but they all have exactly the same itinerary with obligatory visit to Khalil Gibran museum which is not of interest to me. Fortunately I found a group hike arranged by Living Lebanon which matched my days and it was also reasonably priced. And it proved to be a good one.
Our hike started with a steep descent from the village of Hawqa to the Saydet Hawqa or Monastery of Our Lady of Hawqa. On that first section the views were absolutely spectacular. After 40 minutes we were at the monastery which is located on a cliff-side on an altitude of 1150 metres. The monastery is on lower level of a huge cave. On the upper level of the cave is a natural fortress of Aassi Hawqa which needs rock climbing skills to access. Hawqa Monastery was maybe the most interesting single site on my visit to Qadisha Valley. It is worth mentioning that in the monastery lives an 85 years old Maronite monk. He is originally Colombian but has lived in this small monastery for 20 years. After a short wait the grey bearded man showed up but he was not in a talkative mood.
We continued downwards along the edge of the gorge towards valley floor. After an hour we reached the Deir Qannoubine or Qannoubine Monastery. Founded in 375, it is the oldest of the Maronite monasteries and the first center of eremitic life in Lebanon. From 1440 to 1830 it was the See of Maronite Patriarch. As all the monasteries in Qadisha Valley it is partially cut into a rock. Maybe the most memorable thing in Qannoubine was the interior of the church with some nice frescoes which have remained almost intact since the 17th century.
Just before Qannoubine Monastery we visited the small Chapel of Mar Marina. It was not very impressive place – quite new building on top of an old cave – but to this site is associated a legend of a female saint Marina which is well known character in Lebanon.
Our hike ended at the Deir Mar Lichaa or Monastery of Mar Elisha which has been one of the most important monasteries of the valley and a place where the Maronite Order of Lebanese Monks was founded. Monastery of Mar Lichaa has been recently renovated and converted to a museum. I didn't find it very interesting but it is certainly worth a quick visit.
After five hours and some 10 kilometres of hiking I was very content of the tour although in the end we got caught in the rain showers and hailstorm. In some places the cliffs are full of holes like cheese. It would have been interesting to visit also some smaller caves and churches off the main path. Qadisha Valley is a large WHS with numerous ancient buildings but also a place of magnificent landscapes and natural values and as such it deserves some time to explore.
---
Qadisha Valley has gorgeous views and very pretty nature. We arrived via a scenic route, through a mountain pass Bcharee from Bekaa Valley. There is Cedar of Gods cedar tree reserve and some monasteries included in the inscription. Some are only reached on foot via some hikes. As I am not very keen on those, Ivan took Els' advice from her review and chose the Monastery of St. Anthony of Khozaia which can be reached via car all the way to the entrance gate. Check your maps as the turn from the main road is quite sudden. The monastery has a church that is carved into a cave and a quirky cave shrine all in dark, except for the illuminated statue of the hermit. The views from the monastery are stunning and the monastery very peaceful. We enjoyed it very much.
You can spend a day in Qadisha Valley if you wish to, taking numerous hikes, visiting the Deir Mar Elisha - a monastery turned into a museum or the other monasteries. Best way is to have your own car, or you can arrange a day tour from Beirut.
---
3.50 The Netherlands - 08-Apr-12 -
This is a whole different side of Lebanon, and worth the trek out to the north of Mount Lebanon. I went there on a day tour with Nakhal Tours, a popular and well-organized tour company from Beirut which I had also used for Baalbek/Anjar. There are public buses too, to the town of Bcharré for example, but it would be too much to visit the monasteries and the cedars in one day that way.
We first drove up in the mountains, already enjoying fine vistas over the Qadisha Valley and the villages around it with their large churches and red-roofed houses. I had seen snow on the mountain tops on my way to the Bekaa Valley too, but here you're much higher (about 2,000 m above sea level). There are ski resorts also. No wonder the 'Forest of the Cedars' was covered in snow about 1 - 1,5 meters high. The 'Forest' is a pitiful patch of a few hundred trees, leaving some of my fellow tourmates wondering why we had travelled for hours to just see that. It is quite a touristy spot however, the road along the forest is packed with souvenir stalls. There were other tour buses full of Lebanese daytrippers also.
After half an hour or so, having photographed every single remaining cedar, we went back into the bus to descend into the valley. This is an exciting ride, as we had a big touring car bus and the road is very narrow and winding. All around there are cliffs, with lots of small caves in them. Some of those were used by hermits and other refugees. We went to a bigger monastic site: the Monastery of St. Anthony of Kozhaya. Most of the constructions here are relatively recent (pretty nonetheless!), but they all originated in the cave here too. The main cave can be visited, and it is still used by women praying to become pregnant and (after a succesful pregnancy) coming to give thanks by donating pots and pans.
---
Chris Karooz
The most beautiful site on earth,
I came to The Lebanon ( land of my Father )for my second time in 1994, the first time was in 1989 but I was unable to visit the Holy Cedars because of the war, so in 1994 my cousins Carlos, Kerellos and Carla Keyrouz drove me to the Holy Ceaders.
The drive there wes absolutely beautiful but the sight of this magnificent Forrest of God was breath taking, I wish the whole world could see them, I have NEVER forgotton this experience, I pray to God my health will allow me to see them just once more.
I have searched for paintings or prints of the Cedars but so far I have not been able to find them, that is why I am on the net now and found your site.
Keep up the good work
May God Bless you and keep you in good health now and Always
Chris Karooz
---
Site Info
Full Name

Ouadi Qadisha (the Holy Valley) and the Forest of the Cedars of God (Horsh Arz el-Rab)

Unesco ID

Country

Inscribed

Type

Cultural

Criteria

3

4

Categories

Link
Site History
1993

Rejected

"Cedars of Lebanon" was rejected: too small - should look at larger "Cultural Landscape"
Site Links
Unesco Website
Official Website
In the News
Visitors
93 Community Members have visited.