Odesa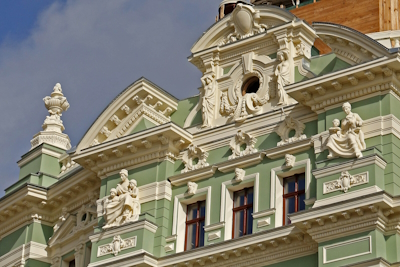 The historic center of Odesa represents an intact example of 19th-century Eastern European urban planning and architecture.
The city's development was made possible by its success as a military and commercial Black Sea port. Its fast pace of growth and multicultural identity, due to its location at the border of Europe and Asia, has led to a variety of architectural styles being used. The property comprises an ensemble of heterogenous buildings and monuments and the port.
Community Reviews
---
Japan / USA / Europe - 12-Oct-22 -
I have been to Odesa twice…in 2004 and 2010.
Most Ukrainians would agree that Odesa today has two centers. One is by the port area and the other is an area called Arcadia, the largest summer party / beach resort in Ukraine. But this nomination of course has to do with the former, the historic center.
But Odesa (even just the historic center) does not feel like a city with many cultural monuments in unified style like, say, Lviv does. Like Varna (Odessos in Greek) in Bulgaria, Odesa was a port city settled by the Greeks and has developed for centuries with an international flair. As such, it is nominated as a multi-faceted port city, which makes good sense, and you can find cultural monuments and buildings in many different styles, among businesses as usual in the historic center, that also includes a fair share of American fast food restaurants.
I would say the central intersection of the historic center is at Derybasivska St, the city's main thoroughfare (often pedestrians only), that runs east-west, and Katerynynska street that runs north-south. Walking on the latter north from the intersection, you turn north-east at the large statue of Catherine the Great, go past the statue of Duke of Richelieu, now the city's symbol, and go down the Potemkin Stairs to reach the port.
I'm all for inscribing Odesa asap to safeguard it, even though it's not likely that it would work.
But what I'm hearing is truly sad and mad. They are trying to get rid of / rename everything that has to do with Russia in the city, most notably things related to Catherine the Great, who is credited with founding the current city, and Pushkin? If they do so, it sounds like almost half of Odesa will be gone. Not only there are statues of Catherine the Great and Pushkin at two of the most prominent places in Odesa (The former is as described above, and the latter is in front of the Odesa City Hall), but also two of the main streets in the center are named after them (Katerynynska is as described above, and Pushkinska also runs north-south, connecting the main train station and the City Hall, with the Pushkin Museum just south of the City Hall). So much for authenticity...? How does UNESCO treat cancel culture?
But the city's most famous site is perhaps the Potemkin Stairs, constructed in 1841 and known by different names since. It was again renamed after the Battleship Potemkin in 1955. Battleship Potemkin was part of Russia's Black Sea Fleet, and it was named after Putin's favorite 18th-century Russian commander Grigory Potemkin. The stairs had been popularized by a famous scene in Soviet filmmaker Sergei Eisenstein's Battleship Potemkin (1925).
When Muslims occupied Christian areas in Cyprus, just for example, they often destroyed Christian monuments, but when Christians occupied Muslim areas, they often left Islamic monuments alone and are proud of doing so. It's called Tolerance. But from the Ukrainians' point of view, they are all in total shock and anger right now, so it's no wonder they want to right the wrong now! In any case I understand that at this time nobody outside Ukraine should be telling the Ukrainians what to do... (I know that the bust of Pushkin at the Dytynets park, a TWHS, in Chernihiv has already been removed since the war started.)
There is an astronomical observatory in a park east of the center that is another TWHS.
BTW, there is a direct bus between the two Odesas in Ukraine and Bulgaria running even today. This bus line goes through or near several WHS and TWHS. Just about when I was thinking of taking this bus, the war erupted.
---
3.00 Chinese-Canadian - 25-Nov-19 -
I actually didn't plan on going to Odessa. I love Kiev and spent a week there a few years ago almost feeling like a resident living in an apartment at the golden gate and leaving a coin at Panteleimon every morning on my way out. From Kiev I wanted to take the train to Tiraspol (Transnistria) but it was already sold out. Kind of surprising really but instead I took a flight to Odessa and took the train onward from there after a day looking at the town. It was better than the long train journey.
I believe there are already way too many "historic centers" on the WH list. It's maybe unfair to Odessa because some historic centers around Europe suck and got their status earlier when no comparison studies were requested or made, because Odessa is nice to spend time in and check out the buildings while just having a nice relaxing day to walk around, have some food and drinks, well, the typical "old town" affair I suppose. To quote Wikipedia: "Its historical architecture has a style more Mediterranean than Russian, having been heavily influenced by French and Italian styles. Some buildings are built in a mixture of different styles, including Art Nouveau, Renaissance and Classicist.." It was also mostly spared in WW2 and retains the original buildings. Probably should be a WHS a couple of decades ago.
Don't forget to visit the Pushkin museum.
---
Site Info
Site History
2023

In Danger

Directly in Danger
Site Links
Unesco Website
In the News
Visitors
40 Community Members have visited.