Novgorod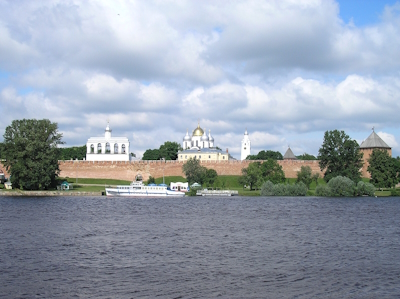 Millennium of Russia, with St Sophia Cathedral in the background
The Historic Monuments of Novgorod and Surroundings are a veritable 'conservatory' of Russian architecture of the Middle Ages and later periods (11th-19th centuries).
(Veliky) Novgorod in North-Western Russia was an important center on the trade route between the Baltics and Central Asia. It developed into one of the major centres of Russian culture and spirituality.
A broad range of monuments has been conserved:
- St Sophia Cathedral, built between 1045 and 1050 the first one to represent original features of Russian architecture (austere stone walls, five helmet-like cupolas).
- The Novgorod Kremlin, traditionally known as the Detinets, also contains the oldest palace in Russia.
- Church of the Transfiguration, decorated with frescoes at the end of the 14th century by Theophanes the Greek
- Church of Neredica
Community Reviews
---
---
---
---
---
---
---
Community Rating
Community Rating 3.09. Based on 11 votes.
Site Info
Full name: Historic Monuments of Novgorod and Surroundings
Unesco ID: 604
Inscribed: 1992
Type: Cultural
Criteria: 2 4 6
Site History
1992 - Inscribed

1991 - Deferred

By Bureau, and not discussed by WHC that year: reformulation of the title requested, to "Historic Monuments of Novgorod" from "Historic Centre of Novgorod".
Site Links
Unesco Website
Official Website
Related
Locations
The site has 11 locations. Show all
Novgorod: Churches on Miachino Lake: St John the Alms Giver Church and the Resurrection Church Novgorod, Oblast and District of Novgorod, Russian Federation
Novgorod: Historic Centre of Novgorod (east) with the Yaroslav's Court Cluster and Our Lady of the Sign Monastery Novgorod, Oblast and District of Novgorod, Russian Federation
Novgorod: Historic Centre of Novgorod (west) and the Novgorod Kremlin Novgorod, Oblast and District of Novgorod, Russian Federation
Novgorod: Peryn Monastery Novgorod, Oblast and District of Novgorod, Russian Federation
Novgorod: Remains of the Annunciation Church at Gorodishche Gorodishche, Oblast and District of Novgorod, Russian Federation
Novgorod: St Anthony Monastery Novgorod, Oblast and District of Novgorod, Russian Federation
Novgorod: Sts Peter and Paul Church on Silnishche Silnishche, Oblast and District of Novgorod, Russian Federation
Novgorod: The Church of Our Saviour at Nereditsa Nereditsa, Oblast and District of Novgorod, Russian Federation
Novgorod: The Nativity of Christ Church in the Field Novgorod, Oblast and District of Novgorod, Russian Federation
Novgorod: Yuriev Monastery Novgorod, Oblast and District of Novgorod, Russian Federation
Novgorod: Zverin Monastery and its environs Novgorod, Oblast and District of Novgorod, Russian Federation
Connections
The site has 17 connections. Show all
Visitors
76 community members have visited Novgorod. Show all