Nisa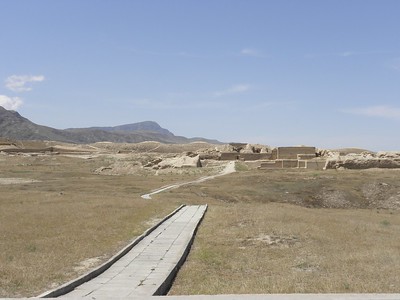 Old and New Nisa are the remnants of one of the first capitals of the Parthian Empire. This Empire is among the most powerful and influential civilizations of the ancient world.
The Parthians were a major power in the Near East from the mid 3rd century BCE to 224 CE, and an arch-enemy of the Roman Empire on its eastern borders.
The Parthian kings began their conquests from Nisa and changed insignificant Parthia into a huge empire that stretched from the Indus to the Euphrates.
Community Reviews
---
I feebly rated this site as the other members of the Community because it remains almost nothing of this old city. It looks like trenches of the WWI in a dry area...It's comparable to susa in Iran.
However, these are the ruins of one of the first capital of the Parthian Empire.
But it's an easy WHS to do thanks to its proximity of the crazy capital of Turkmenistan. So do it :)
---
I visited this WHS in June 2017. Having read the previous reviews I didn't have high expectations. I agree that a visit to the National Museum in Ashgabat is essential to understand the importance of this Partian site and it is relatively easy to combine such a visit as the site of Nisa is very close to modern Ashgabat.
The view from the platform next to the entrance (top right photo) is the most 'iconic' view you'll get even though the view from on top of the partially excavated mud brick walls with the surrounding mountain landscape is not bad either (bottom left photo). Like in the Ancient Merv archaeological site, while walking through the maze of mud brick walls and pillar remains, it's easy to observe the now exposed repellent materials used during the site's construction against insects (mostly termites and wasps) and birds.
Same as in Merv and Gonur Tepe, there are several old clay fragments still scattered everywhere on the floor. There's a small room where a few important remains and fragments from the building's coloured friezes could be seen but it's more of a storage room raher than a visitor centre proper. The most important artefacts can be seen in the National Museum in Ashgabat. The highlights were the dozens of beautiful ivory rhytons (bottom right photo) and the head of a clay statue with traces of colour painting (top left photo).
More coloured paintings are still buried under the mud and have not been excavated yet but part of a coloured frieze can be seen on ground level in what is known as the round/oval room. The remains of New Nisa are even less spectacular as only the foundations of residential areas remain. When there wasn't much to see, I just sat down and enjoyed birdwatching in the scenic natural surroundings (mostly falcons, owlets, rollers, bee-eaters, warblers and wheatears).
All in all I think that its OUV lies in the fact that it is one of the last remaining Partian sites but other than that don't expect to see much.
---
3.00 The Netherlands - 17-May-10 -
Although Nisa is situated quite close to the Turkmen capital Ashgabat, it took the best part of the day to get there. The group first had to visit the Türkmenbashi mausoleum next to the biggest mosque in Central Asia, the second biggest mosque in Central Asia (built by Mr. T. after a visit to Mecca), the ancient battlefield of Geok Tepe and a horse farm. Without lunch, we ended up at the gate of Old Nisa around 13.30 - the only excursion of the day that I had looked forward to.
The best preparation for this visit I already had experienced the day before, when I went to the National Museum in Ashgabat. This is a very worthwhile museum in general, quite modern and with displays in English. Exhibits from Merv and Nisa feature prominently. The iconic representations of the Parthian culture from Nisa are its ivory rhytons: drink containers the size of an elephant's tusk. The museum holds a fair number of them, all with fine decorations.
The archeological site of Old Nisa itself is a rather small complex. It is strategically positioned with its back to the mountains, overlooking a flat valley. Walls and columns are mainly reconstructed, the only original parts are the outline (labyrinth-like) and some pieces half-hidden underground. A good overview of the site can be had from the viewing platform at the entrance, said to have been built for a visit by former French president Mitterand. It's not a spectacular site to visit in itself, imagine a rural Greek/Roman excavation. Inspiration or stories about the Parthians you'll have to get elsewhere, from museums or books.
---
We visited Nisa in Oct 2004. We didn't expect to see much and, in all honesty, there is not a great deal to see (at least for the non-specialist), but the desire to extend my "visited list" of "Capitals of Ancient Civilisations" demanded an excursion there whilst we were in Turkmenistan!
I knew (and still know) relatively little about the Parthians – they are one of a plethora of ancient West and Central Asian empires together with Scythians, Sogdians, Hittites, Medes, Assyrians etc whose exact relationship to each other in terms of timescale and geography is somewhat muddling to the uninitiated! The Parthians originated as nomads from east of the Caspian and developed an empire centred approximately on modern day Iran but extending to most of the surrounding countries as well. They were generally contemporaneous with the Romans who, as enemies (their mutual "frontier" was in Mesopotamia and Hatra in Iraq is another WHS which was, for a time, part of the Parthian Empire), gave them a very "bad press", but had the advantage of Latin to spread this view whereas the Parthians left very little literature! Today they are most "famous" as the originators of the "Parthian shot". Their empire was a confederation of kingdoms and Nisa was a major city of at least one of these. One of the buildings in Old Nisa may (or may not!) be a palace but whether the city was ever a "capital" of the empire itself is less clear. A visit to Nisa will not add that much to one's knowledge except to demonstrate the general level of civilisation of Rome's enemies – they may have started out as nomads but later on these were no mere "barbarians", indeed the Parthians were able to inflict a massive defeat on the Romans in 53 BC. For more historical background see Parthia.com
Some 20kms outside Ashgabad you reach an enormous flat-topped mound, or "Tell", (photo) which is all that remains of the Palace/Fortress of "Old Nisa". (We didn't visit nearby "New Nisa", which has also been inscribed, but understand it has even less "on show". Despite its name it is in fact "older" and was also in use up to the 17th century). Indeed, what most enthused IUCN, was the untouched nature of the site and the fact that it was in use for around 500 years from the earliest days of the Parthian empire. Then, 1800 years ago, Old Nisa was abandoned with no subsequent habitation and in modern times there has been relatively little excavation. So, within the now eroded walls, the ground consists of little more than a series of hillocks where there once were buildings and towers. Some have been excavated (the University of Turin is currently active there – see The Nisa Expeditions for some good photos) and a few rooms have been cleared. Several of these have signs of red and white coloured plaster on the walls. This is not a ruin for seeing columns, statues and mosaics/frescos. Some significant artifacts such as thrones, ceramics and documents were found but have been removed. As far as we could make out, in 2004, there was no museum at the site, though the 2007 Inscription talks of a tower having "recently been reconstructed to house a small museum of Parthian paintings and architectural elements". Ashgabad does have a "History Museum" but we didn't see it – I understand that it contains a model of Nisa which may best be seen before a visit.
After getting Konya Urgenche inscribed in 2005, Turkmenistan has done very well to get Nisa added just 2 years later. The impression one got when visiting the country was that the efforts of every government department were primarily concerned with progressing the greater glory of its leader, the self styled "Turkmenbashi". Nisa is "owned" and its inscription was achieved by the "Ministry of Culture, TV and Radio Broadcasting". Now, my previous experience of that ministry's work was that it had placed a gold monogram of Turkmenbashi in one corner of every TV program on every channel and that most programs were concerned with praising the record cotton harvests (or similar) which his management of the country had "achieved"! So it is nice to know that, somewhere within it, there are academics and others able, at least in part, to pursue intellectual matters without too many "Turkmenbashi" trappings! I salute them and hope they obtain some satisfaction from the inscription. As it happens, Turkmenbashi died in December 2006 but, just 2 days after the inscription of Old Nisa, the new president decorated himself with a 2kg gold and diamond pendant for his own "outstanding achievements" (plus ça change) – but didn't appear to claim credit for the inscription!
---
Site Info
Full Name

The Parthian Fortresses of Nisa

Unesco ID

Country

Inscribed

Type

Cultural

Criteria

2

3

Categories

Link
Site History
1990

Referred

Info on boundaries etc
Site Links
Unesco Website
Related
In the News
Visitors
48 Community Members have visited.