Le Morne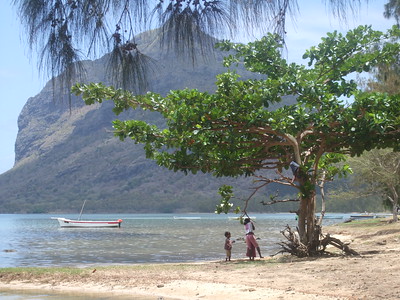 Le Morne Cultural Landscape encompasses a natural fortress that was used as a retreat for escaping slaves in the 18th and early 19th century.
These escapees (the maroons) took shelter in caves and on the mountain slopes of Le Morne Brabant. Now it is a spiritual sanctuary, with high symbolic value and oral traditions about the resistance to slavery.
The slaves on Mauritius came from throughout the Indian Ocean: Madagascar, Tanzania, Mozambique, India. They worked in the sugar industry.
The site is described as an associative cultural landscape, for its powerful cultural associations with the natural element rather than material cultural evidence. Its visual dimension is a crucial part of its importance. Le Morne is located on a peninsula, mostly surrounded by sea.
Le Morne is also known for the (untrue) legend "that slaves jumped off the mountain into death to escape from slavery".
Visit November 2010
Le Morne is easy to see but hard to visit. I had my first look at it from the plane arriving from Paris. At the descent, this remarkably shaped mountain at the tip of Mauritius was very clearly visible. Its inaccessibility of course is part of its history. The steep cliffs deterred many. Mauritius even stated at the nomination of this site for WHS that the absence of cultural evidence is the ultimate proof of maroon life, as they had to be as invisible as possible. That's a daring statement for a 2034 page long nomination file!
Few traces remain: six rock shelters used by maroons have been discovered on the summit, a network of trails used by the former slaves is also still there. Fishing for your own meal is a common pastime too in the modern Le Morne village, like it was during slavery. But there's nothing specific to see for the casual visitor. I started out on foot from Le Morne, and walked on the beach onto the thin isthmus that separates Le Morne from the Mauritian mainland. At that spot there's a sign that you enter the WHS area.
Le Morne Village nowadays is a sleepy town, where people surf and fish. Like other villages in the area it is mostly inhabited by Creoles, and as such has a less Indian feel than the rest of the island. The taxi driver that had taken me there made the best out of our visit and bought two large squids and another big fish, fresh from the sea.
Community Reviews
---
---
---
---
---
Community Rating
Community Rating 3.38. Based on 4 votes.
Site Info
Full name: Le Morne Cultural Landscape
Unesco ID: 1259
Inscribed: 2008
Type: Cultural
Criteria: 3 6
Site Links
Unesco Website
Official Website
Related
Connections
The site has 10 connections.
Visitors
46 community members have visited Le Morne. Show all