Kenya Lake System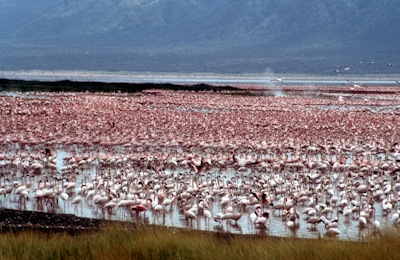 The Kenya Lake System in the Great Rift Valley consists of three soda lakes in the valley basin, known for their high concentration of Lesser Flamingo.
Lake Elementaita, Lake Nakuru and Lake Bogoria are shallow, alkaline, and are hydro-geologically connected through sub-surface seepage of water. The alkalinity of the three lakes supports the abundant growth of the green algae which is the food of the Lesser Flamingoes which congregate in the lakes in great numbers, and also attract breeding Great White Pelicans and migratory birds.
Community Perspective: try to find out beforehand which lakes have flamingoes at that time. The active and regular geysers and volcanic fumaroles are worth visiting too. Lake Elementaita is the easiest of the lakes to visit without a 4WD/with public transport.
Community Reviews
---
3.50 Netherlands - 13-Aug-19 -
I visited Lake Elementaita in March 2019 as this is the easiest lake to get to without paying high entrance fees and/or hiring a 4WD. I tried to go to Lake Nakuru as well with the National Park bus tour as well but after waiting for two hours in the bus at Nakuru bus station, only 10 passengers turned up which was not considered enough to run the bus.
Lake Elementaita I could visit by just getting off a matatu from Nakuru and then I walked down from the main road. I entered through a hotel gate and the friendly guard let me through, asking for a small fee if I happened to come back via the same path.
The alkaline gives a pretty reflection of the sun in the water, especially in late afternoon. Alongside the shore, the mineral deposits look interesting, with cracks running along it. I walked along the shore for perhaps five kilometers and encountered a few shepherds with their sheep, who were very kind and curious. I saw just a few flamingos in the lake in the distance, maribu storks are more abundant.
When the sun started setting, I walked back to the main road to wait for a matatu back to Nakuru which materialized within minutes.
---
Across the years we have visited each of the 3 inscribed lakes. The photo is of Lake Bogoria and our visit there in 1991 is the one we remember best – for the flamingos of course, but also for the active and regular geysers and volcanic fumaroles and, finally the road to get there!! We had rented a 4x4 and were rough camping. The so-called "road2 we took into the lake from the south (we wanted the more remote southern camp site) was VERY boulder strewn with sharp volcanic rocks and we acquired punctures in 2 different tyres at the same time. Unfortunately we only had 1 spare wheel and no air pump! Ah well, all part of the "adventure"! Unless they have improved the road we recommend taking the northern entrance. Flamingos move around and cannot be guaranteed in large numbers at all sites but we were pleased with the numbers when we were there – if you can only visit one lake try to find out before hand which lakes have flamingoes at that time. From what we saw, Bogoria didn't really offer much else in the way of wildlife viewing beyond birds – Nakuru on the other hand is presented as more of general "Wildlife park" with a wide range of mammals including Lion, Rhino and Leopard. I remember it as a bit "zoo-like" compared with e.g the Mara and Samburu as it is situated just down the road from the busy town of Nakuru (pop 300k).
In 2008 we visited the rift valley alkaline lakes of Ethiopia (see my review of Abijatta-Shalla http://www.worldheritagesite.org/sites/t0112.html ). Ethiopia's late 20th century history resulted in significant and possibly irreversible damage to those lakes which it had tried unsuccessfully to inscribe as early as 1981. It is good that Kenya has "done the necessary" to preserve its own. A visit to see the massed Flamingos at one or other of these lakes is worth fitting in if you can whilst in Kenya.
---
Site Info
Full Name

Kenya Lake System in the Great Rift Valley

Unesco ID

Country

Inscribed

Type

Natural

Criteria

7

9

10

Categories

Link
Site History
2001

Referred

Referral at Bureau meeting as Rift Valley Lake Reserves: to make Lake Elementaita a protected area and completion of management plans for all three lakes.
Site Links
Unesco Website
Official Website
In the News
Visitors
91 Community Members have visited.